Yes, More Problematic Communications from Trump
Not surprisingly, there are other phone call transcripts and other communications that further complicate Trump's position.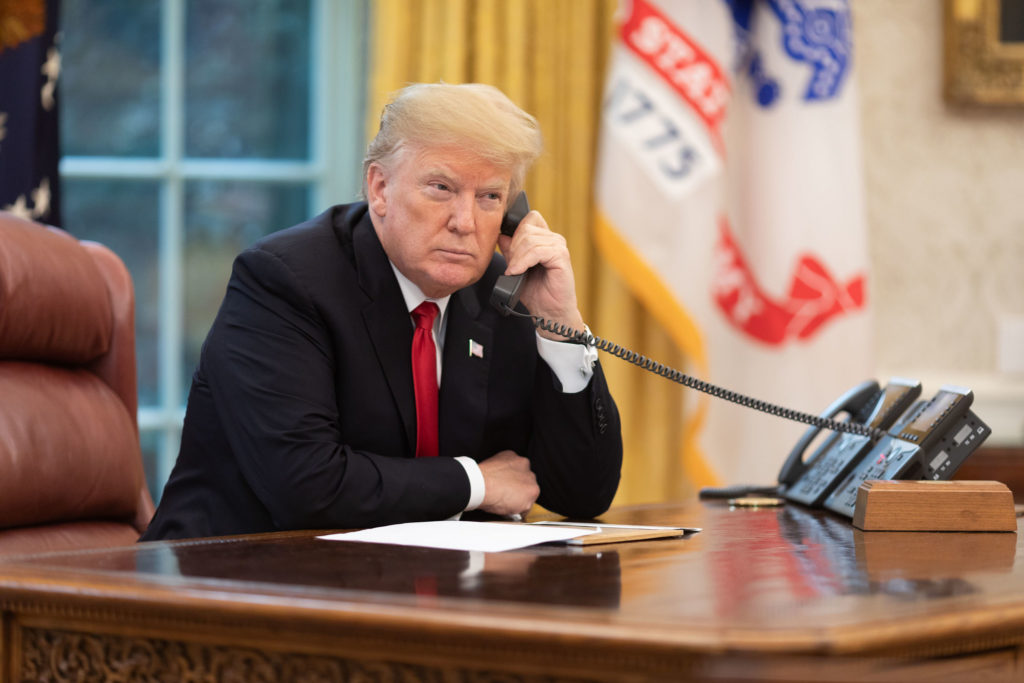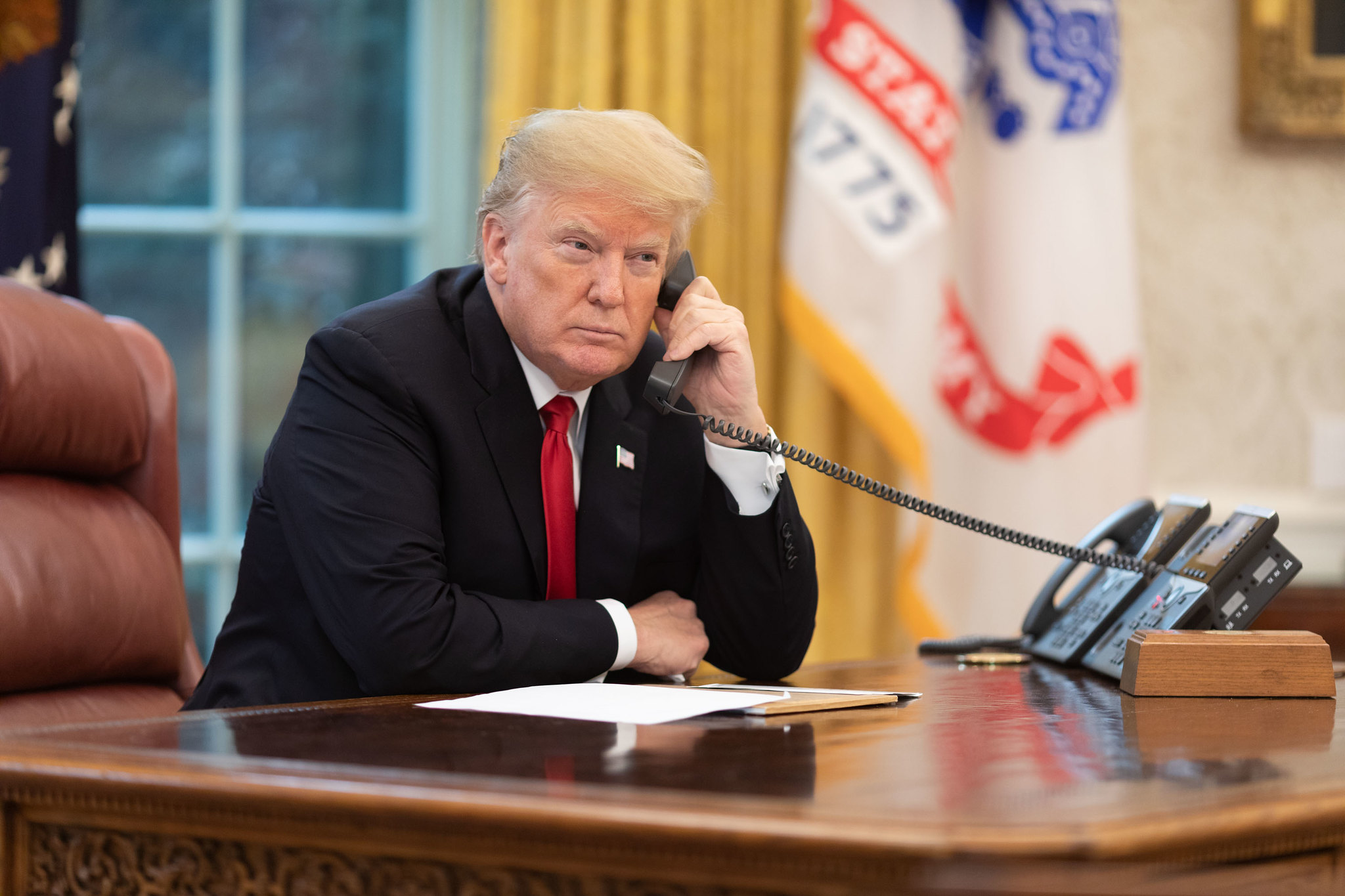 Yesterday, I asked in a post headline: Are There other Problematic Phone Calls? The question was rhetorical, insofar as, yes, there had to be other problematic phone calls. What I did not necessarily expect to have an answer as quickly as I did. Reporting since that post was written has raised issues about a variety of problematic communications, including phone transcripts that staff have gone to extraordinary length to keep secret.
Via CNN: White House restricted access to Trump's calls with Putin and Saudi crown prince.
White House efforts to limit access to President Donald Trump's conversations with foreign leaders extended to phone calls with Saudi Crown Prince Mohammed bin Salman and Russian leader Vladimir Putin, according to people familiar with the matter.

Those calls — both with leaders who maintain controversial relationships with Trump — were among the presidential conversations that aides took remarkable steps to keep from becoming public.

In the case of Trump's call with bin Salman, officials who ordinarily would have been given access to a rough transcript of the conversation never saw one, according to one of the sources. Instead, a transcript was never circulated at all, which the source said was highly unusual, particularly after a high-profile conversation.

The call — which the person said contained no especially sensitive national security secrets — came as the White House was confronting the murder of journalist Jamal Khashoggi, which US intelligence assessments said came at the hand of the Saudi government.
It is not clear as to whether these calls were also stored in the special, code-word access computers as were the Zelensky transcripts.
While I am aware of the concerns over leaks in this White House, it is especially troubling that officials working for Trump found calls with Putin, bin Salmam, and MBS problematic and worthy of special attention.
In regards to the Saudis:
There were no transcripts made of the phone conversations between Trump and the Saudi king or crown prince to prevent leaks, both a former White House official and a source familiar with the calls told CNN. This is considered very unusual in how White Houses have dealt with keeping record phone calls with world leaders in previous administrations.

Typically, there would be several senior officials listening in to a call with an important foreign leader and then a transcript of the call would be circulated to those officials
The report notes, repeatedly, that the calls did not contain highly classified materials, suggesting that the sensitivity was political and the actions were undertaken to protect Trump from his own words.
The CNN report notes:
Officials from the past two administrations said it was unusual to transfer a transcript that doesn't contain sensitive information into the code word computer system.

"In my experience you would never move a transcript to the code word system if it does not have any code word terms. If the president is classifying and declassifying stuff he doesn't want to get out, that is an abuse of power and abuse of the system," said Sam Vinograd, a CNN national security analyst who served on President Barack Obama's National Security Council and at the Treasury Department under President George W. Bush.

Three other former National Security Council officials said they were unaware of calls that did not contain highly sensitive national security materials being moved into another location.
And there is also this, from WaPo: Trump says he raised Hunter Biden allegations with his China go-between.
In remarks to the U.S. Mission to the United Nations on Thursday morning, Trump said he discussed Biden's China work with Stephen Schwarzman, the chief executive of the investment company Blackstone.

"I was with the head of Blackstone . . . Steve Schwarzman," Trump said, according to a video of the remarks obtained by The Washington Post. After alleging that Hunter Biden got $1.5 billion from the Chinese, Trump said he asked Schwarzman, "Steve, is that possible?" Trump said Schwarzman asked, "Who got that?" and Trump responded, "Biden's son."
Now, this is not quite as bad as the Ukraine call, as it is Trump speaking to an American who has acted as an envoy to China. Still, it is Trump trying to solicit, in the context of negotiations with a foreign government, dirt on a political rival making it still extremely problematic.
I will reiterate what I said about the Ukraine call yesterday: if Hunter Biden engaged in unethical or illegal actions, I have zero problem with him being investigated. To date, I have not seen any evidence of such. The only issue is the general problem, as discussed by James Joyner, of his obvious exploitation of his last name. But, again to reiterate: there are processes, functions, and whole bureaucracies that exist for legitimate investigationss (all of which require, you know, evidence). Having Trump seek to send a representative on a fishing expedition is an abuse of power.
Schwarzman, according to Trump himself, seemed to understand the inappropriateness of the request:
Trump said he asked Schwarzman how that could happen, and the executive responded: "Maybe I shouldn't get involved, you know it's very political."
Although Shwarzman's spokesperson denies the conversation took place:
Schwarzman declined to comment. His spokeswoman, Jennifer Friedman, said in a statement that "Steve never spoke to the President about Joe Biden or his family, nor has he had any conversations with the Chinese about Biden or his family."
On the outer orbit of this behavior, but still extremely relevant, is this report from the NYT: N.R.A.'s LaPierre Asks Trump to 'Stop the Games' Over Gun Legislation in Discussion About Its Support
President Trump met in the White House on Friday with Wayne LaPierre, the chief executive of the National Rifle Association, and discussed prospective gun legislation and whether the N.R.A. could provide support for the president as he faces impeachment and a more difficult re-election campaign, according to two people familiar with the meeting.

During the meeting, Mr. LaPierre asked that the White House "stop the games" over gun control legislation, people familiar with the meeting said. It was not clear whether Mr. Trump asked Mr. LaPierre for his support, or what that support would look like.
LaPierre, as the article goes on to note, disputes this characterization of the meeting.
I will admit that the notion that a lobbyist might make policy demands in the context of potential support for a politician is not shocking, nor may even especially problematic (depending on how the interchange went down).*
However, given what Trump is facing in the Ukraine scandal, it is beyond remarkable that he would be willing to put himself into yet another conversation about political quid pro quos during the week that just happened. It underscores his poor judgment (to put it kindly) and it adds credence to the charges that are building against him.
It is as if he doesn't understand how things work, and to the degree that he does understand, he doesn't think that the rules apply to him.
(And to be clear, he doesn't and he doesn't).
---
*Side note: the NRA's connection to Russia were also in the news this week. Via CNN: Top NRA officials knew Russians were using ties to NRA to establish connection with next US President, report says.
In 2015, Russian national Maria Butina, who last year pleaded guilty to conspiracy as an unregistered foreign agent, tapped her political operative boyfriend Paul Erickson to help her convince a top NRA official to come to Moscow, according to the committee report made public Friday.

"Russia believes that high level contacts with the NRA might be the BEST means of neutral introduction to either the next American President OR to a meaningful re-set in relations with the Congress under a (God forbid) President Clinton," Erickson, a GOP political operative wrote to Peter Brownell, the chief executive of a firearm accessories company and, at the time, the incoming president of the NRA. "This simple good will trip would have enormous diplomatic consequences for a future U.S. / Russia bilateral relationship to the world."
Yes, the report is from a minority report by Democratic members of the Senate Finance Committee, so can be taken with a grain of partisan salt. Still, Butina's connection the NRA is well established, so maybe keeping the NRA at arm's length at the moment would't be a bad a idea.