Yet Another Example of the Weakness of US Parties
The parties do not control their labels.

So, I would ask anyone to read this piece from The Atlantic, The First MAGA Democrat. Then ask yourself if the fact that Robert F. Kennedy, Jr. is able to declare to run in the Democratic primaries is an indicator of the institutional weakness or strength of American parties as institutional actors.
Kennedy reached a new level of notoriety in 2021, after the publication of his conspiratorial treatise The Real Anthony Fauci: Bill Gates, Big Pharma, and the Global War on Democracy and Public Health. It has sold more than 1 million copies, according to his publisher, "despite censorship, boycotts from bookstores and libraries, and hit pieces against the author." The book cemented his status as one of America's foremost anti-vaxxers. It also helped lay the foundation for his Democratic presidential primary campaign against Joe Biden.

On the campaign trail, he paints a conspiratorial picture of collusion among state, corporate, media, and pharmaceutical powers. If elected, he has said he would gut the Food and Drug Administration and order the Justice Department to investigate medical journals for "lying to the public." His most ominous message is also his simplest: He feels his country is being taken away from him. It's a familiar theme, similar to former President Donald Trump's. But whereas Trump relies heavily on white identity politics, Kennedy is spinning up a more diverse web of supporters: anti-vaxxers, anti-government individuals, Silicon Valley magnates, "freethinking" celebrities, libertarians, Trump-weary Republicans, and Democrats who believe Biden is too old and feeble for a second term.
It strikes me as rather obvious that the Democratic Party would prefer to simply re-nominate Joe Biden and, indeed, that remains the most likely outcome with any deviation from that plan likely having very little to do with RFK, Jr.. There is little doubt that Kennedy does not represent what the party, as a whole, believes or wishes to promote. Moreover, he presents a minor pain in the party's posterior, especially as it pertains to Iowa and New Hampshire (see this Axios piece, Biden could lose first two '24 contests to RFK Jr.).
I am not saying that Kennedy should not be allowed to run for the presidency. I am simply noting that his ability to decide to compete for the usage of the Democratic Party label is one entirely of self-selection because the party does not control access to its own label. The lack of control of label is a key weakness of American parties (and is unusual in a comparative global sense).
By the way, to illustrate the power of labels and how they can lead to unearned support, I would note that the primary reason that Kennedy is getting the attention that he is is because of another label, his last name. It catapults him into a certain level of status and attention because of what people associate (rightly or wrongly) with that label.
Indeed, a recent poll places his name as the top reason Democratic voters would consider voting for him: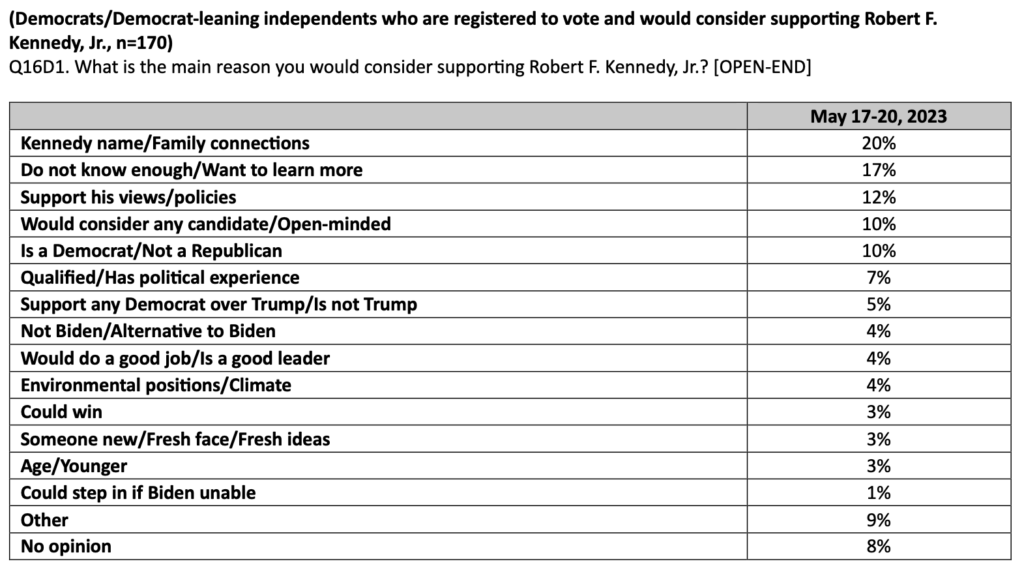 The same poll breaks down the Democratic field as follows.

I expect that as time moves on that the Biden number will grow and Kennedy and Williamson numbers will shrink.
At any rate, I think it is fair to say that RFK, Jr. represents a bit of a deviation from the Kennedy brand. But note that he gets at least some positive vibes from the name regardless. And, moreover, some people, because they respect the label, will start to think that some of his kookier ideas are legit because their preexisting belief in the Kennedy brand (whatever that may mean to them) creates trust.
This is a microcosm of the process I have noted before with some Trump voters.
It is certainly also true that RFK, Jr. is attracting already true believers in his conspiratorial ways.
Speaking of conspiracy theories, this passage from the interview leaps to mind.
At one point, Kennedy looked me dead in the eye and asked if I knew where the term conspiracy theory came from. I did not. He informed me that the phrase was coined by the CIA after his uncle's assassination in 1963 as part of a larger effort to discredit anyone who claimed that the shooter, Lee Harvey Oswald, hadn't acted alone. This origin story is not true. A recent Associated Press fact-check dates the term's usage as far back as 1863, and notes that it also appeared in reports after the shooting of President James Garfield in 1881.

[…]

"I think the evidence that the CIA murdered my uncle is overwhelming, I would say, beyond a reasonable doubt," he said. "As an attorney, I would be very comfortable arguing that case to a jury. I think that the evidence that the CIA murdered my father is circumstantial but very, very, very persuasive. Or very compelling. Let me put it that way—very compelling. And of course the CIA participation in the cover-up of both those murders is also beyond a reasonable doubt. It's very well documented." (In a written statement, a CIA spokesperson said: "The notion that CIA was involved in the deaths of either John F. Kennedy or Robert F. Kennedy is absolutely false.")
Well, sure. What else would you expect them to say?
At any rate, the ability of candidates to wrap themselves, even if in a preliminary way, in the banner of a given party without any formal process to obtain usage of the label is a clear way in which US parties are weak entities. They are hamstrung in their ability to cultivate a coherent message and a real political brand. Indeed, it is a clear way in which messaging is a real problem in US politics. It also means that politicians like Kennedy are not incentivized to create new parties or attempt independent runs.
Note, again, that I am not saying Kennedy should be barred from politics or running for office. But this is a clear case wherein the lack of a gatekeeper function means that he can attempt to legitimize himself while tarnishing an established label, at least on the margins.
---
See also, via MSNBC, The MAGA right is going all in on RFK Jr. That could backfire and via the NYT, Why Robert Kennedy Jr.'s 2024 Bid Is a Headache for Biden.