You Probably Aren't Going To Read Anything Beyond This Headline
Politics, media, and the attention span of the average American haven't really changed as much as we think.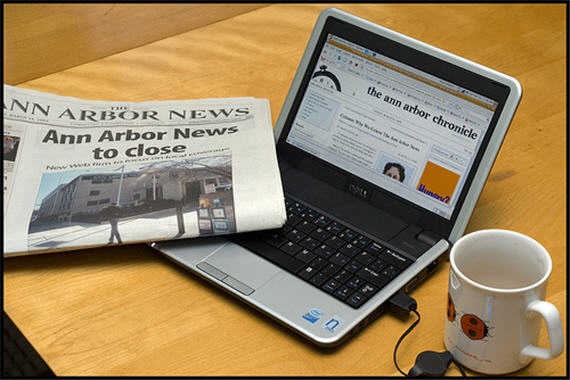 A new study from the American Press Institute shows that most Americans don't read very far beyond the headlines when they "read" news:
 Fewer Americans invest additional time into following the news more in-depth. The survey asked people about going in-depth for news two different ways. It asked whether people generally tried to get news in-depth on any subject in the last week. It also asked, when they recalled a breaking news story they followed in the last week, whether they had tried to find out more about it after initially learning of it.

Overall, 41 percent of Americans report that they watched, read, or heard any in-depth news stories, beyond the headlines, in the last week. Slightly more people, 49 percent, report that they invested additional time to delve deeper and follow up on the last breaking news story they followed.
The majority of the study, which is well worth reading if you actually want to get beyond the headline, is about the changing ways in which Americans consume news today. Not surprisingly, the past several years have seen a substantial increase in the number of people who follow news not just online, but via social media sites such as Facebook and Twitter. Thanks to the ubiquitousness of smartphones today, these types of sites can easily be accessed throughout the course of a day so, arguably, it could be said that people are "following the news" more than they have in the past simply because it's easier to do so than it was, say, twenty years ago. This increase in the ability to follow the news, however, also seems to have made news consumption both broader and more shallow at the same time. At least, that's the conclusion many will draw.
In reality, I suspect that the way that people consume news hasn't changed all that much. I tend to suspect that, whether we're talking about today or 100 years ago, the average American has not followed the news in depth the way that those of us who are interested in politics or related matters do. Certainly, a lot of people read newspapers or listened to the radio when those were the predominant sources of information, but I suspect that people paid more attention to the sports pages and the entertainment programs than they did to the news. And while the Internet has certainly made it easier to follow the news, it's also made it a lot easier to do anything but follow the news. So, I'm not sure that this "headline scanning" level of news consumption is really all that new.
From the political side, Chris Cillizza makes this point:
The lesson for politicians and those who cover them? The more complex an issue, the less likely it is to break through with a public that really consumes news via headlines and not much else. It's also a reminder that simple messaging is almost always the most effective.  "Hope and Change". "Compassionate Conservative".  Easy to remember. Fits on a bumper sticker. Or a headline.
Hasn't this always been true, though? As much as we'd like to think otherwise, American elections have seldom been about deep philosophical musings conducted by a voting public that followed the news in depth on a regular basis. Slogans and messaging have been a part of winning elections ever since contested elections have been a part of American politics, which arguably started roughly around the Election of 1800 when Thomas Jefferson and John Adams faced off against each other for the second time. It continued through much of the early 19th Century when phrases like "Tippecanoe And Tyler too!" helped win Presidential campaigns.  With the rise of the first generation of mass media via newspapers that were able to send and receive reports via telegraph, the media's role in politics, and the importance of "messaging" only increased. The same can be said of the rise of radio, television, and now the various forms of online media and communication.
Today, the media plays a bigger, and far more immediate role in politics than it may have 214 years ago, but are things really all that different than they were back then? I'd submit that they aren't.