News Industry In Crisis But News Reporting Better Than Ever
Matt Yglesias has a smart push-back against the lamentations of the decline of journalism.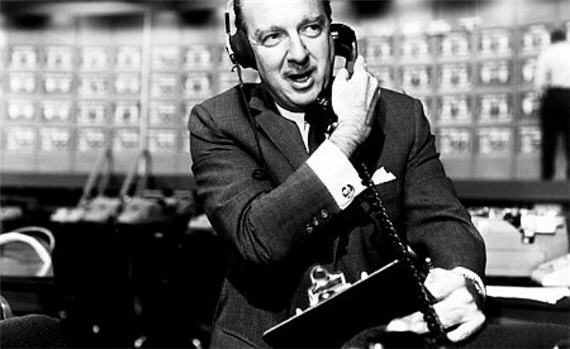 Matt Yglesias has a smart push-back against the lamentations of the decline of journalism.
[Pew Research Center's annual State of the Media Report] makes no mention of the Web's speed, range, and depth, or indeed any mention at all of audience access to information as an important indicator of the health of journalism. Instead we lead with a lamentation that "in 2012, a continued erosion of news reporting resources converged with growing opportunities for those in politics, government agencies, companies, and others to take their messages directly to the public." Layoffs of newsroom personnel at newspapers, Pew reports, have "put the industry down 30 percent since its peak in 2000 and below 40,000 full-time professional employees for the first time since 1978."

This viewpoint is not wrong, exactly, but it is mistaken. It's a blinkered outlook that confuses the interests of producers with those of consumers, confuses inputs with outputs, and neglects the single most important driver of human welfare—productivity. Just as a tiny number of farmers now produce an agricultural bounty that would have amazed our ancestors, today's readers have access to far more high-quality coverage than they have time to read.

Just ask yourself: Is there more or less good material for you to read today than there was 13 years ago? The answer is, clearly, more. Indeed, one thing the Pew report correctly emphasizes is that (as we at Slate are well aware) it's hard to make lots of money selling ads online. But it's hard primarily for the same reason that the Internet is such a bonanza for readers: There's lots of competition and lots of stuff to read. A traditional newspaper used to compete with a single cross-town rival. Time would compete with Newsweek. Time doesn't compete with Newsweek anymore: Instead it competes with every single English-language website on the planet. It's tough, but it merely underscores the extent of the enormous advances in productivity that are transforming the industry.

The recent improvements in news distribution are astonishing. You don't need to go to a specialty shop to find out-of-town newspapers or foreign magazines. Just open a browser. You can check on Israeli news sites when a new government is formed or during an American presidential visit and ignore them the rest of the year. The Internet also brings the enormous back catalog of journalism to life. That five-year-old Anderson essay on Cyprus is still relevant today. Recalling that he wrote a book on the island, I looked up an old Christopher Hitchens column on Cyprus yesterday evening.
And of course digital technology also makes it dramatically easier to produce the news. Charts and graphs can be manufactured and published in minutes. Public sector data, academic research, and think tank reports are at your fingertips, instead of gathering dust on random shelves. Email, instant messaging, and mobile phones make it easier to contact sources and collaborate with editors. Last but by no means least, websites don't "run out of space." We try not to publish bad articles, but we don't decline to publish good ones on the grounds that they don't fit. We don't arbitrarily cut words to conform to a page-layout concept.
This is exactly right.
Pew is reporting on the state of an industry which is indeed in dire trouble. And, indeed, virtually every major news outlet–whether it's the New York Times, Newsweek, or the CBS Evening News–is worse than it was a decade, much less a generation, ago. They simply don't have the resources that they once did and the depth and quality of their reportage has suffered accordingly.
But the overall state of reportage is indeed flourishing. On every topic you can possibly think of, there's more depth of information than ever before. Moreover, it's available much, much more rapidly than it used to be. And, perhaps best of all, most of it's free and almost none of it's geographically bound.
Not all that long ago, I subscribed to the local newspaper wherever I happened to be living at the moment. Almost invariably, they were dreadful. Simply dreadful. Yet, if you wanted to get a summary of the previous day's news, you pretty much had to take the local paper.
Now, I live in a place where the local paper is the Washington Post, one of the best newspapers anywhere. And I let my subscription lapse years ago.
I read dozens of newspapers every day. Or, more precisely, I read zero newspapers but rather articles from dozens of newspapers every day. Plus,  steady stream of expert analysis and commentary from people who would have simply had no ready means of conveying their knowledge outside their local circles before the era of blogs and Twitter.
I'm of course an outlier, in that I'm a professional consumer of information. I not only need more of it than 99.9% of the population but I have the luxury of being paid to do it. But the value of this new era redounds to more normal consumers, too.
First, people who live in Bainbridge, Georgia or Troy, Alabama can now easily read whatever newspaper(s) they want. Maybe it's the local paper. Maybe it's the Atlanta Journal-Constitution or the Birmingham News or the Montgomery Advertiser. Or maybe it's the New York Times or the Washington Post. Or, hell, the Times of London.
Second, people who live in Washington, DC can follow the Dallas Cowboys just as easily as people who live in Arlington, Texas. The local Dallas sports pages (Dallas Morning News and Fort Worth Star-Telegram), the local sports talk radio shows (The Ticket, The Fan), ESPN Dallas, and the Cowboys' own team website are just as accessible everywhere.