You Shouldn't Pay Much Attention To Head-To-Head General Election Polling Right Now
Hillary's leading potential Republican candidates, but so is Bernie! Rand Paul does better against Hillary than other Republicans! Those are the headlines you get from head-to-head match-up polls, but it's all largely meaningless.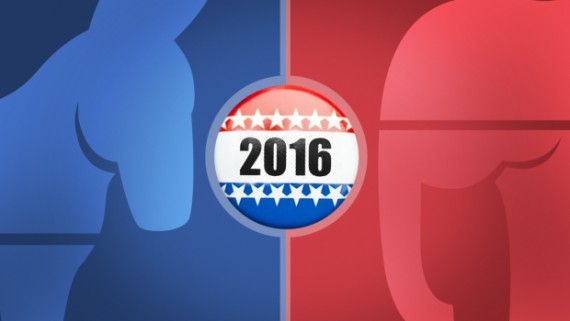 Harry Enten at FiveThirtyEight reminds all of us to view the polls showing hypothetical General Election match-ups with a fairly large grain of salt:
If you look at polls that tested the eventual Democratic and Republican nominees in the last two months of the year before the election, the average absolute error of the polling average is 10.6 percentage points. That's more than five times Ben Carson's current lead over Hillary Clinton in theHuffington Post/Pollster.com aggregate.

(…)

The largest year-out lead belonged to Lyndon Johnson over Barry Goldwater in the 1964 election. Johnson, in the wake of John F. Kennedy's assassination, led Goldwater by an average of 50 percentage points. Goldwater did lose in a 23-percentage-point blowout, but that margin was still less than half that projected by the early polls.

If you trusted the polls in late 1991, you might have thought Bill Clinton was finished in the 1992 presidential election. George H.W. Bush was ahead of Clinton by 21 percentage points at the time; Bush was basking in sky-high approval ratings after the first Gulf War. But as the Gulf War triumph faded and the economy became the focus of the campaign, Clinton would gain in the polls and eventually overtake Bush.

We can go on and on through the list. Yes, the early polls foretold Dwight Eisenhower's 15-percentage-point victory over Adlai Stevenson in the 1956 campaign, but they also had Jimmy Carter defeating Ronald Reagan by 16 percentage points in the 1980 election. The Iran hostage crisis initially boosted Carter's standing, but that didn't last, and Reagan won by 10 percentage points that November.

Paradoxically, the 1948 race between Harry Truman and Thomas Dewey — the most famous polling mishap in U.S. election history — was the one with smallest difference between the polls a year out and the eventual results. The polling average a year out had Truman leading by just under 4 percentage points, and he won by just over 4 percentage points. That's far more accurate than polls taken within a month of the election that had Dewey ahead by a comfortable margin.
Here's the chart showing the difference between General Election polling a year before Election Day, which is where we stand now, and the final results: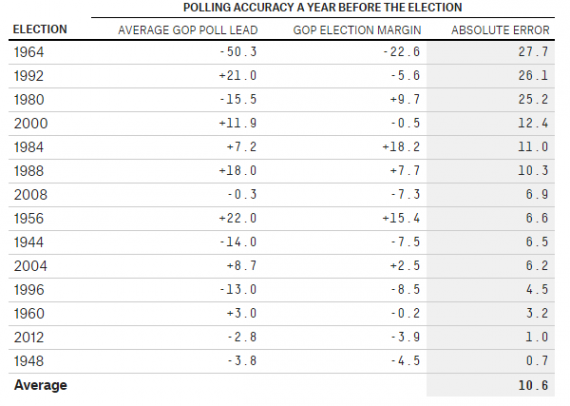 It's easy to understand why the political media pays so much attention to these polls, and why supporters of particular candidates might want to emphasize them, From the media's point of view, these polls provide great grist for content that the talking head pundits they have on television on a daily basis to argue about and give the hosts something to talk about as well. A poll showing Hillary Clinton trialing Ben Carson, for example, or one that shows Joe Biden or Bernie Sanders doing better against hypothetical Republican challengers than Hillary Clinton seems, at least on paper, like it might mean something. It also provides material for a cable news business that depends on content in order to keep filling the eighteen to twenty hours a day they typically need to have something "new" to take about instead of just re-broadcasting things from earlier in the day or, as CNN does, the feed from the international version of the network. Supporters of one candidate or another, or just plain old political partisans, meanwhile, like these types of polls because they help to reinforce a particular narrative that helps their side. In reality, though, these polls mean far less than any of the people that talk about them contend they do, although the average voter who is only tuning in to CNN, MSNBC or Fox News Channel on a sporadic basis isn't really going to get that context.
Personally, I would advise ignoring these hypothetical match-up polls completely. Until we know who the nominees of the major parties will actually be, and arguably not until the General Election campaign itself actually begins after the party conventions are over in early July, it's all guess work. Additionally, as we sit here a year out from Election Day 2016, we can only guess at what might happen over the next twelve months that will have an impact on the way voters view the candidates and the issues facing the country, and how those events might influence their voting behavior. Even after the General Election campaign begins, it will remains more important to pay attention to trends and, of course, the polling at the state level than it will to the national polling. The media will not make these distinctions, of course, because these new numbers give them something to talk and write about, but those of us who follow the political races should be careful about falling for hype about poll results that may not mean anything at all.