Young Men Becoming More Right-Wing?
Some interesting (and potentially disturbing) polling trends.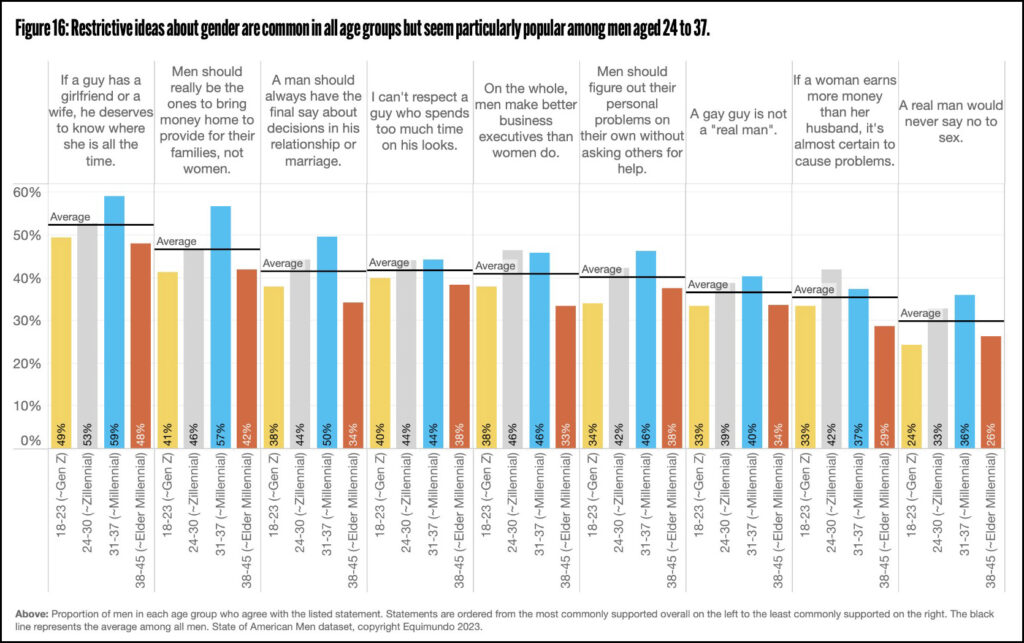 Kevin Drum posted the above chart and did a little bit of research in an attempt to figure out what to make of it.
A few days ago I came across a chart showing that high school boys had gotten suddenly more conservative over the past couple of years. Unfortunately, after a frustrating search I was unable to track down the source data, so eventually I gave up on it and moved on.

But I've since seen a couple of similar claims, though without much data to back them up. For example, one survey shows that Gen Z men are a little less likely than others to say "Feminism has made America a better place." This is mildly suggestive but hardly evidence of a sharp turn to the right. That's especially true since other responses from the same survey generally portray Gen Z men as a little more liberal in their views toward women than older men.

None of this is close to definitive. I was still curious, though, so I turned to the good old reliable General Social Survey. They've been asking people for decades if they consider themselves liberal or conservative, and they break down the answers in a variety of ways.

What I found was surprisingly clear. In most ways, there's been little change in political ID. Among Blacks and whites, high school and college educated, married and single, identification as liberal or conservative has bounced around a bit but has generally stayed fairly steady. But there are two exceptions:

Young men were pretty stable in their ID until 2022, when they suddenly and inexplicably started to identify as dramatically more conservative. This spike didn't show up for either women or for older age groups. Only for young men.

This is about clear as it can be: for some reason, over the course of a single year, young men became noticeably more conservative. But why? Is it related to either the pandemic or the backlash to pandemic protections such as masking? Is it related to Donald Trump and his crowd of MAGA copycats? Or maybe to the growing popularity of Joe Rogan, Andrew Tate, and other champions of the "new masculinity"? Is it a backlash against wokeness?

Beats me. I can't make sense of it, and I don't know if it's just a brief upsurge or the start of a long-term trend. But for now, at least, it's real.
I don't tend to get excited about one-year "trends" but do think there's something going on that predates 2021.
The chart Drum posted and I copied is from a report titled "State of American Men 2023: From Crisis and Confusion to Hope" by something called the Equimundo Center for Masculinities & Social Justice. Their origin story is available on their about page but they identify their mission as "achieve[ing] gender equality and social justice by transforming intergenerational patterns of harm and promoting patterns of care, empathy and accountability among boys and men throughout their lives" and their belief as "male-identified individuals must be active allies in achieving gender equality and full rights for women, girls and non-binary individuals." That certainly doesn't read as right-wing to me.
The report's Executive Summary is detailed but difficult to excerpt because of its formatting. But here's a taste:
Men in the US are in trouble. Many feel that their futures are uncertain and their identities are threatened. But while the current situation is especially acute, this anxiety has always been built into boyhood and manhood. Told to "man up" or "be a real man," boys and men who inevitably cannot meet the impossible, overlapping standards of toughness, self-sufficiency, dominance, and stoicism have their very identity withheld from them. Masculine norms such as these govern every aspect of men's and boys' lives and are woven into family life, schools, sports, and other community spaces. Such norms deprive young men of more caring alternatives, ways to confidently own their identity as caring, emotionally connected, cooperative people. Many feel totally disconnected and retreat to private lives of underachievement, underemployment, and online addiction – and to the pretense that they can go it alone. Some may find solace in misogyny and white supremacy. Certainly, too many men ignore or oppose the necessary action we all need for women's equality and racial justice. Some men's anger and their clinging to harmful ideas about manhood are hurting all of us.

When two-thirds of young men feel that "no one really knows" them, as this study shows, they reveal the fragility of their connections and relationships. We take that finding for what it is: a call for more honest, more grounded, more connected, and more meaningful lives. We know the results of this study will be troubling for many. Conservative voices may say that we are calling out men, blaming them, or maligning American manhood. But our study is a call for all of us to show compassion to men and to build and support healthy, connected versions of manhood for the good of all.
This is a classic case of my visceral self being at odds with my intellectual self, in that I largely agree both with the stated agenda of the report authors and fully understand why "conservative voices" have the reaction they do.
A few years back, I got a bit of backlash (and quite a bit of agreement) in my work circles for stating in an interview about the Marines United scandal that the Marine Corps had a problem with toxic masculinity. While things have gotten better since then through the efforts of higher leadership, there's a structural problem inherent in a force that overwhelmingly recruits young men through direct appeals to prove their manhood that is trying to simultaneously expand the role of women in the service.
Unfortunately, "toxic masculinity"—like "white privilege," "structural racism," and so many others—is an example of what James Carville refers to as "faculty lounge language." While excellent as specialist jargon, they inevitably repel people in ordinary conversation because they're easily misunderstood. So, while one would think a basic understanding of how adjectives work would obviate the problem, referring to "toxic masculinity" inevitably draws the reaction "What the hell's your problem with masculinity?!"
Similarly, while I think the increased focus on sexual harassment and workplace climate in the wake of the #MeToo scandals is overdue, the training itself is often counterproductive. If done well, it opens the aperture of men and boys to understand that behavior they think is merely jocular or flirty can be burdensome or even threatening. If done poorly, though, it comes across as "all men are disgusting pigs" and creates backlash. Shorthands like "Believe Women," while well-intentioned, are harmful, in that they reverse the presumption of innocence and justify nonsense like the Pence Rule.
I'm skeptical that young men are suddenly swinging MAGA. But they're certainly Joe Rogan's target demographic. Ditto Jordan Peterson. But neither of them suddenly became popular last year; indeed, the bulk of media reactions to the latter came in 2018.
I do think there's genuine confusion and angst among young men as to their role in the world in a way that didn't exist when I was young. Feminism was in full swing when in grade school (Betty Friedan's Feminist Mystique was published almost three years before I was born), but its core emphasis was equality for women, not the evils of men.
While I largely agree with the Equimundo report's assertion that "boys and men who inevitably cannot meet the impossible, overlapping standards of toughness, self-sufficiency, dominance, and stoicism have their very identity withheld from them," I also think that the old standards gave boys and men a sense of purpose. Sure, being the provider, the protector, and the fighter can be daunting and give a sense of not measuring up. Especially when the modern office-based workplace no longer advantages physical strength but rather prioritizes cooperation and interpersonal skills at which women are more likely to excel.
Add in regular messaging about toxic masculinity, male privilege, and the awfulness of the patriarchy, it's not at all surprising that a call to return to an imagined better past is appealing.