Young Pete Buttigieg's Ode to Bernie Sanders
An amusing discovery.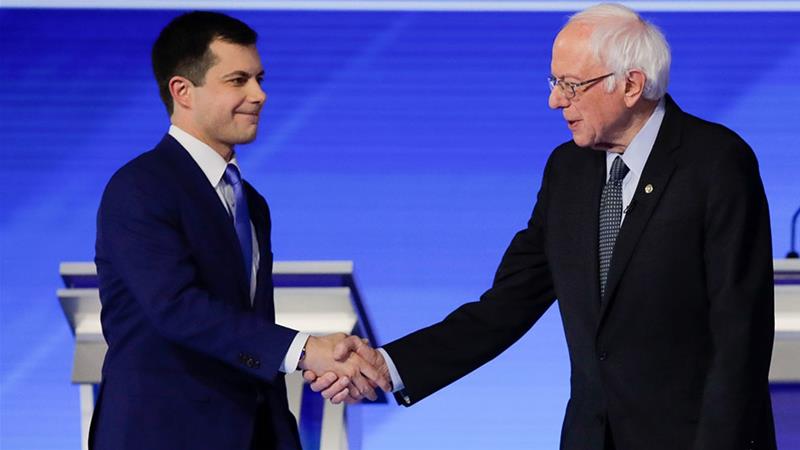 Michael Gerson's WaPo column "By any measure, Buttigieg is Trump's proven superior" is completely unremarkable and not worth the investment of your time. From it, however, I learned of a Buttigieg accomplishment that I had not previously logged: he won the JFK Library's Profile in Courage Writing Contest as a high schooler in, gulp, 2000.
As political analysis goes, the essay isn't all that insightful. But it's pretty sharp for a high school kid.
What's amusing—and I'm shocked that I have somehow not heard about this before—is that the essay is a veritable love letter to Bernie Sanders, now his opponent in the 2020 Democratic primaries.
Cynical candidates have developed an ability to outgrow their convictions in order to win power. Cynical citizens have given up on the election process, going to the polls at one of the lowest rates in the democratic world. Such an atmosphere inevitably distances our society from its leadership and is thus a fundamental threat to the principles of democracy. It also calls into question what motivates a run for office – in many cases, apparently, only the desire to occupy it. Fortunately for the political process, there remain a number of committed individuals who are steadfast enough in their beliefs to run for office to benefit their fellow Americans. Such people are willing to eschew political and personal comfort and convenience because they believe they can make a difference. One outstanding and inspiring example of such integrity is the country's only Independent Congressman, Vermont's Bernie Sanders.

Sanders' courage is evident in the first word he uses to describe himself: "Socialist". In a country where Communism is still the dirtiest of ideological dirty words, in a climate where even liberalism is considered radical, and Socialism is immediately and perhaps willfully confused with Communism, a politician dares to call himself a socialist? He does indeed. Here is someone who has "looked into his own soul" and expressed an ideology, the endorsement of which, in today's political atmosphere, is analogous to a self-inflicted gunshot wound. Even though he has lived through a time in which an admitted socialist could not act in a film, let alone hold a Congressional seat, Sanders is not afraid to be candid about his political persuasion.

[…]

Sanders has used his unique position as the lone Independent Congressman to help Democrats and Republicans force hearings on the internal structure of the International Monetary Fund, which he sees as excessively powerful and unaccountable. He also succeeded in quietly persuading reluctant Republicans and President Clinton to ban the import of products made by under-age workers. Sanders drew some criticism from the far left when he chose to grudgingly endorse President Clinton's bids for election and re-election as President. Sanders explained that while he disagreed with many of Clinton's centrist policies, he felt that he was the best option for America's working class.

Sanders' positions on many difficult issues are commendable, but his real impact has been as a reaction to the cynical climate which threatens the effectiveness of the democratic system. His energy, candor, conviction, and ability to bring people together stand against the current of opportunism, moral compromise, and partisanship which runs rampant on the American political scene. He and few others like him have the power to restore principle and leadership in Congress and to win back the faith of a voting public weary and wary of political opportunism. Above all, I commend Bernie Sanders for giving me an answer to those who say American young people see politics as a cesspool of corruption, beyond redemption. I have heard that no sensible young person today would want to give his or her life to public service. I can personally assure you this is untrue.
Obviously, Buttigieg is twenty years older now and, one would hope, wiser. He's under no obligation to continue to hold the view of Sanders he did as a high-schooler. But I nonetheless find the endorsement amusing—especially since a key plank of Buttigieg's argument against Sanders is that the courageous label "socialist" will turn off voters in November.