Your Ballot Selfie May Or May Not Be Legal
Depending on what state you live in, taking a picture of your ballot and yourself on Election Day may or may not be legal.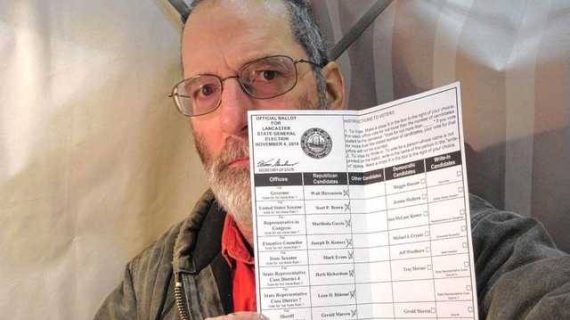 As Election Day approaches, it's likely that social media — Facebook, Twitter, and Instagram most explicitly — will be filled with messages from people who have voted announcing that fact with a picture of themselves and their completed ballot. I've already seen such messages in my own social networks from friends in states with early voting such as North Carolina and Florida, and among those who are voting absentee. It turns out, though, that many of those people may be inadvertently breaking the law:
If you're hoping to document your vote by taking a photo of your ballot, you may be headed for a legal gray area that in some states has grown only murkier in the days leading up to Election Day.

Because the laws in several states are muddled, under review or confusing, unsuspecting voters may run afoul of the rules.

Last week, an extensive review by The Associated Press of the array of ballot selfie laws in all 50 states found that 18 states prohibit sharing photos of ballots.

But with only a week until the general election, on Nov. 8, battles are being waged over the legality of so-called ballot selfies in at least four states, including California, Colorado, Michigan and New York.

Activists have also filed a lawsuit in California, which is among at least 13 states where The A.P. found that voting laws were unclear. That state is a good example of how unclear the rules can seem to voters: A 125-year-old law barring people from sharing their ballots has been repealed, but the legislative action won't go into effect until weeks after the election.

This creates a sort of legal limbo for voters: Can they violate a ban that isn't being enforced in the first place?

In some cases, lawmakers find, antiquated laws collide with the modern tendency to document the goings-on of daily life, which, every once in a while, involves casting a vote.

In Colorado, a federal judge will soon hear challenges to a 125-year-old law that bars people from publishing their ballots, similar to the one in California. In Colorado and New York, publishing a ballot remains a misdemeanor crime.

According to The Denver Post, the case for keeping the law protects against possible cases of voter coercion.

"We believe the current law protects the integrity of the election and protects voters from intimidation or inducement," Suzanne Staiert, Colorado's deputy secretary of state, said in a statement to the newspaper. "In fact, given Colorado's unique election system and rise of social networking, the prohibition may be more important in Colorado than in other states and may be more timely today than ever."

This argument was used unsuccessfully by officials in New Hampshire, which overturned a ban on ballot selfies in September. The media company Snapchat was involved in that case and filed an amicus brief that argued ballot selfies were "the latest way that voters, especially young voters, engage with the political process."

Activists also found the voter-coercion argument moot: "There isn't much evidence, if any at all, that this kind of activity is actually occurring," Justin Silverman, the executive director of the New England First Amendment Coalition, told The New York Times in April.

(…)

In other states, lawmakers seem willing to keep the debate over ballot selfies running down to the wire: In Michigan, an appeals court reversed a lower court's ruling to allow ballot selfies, leaving voters with just over a week to figure out whether the act was legal in their state.

And in New York, three voters filed a lawsuit in October against the ban in a district court. According to The A.P., the judge, P. Kevin Castel, asked why the plaintiffs waited until just before the election to challenge the law.
This map purports to show the state of the law across the country, but I can't personally vouch for its accuracy: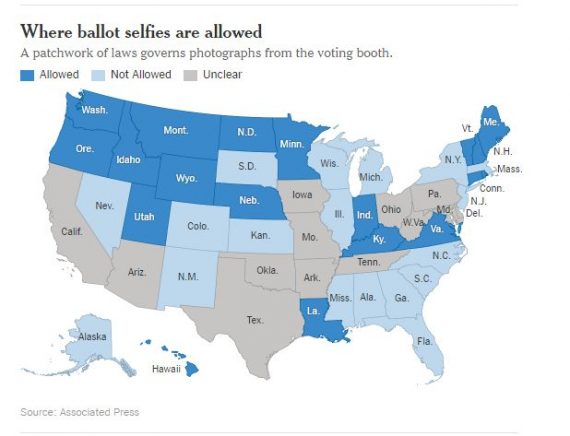 Given how invested we are in the selfie era, it's not surprising that people would want to take a picture of themselves and their ballot the same way they take selfies of other parts of their life. Some voting rights advocates have even suggested that doing so, and sharing such pictures across social networks, could help increase voter turnout, especially among younger voters, by turning voting into something of a social activity. Of course, nobody should feel compelled to share their ballot with the world and many people continue to take the idea of the secret ballot quite seriously, and that's also an understandable attitude. The ballot selfie, then, is the modern-day version of the "I voted" stickers that are handed out at polling places on Election Day and, arguably, have the same purpose of letting others know that you've exercised your right to vote and they should too. Just as you can choose whether or not to wear the sticker, you can choose whether or not to take a ballot selfie. What's not understandable are laws that ban people who are voting from memorializing the same with a selfie that they take themselves and which they have control over.  The argument that laws such as this are necessary to protect ballot integrity are rooted in the idea that someone who is being paid to vote a certain way would have to provide some kind of proof that they complied with the terms of what was agreed to, but in that kind of case it seems highly unlikely that they'd end up publishing the photo to their social media timeline. Instead, it seems more likely that they'd take a photo with their phone and only share it with their co-conspirator. In any case, as noted above, there is little to no evidence that this kind of activity is occurring on a regular basis, and certainly not enough evidence that it has anything to do with taking a picture of yourself and your ballot. Given that, it's hard to justify why laws barring ballot selfies should exist at all.
In addition to the fact that they seem to be banning a practice that doesn't appear to be a problem, there's also a fairly decent argument that such laws would be a violation of the First Amendment. There seems to be little question that a person who posted "I voted for [Insert Name Of Candidate]" on Twitter, Facebook, or Instagram would be engaging in activity that is protected by the First Amendment. While the law provides that the ballots we cast are secret, there are no laws preventing individual voters from telling family, friends, or whomever who they voted for and a Court would most assuredly strike down any law that attempted to criminalize such statements as clear violations of the First Amendment. Arguably, the ballot selfie is just a modern manifestation of telling people who you voted for and that it should be allowed the same First Amendment protection as your statement about who you voted for would be. In other words, it's time for the law to catch up to modern times. Of course, that's the case in many areas, isn't it?
Photo via New Hampshire.com