Zero U.S. Troops In Afghanistan After 2014 A Possibility
The idea of completely pulling out of Afghanistan after 2014 is very compelling.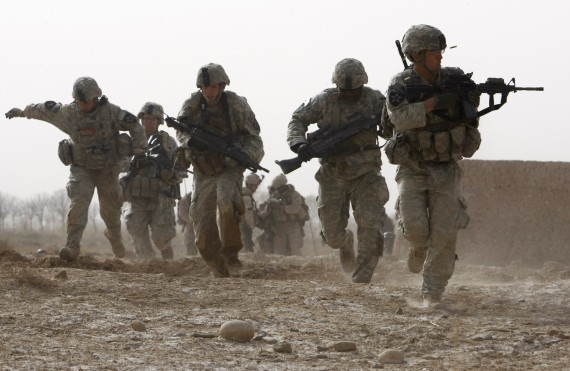 As the Afghanistan draw-down continues, the White House is not ruling out the possibility that there will be no U.S. troops left in Afghanistan after 2014:
The Obama administration does not rule out a complete withdrawal of U.S. troops from Afghanistan after 2014, the White House said on Tuesday, just days before President Barack Obama is due to meet Afghan President Hamid Karzai.

The comments by U.S. Deputy National Security Adviser Ben Rhodes were the clearest signal yet that, despite initial recommendations by the top military commander in Afghanistan to keep as many as 15,000 troops in the country, Obama could opt to remove everyone, as happened in Iraq in 2011.

Asked about consideration of a so-called zero-option once the NATO combat mission ends at the end of 2014, Rhodes said: "That would be an option that we would consider."

Rhodes made clear that a decision on post-2014 troop levels is not expected for months and will be made based on two U.S. security objectives in Afghanistan – denying a safe haven to al Qaeda and ensuring Afghan forces are trained and equipped so that they, and not foreign forces, can secure the nation.

"There are, of course, many different ways of accomplishing those objectives, some of which might involve U.S. troops, some of which might not," Rhodes said, briefing reporters to preview Karzai's visit.
Much of this, of course, could be laying the groundwork for Karzai's visit and the negotiations that will take place regarding the future U.S. role in his nation. Faced with the possibility that the U.S. may leave his country entirely in little more than a year, Karzai may be more willing to be more cooperative in other matters. If he's not, and there's a possibility that he won't be, then we'll end up with the same situation that we were in with Iraq in 2011 and we'll have to leave.
In the end, though, I'm not sure what would be so bad about that. It's been years since we've had anything resembling a coherent mission in Afghanistan. It started out as a counter-terrorism operation in response to the September 11th attacks and, in that regard, it was wildly successful. Even though we didn't finally get Osama bin Laden until 2011 and the whereabouts of those who have taken over from him remain elusive to us, the infrastructure of al Qaeda was dealt a near fatal blow by our initial effort in the country and it's ability to conduct acts of terrorism overseas has been reduced significantly. Counter-terrorism, though, hasn't been the chief goal of our policy in Afghanistan for years, though. Since late in the Bush Administration, we've been engaged in a strategy designed more to prop up the government in Kabul while fighting a stubbornly resistant Taliban insurgency. Partly in response to that, President Obama followed the advice of those advocating for an Afghan version of the Iraqi surge, a strategy that has largely been a failure. The result has been more than two years in which more and more Americans have died in support of a dubious and questionable cause. If we end up bringing them all home by the end of 2014, that doesn't strike me as a bad thing.
As it turns out, the White House has been talking for some time about leaving behind some kind of residual force, at least for the purpose of trying to train the seemingly untrainable Afghan military and police forces:
U.S. officials have said privately that the White House had asked for options to be developed for keeping between 3,000 and 9,000 troops in the country, a lower range than was put forward initially by General John Allen, the top U.S. and NATO commander in Afghanistan.

Allen suggested keeping between 6,000 and 15,000 troops in Afghanistan.

Retired General Stanley McChrystal, a former U.S. commander of the Afghan mission who resigned in 2010, said in an interview with Reuters on Monday there was a value to having an overt U.S. military presence in Afghanistan after 2014 – even if it wasn't large.

"The art, I would say, would be having the smallest number so that you give the impression that you are always there to help, but you're never there either as an unwelcome presence or an occupier – or any of the negatives that people might draw," he said, without commenting on any specific numbers.

The United States now has about 66,000 troops in Afghanistan and Rhodes confirmed there would be steady reductions in troop levels through 2014.
Frankly, if there is a residual force left behind it's likely to be somewhere on the lower end of the estimates noted above. Politically, the American people are pretty much sick and tired of a war that lost any practical purpose years ago and, fiscally, we simply cannot afford this commitment for much longer. Add in to that the fact that any continued presence in Afghanistan requires us to continue to make corrupt deals with corrupt and untrustworthy rulers in Afghanistan and Pakistan, and the "zero option" idea is sounding better and better every day.