2008's Obama Derangement Syndrome Looks Ridiculous In Hindsight
Let's take a trip back in time to see what some conservatives thought 2012 would look like if Barack Obama were elected President.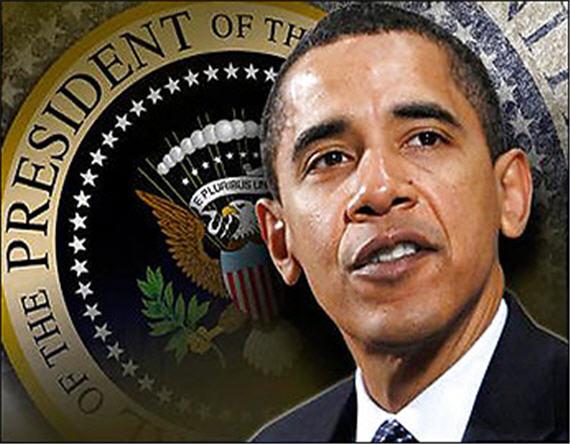 One very significant part of the denial of reality that I wrote about earlier involves the extent to which conservatives view Barack Obama not just as a rival, not just as a President whose policies they disagree with, but as the epitome of evil. It started well before the President ever took office with Sean Hannity, Rush Limbaugh, Sarah Palin, and others on the right trying to paint him as some kind of radical leftist intent radically transforming American politics. It was, after all, Fox News Channel, and Hannity specifically, that spent hours upon hours in the month of April 2008 playing the Rev. Wright tapes over and over again. They were the same people who, along with Sarah Palin, kept arguing during the General Election four years ago that the GOP needed to emphasize Obama's ties to Wright and Bill Ayers in order to win the election. And, of course, we're all well aware of the delusions that have popped on the right since Obama actually assumed the Presidency.
Of all of these delusions, though, perhaps none is more bizarre than something that the group Focus On The Family wrote four years ago:
You've probably heard by now that if Obama wins a second term we will become a socialist nation, gun ownership will be made illegal, our country will be unrecognizable by the end of his term, and on and on. If you listen to leaders on the Right it sounds like this election is the most important election of all time and that all of America's freedoms are staked Romney defeating Obama. There's just one problem. I remember 2008.

In 2008 prominent Christian Right group Focus on the Family put out a sixteen page document called "Letter from 2012 in Obama's America." The document was in the form of a letter, a (fictional) letter from a Christian in 2012 writing back from the future about all the changes that had happened since Obama took office.

(…)

The whole purpose of this letter … was to scare evangelicals out of voting for Obama at any cost. And today, they're doing the same thing. If you vote for Obama, they say, every manner of horrible awful no good very bad thing will happen. Your freedoms will disappear. They will take your guns, they will ban homeschooling, they will send your grandma to death panels.

But this is getting old. See, leaders on the Right do this every election year. Every election is "the most important election of all time," and every election year they warn that our freedoms as Americans are on the line. Every election year they predict catastrophe if they lose the election.
In order to get a better look at just how insane the Obama Derangement Syndrome in this letter is, let's take a look at a few of the "predictions" that this letter makes:
(1) Boy Scouts: "The land of the free"? The Boy Scouts no longer exist as an organization. They chose to disband rather than be forced to obey the Supreme Court decision that they would have to hire homosexual scoutmasters and allow them to sleep in tents with young boys. (This was to be expected with a change in the court, since the 2000 decision Boy Scouts of America v. Dale, which affirmed the right of the Boy Scouts as a private organization to dismiss a homosexual scoutmaster, was a 5-4 decision, with Stevens, Ginsburg, Souter and Breyer dissenting even then.)
This, of course, didn't happen, and it's largely based upon a horror story hypothetical in which Obama was somehow able to appoint four Supreme Court Justices inside of two years and thus create a Supreme Court that legalized same-sex marriage, abolished gun rights, restricted the rights of  churches and people of faith and, of course, destroyed the Boy Scouts of America. None of that happened, of course. Which means that the Boy Scouts remain free to discriminate against gays and atheists, or, as I suggested the other day, promote policies that encourage both members and Scoutmasters to lie.
(5) Public broadcasting: "The land of the free"? The Bible can no longer be freely preached over radio or television stations when the subject matter includes such "offensive" doctrines as criticizing homosexual behavior. The Supreme Court agreed that these could be kept off the air as prohibited "hate speech" that is likely to incite violence and discrimination. These policies followed broadcasting and print restrictions that were in place prior to 2008 in Canada and Sweden
Again, this never happened, but it also reveals something about people on the right. Over the past several years, the Supreme Court has issued a series of First Amendment cases dealing with highly controversial topics ranging from depictions of animal cruelty, to anti-gay protesters at military funerals, to people lying about having received military honors. In all of those cases, the Court has been unanimous or near unanimous in striking down restrictions on event the most offensive forms of speech, and the Court's four liberal members have been right there with the conservatives on these issues. The idea that the Supreme Court would issue a ruling say that you can't read the Bible over public airwaves, or that you can't talk about religious positions on homosexuality, is so bizarrely paranoid that it reads more like the plot of a really bad Direct-To-DVD movie than a series political analysis.
Things get even more bizarre when you get to the foreign policy section of the letter:
(23) In early 2009, [Russia] followed the pattern they had begun in Georgia in 2008 and sent troops to occupy and re-take several Eastern European countries, starting with the Ukraine, Estonia, Latvia and Lithuania. President Obama appealed to the United Nations (UN), taking the same approach he had in his initial statements when Russia invaded Georgia in August 2008: "Now is the time for Georgia and Russia to show restraint, and to avoid an escalation to full scale war," and "All sides should enter into direct talks on behalf of stability in Georgia, and the United States, the United Nations Security Council, and the international community should fully support a peaceful resolution to this crisis,"

But Russia sits on the Security Council, and no U.N. action has yet been taken.

Then in the next three years, Russia occupied additional countries that had been previous Soviet satellite nations, including Poland, Hungary, the Czech Republic and Bulgaria, with no military response from the U.S. or the U.N. NATO heads of state have severely condemned Russia's actions each time but they could never reach consensus on military action.
Yes, that's right. These people actually thought that Russia, a nation whose military has been decimated since the collapse of the Soviet Union, which has nothing that would constitute a functioning Navy outside of the areas immediately adjacent to its territorial waters, and continues to deal with insurgent Muslims on its southern border would somehow find a way to reoccupy nearly all of the area formerly controlled by the Warsaw Pact. It's of a piece, I suppose, with what seems like general conservative paranoia when it comes to Russia, which seems to be at the same level as it was when the Cold War was at its height.
There's much more in the letter itself, which I've embedded below for your information and amusement, but it strikes me that this letter was a precursor to much of what we've seen unfold over the past four years. The letter itself was quite obviously meant as a fundraising/Get Out The Vote mechanism, but it displays a level of paranoia that has become part of everyday conversation among some elements on the right. It stands, in retrospect, as a precursor of the rhetoric we've heard from the Rush Limbaugh's, Michele Bachmann's, and Allen West's of the world as well as the insanity behind Dinesh D'Souza and his silly movie.
Reading this letter four years after the fact, one is struck by several things. First, the far right's paranoia about Obama is something that seems to have sprung up sui generis. There really wasn't anything in the political or personal record of Barack Obama as we knew him in 2007-2008 to justify the fears that are expressed here. Yes he was a Democrat, but there was no credible evidence for the arguments that many on the right made that he was some kind of radical, which is largely why the majority of American voters who might otherwise be sympathetic to Republican arguments didn't buy the argument. Second, this letter shows the deep level of cynicism involved in political fundraising and advocacy. This letter was obviously directed toward social conservatives who would be sympathetic to the message that Focus on the Family pushes, and the letter, in all of its utter insanity, was clearly meant to scare them to death with a bizarre and badly written future history of an America that clearly was never going to exist. We see this quite frequently from advocacy groups on both sides of the aisle, but I've got to say this is among the most egregious examples that I've ever seen.  Finally, the letter provides a brief, and somewhat terrifying, glimpse into the mind of the far right. The truth of the matter is that there are people out there who actually believe this stuff, just like they believe that D'Souza's bizarre film is somehow grounded in reality.
As I've said before, the right's blind hatred for Barack Obama blinds it to reality in much the same way that the left's hatred for Richard Nixon, Ronald Reagan, and George W. Bush did during their times in office. This letter is just one example of how that hatred had taken root long before the President had even taken office. If these are the emotions that drive conservatives in this final month of the Presidential campaign, they will most likely see themselves sitting in front of a television watching President Obama take the Oath Of Office for the second time.
Here's the letter:
Focus On The Family Propaganda: "Letter From Obama's America 2012"