2018 Continues To Look Good For Democrats
Things continue to look good for Democrats as we get closer to the midterm elections.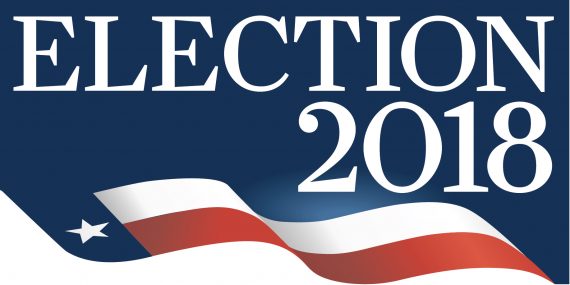 A new Generic Congressional Ballot poll from NBC News and The Wall Street Journal has more bad news for Republicans and good news for Democrats:
WASHINGTON — Democrats enjoy a 10-point advantage over Republicans in congressional preference for the 2018 midterm elections, even as President Donald Trump's job approval rating has ticked up, the latest national NBC News/Wall Street Journal poll finds.

Fifty percent of registered voters say they prefer a Democratic-controlled Congress, while 40 percent want a GOP-controlled one.

That double-digit lead — typically a sign of strong Democratic performance for the upcoming election — is up from the party's 6-point edge in January's NBC/WSJ poll, which was 49 percent to 43 percent, though the change is within the poll's margin of error.

The survey, which was conducted March 10-14, also shows Democrats holding the early enthusiasm advantage: Sixty percent of Democratic voters say they have a high degree of interest in the upcoming elections (registering either a "9" or "10" on a 10-point scale), versus 54 percent of Republicans who say the same thing. In addition, 64 percent of 2016 Clinton voters say they have a high level of interest, compared with 57 percent of 2016 Trump voter

Meanwhile, the NBC/WSJ polls finds that Trump's approval rating stands at 43 percent among all Americans — up four points from January.

Fifty-three percent of adults say they disapprove of the president's job, down from 57 percent two months ago.

The improvement for Trump comes from Republican respondents (who went from 78 percent approve in January to 84 percent this month), white men (52 percent to 59 percent) and independents (33 percent to 45 percent).

"Trumpism may well help Donald Trump in his 2020 election, but the buck stops there — which is a flashing red light for Republicans in 2017 or 2018," says Democratic pollster Fred Yang, who conducted the poll with GOP pollster Bill McInturff.

Still, Trump's overall approval rating at 43 percent is the lowest for any modern president at about 14 months into his job.

"Survey to survey, numbers bounce around. But today's state of play continues to tell the same story — a president with lower than average job approval starting his second year with a Democratic edge in the midterms," says McInturff, the Republican pollster.
Among the more interesting details in the poll is the fact that voters in Republican-held Congressional Districts are far less positive about the prospect of the GOP holding on to control of Congress than voters in Democratic-held Congressional Districts about their party winning control. As Chuck Todd explained during a segment of Meet The Press this morning, the results in the districts that the poll focused on found that the results on the Generic Congressional Ballot question in the Republican-held districts showed voters roughly equally divided on the question of which party should control Congress. In the Democratic-controlled districts, though, there was a clear majority in favor of Democrats winning back control of Congress. What this suggests is that the GOP has lost the support of a sizeable portion of the independent voters that it would need even in Republican-help districts to retain seats while Democrats are solidly in control in the seats they hold. This bodes well for Democratic fortunes in the fall.
Looking beyond the numbers in this one poll, the numbers continue to look good for Democrats in the poll averages. The RealClearPolitics average, for example, gives Democrats a 12.8% margin over the GOP with an average of 53% of respondents saying they would prefer a Democratic candidate and an average of 41.3% saying they would prefer a Republican. The Pollster average is somewhat more conservative in that is shows 42.6% of respondents saying they would support a Democrat and 36.0% saying they would support a Republican. Finally, the FiveThirtyEight projection shows 48.5% of respondents saying they would support a Democratic candidate and 38.5% saying they would support a Republican. These numbers are down somewhat from the heights they were at near the end of 2017, but they still show a strong preference among voters for a Democratic-controlled Congress. Additionally, as the chart from RealClearPolitics shows, the trend appears to be once again working in favor of the Democrats: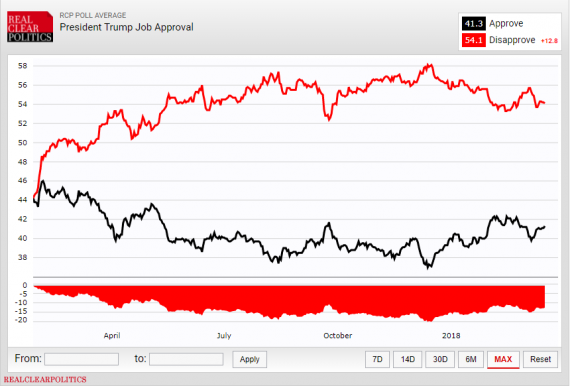 All of the usual caveats apply here, of course. We're still over seven months away from the midterm elections, after all, and there's any number of things that could happen between now and then that could have an impact on the elections themselves. Additionally, it's worth keeping in mind that the General Congressional Ballot doesn't always paint an accurate picture of what's likely to happen in the 435 House elections and, as things stand now, 35 Senate elections (33 regular end-of-term elections and two Special Elections) that will take place in November. In reality, the fate of the House of Representatives will come down to the fate of, at most, a couple dozen seats where the Democrats may have a likely chance of winning against a Republican incumbent or in an open-seat race for a seat held by one of the many Republican House members who are retiring at the end of the current session of Congress. Since the Generic Congressional Ballot is a national poll it doesn't really give us an accurate picture of what's going on at the District level. We'll be able to get some idea of where the Senate is headed as various polling companies begin focusing on the likely competitive races in that body, but the odds are that we won't see much polling at the Congressional District level so, as is usually the case, we'll be headed into the midterms somewhat blind about what the outcome could be. All that being said, the ground looks very good for Democrats right now, and that should have Republicans very worried.