64 Percent of Democrats Want Biden Replaced in 2024
With record-low poll numbers, the grass roots wants someone new on the ticket next time.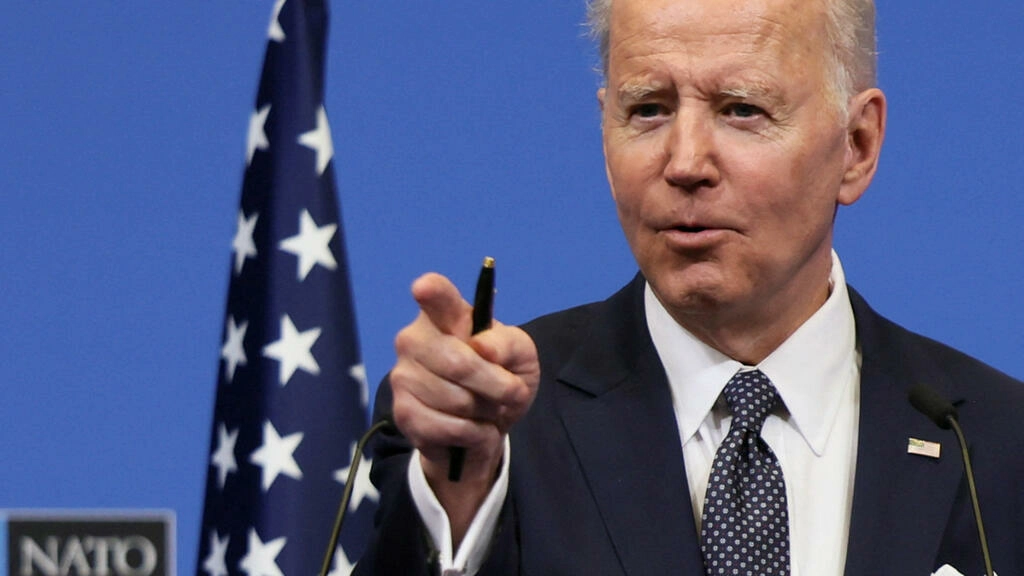 NYT ("Most Democrats Don't Want Biden in 2024, New Poll Shows"):
President Biden is facing an alarming level of doubt from inside his own party, with 64 percent of Democratic voters saying they would prefer a new standard-bearer in the 2024 presidential campaign, according to a New York Times/Siena College poll, as voters nationwide have soured on his leadership, giving him a meager 33 percent job-approval rating.

Widespread concerns about the economy and inflation have helped turn the national mood decidedly dark, both on Mr. Biden and the trajectory of the nation. More than three-quarters of registered voters see the United States moving in the wrong direction, a pervasive sense of pessimism that spans every corner of the country, every age range and racial group, cities, suburbs and rural areas, as well as both political parties.

Only 13 percent of American voters said the nation was on the right track — the lowest point in Times polling since the depths of the financial crisis more than a decade ago.
They provide this graphic showing the 32-year history of their polling on the question: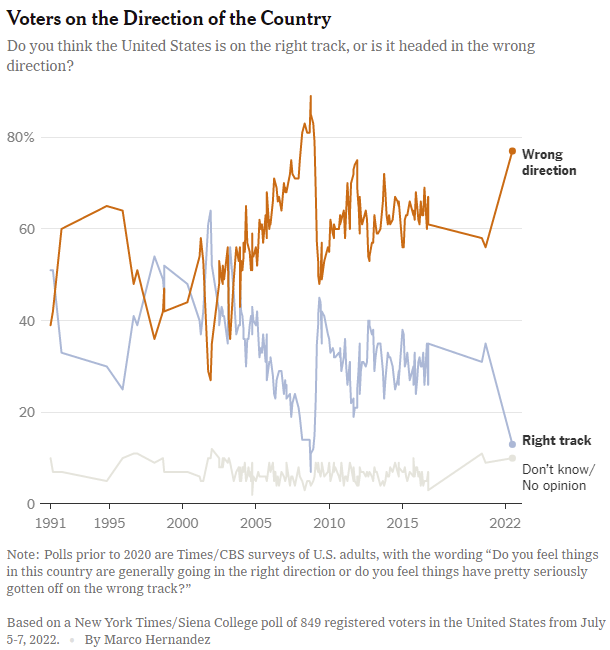 The caption notes that the polling partner and question wording were different prior to 2020 but there's no reason to think either materially impact the trendline. The numbers here are bad.
For Mr. Biden, that bleak national outlook has pushed his job approval rating to a perilously low point. Republican opposition is predictably overwhelming, but more than two-thirds of independents also now disapprove of the president's performance, and nearly half disapprove strongly. Among fellow Democrats his approval rating stands at 70 percent, a relatively low figure for a president, especially heading into the 2022 midterms when Mr. Biden needs to rally Democrats to the polls to maintain control of Congress.

In a sign of deep vulnerability and of unease among what is supposed to be his political base, only 26 percent of Democratic voters said the party should renominate him in 2024.

Mr. Biden has said repeatedly that he intends to run for re-election in 2024. At 79, he is already the oldest president in American history, and concerns about his age ranked at the top of the list for Democratic voters who want the party to find an alternative.

The backlash against Mr. Biden and desire to move in a new direction were particularly acute among younger voters. In the survey, 94 percent of Democrats under the age of 30 said they would prefer a different presidential nominee.
It stands to reason that, if Democrats are unhappy with how things are going right now, they're amenable to a change in leadership. A majority of Republicans want someone other than Donald Trump to run in 2024, too. A theoretical ideal candidate is naturally better than an actual one.I suspect, however, that Biden and Trump would both outpoll any specific alternative. (Not having access to the raw poll, though, I am reduced to an educated guess on that front.)
As to why Biden should be replaced, the small subsample of Democrats who wanted to replace Biden gave numerous rationales: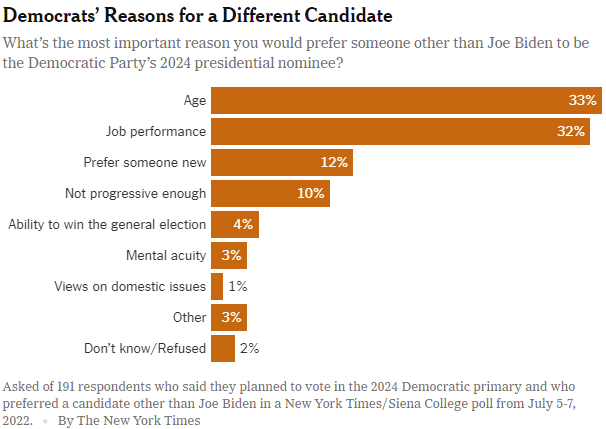 Which . . . isn't that surprising. He's old (which is rather baked in) and the country is moving in the wrong direction. But, again, replaced with whom? Bernie Sanders is even older. Kamala Harris? Pete Buttigieg? They had their shot at Biden in 2020 and didn't fare so well.
The rest of the report is just anecdotal whinging from various yahoos. It may or not be representative of much of anything.
Certainly, as Dave Schuler articulated Friday in response to a Harry Olsen column, this all bodes well for Democrats this November:
The COVID-19 pandemic and as or more important, the policy responses to it. By the standard Candidate Biden articulated during his campaign he should already have resigned. The trend isn't moving in the right direction right now.
We haven't had the sort of inflation we have at present for more than 40 years—that's not within living memory for a majority of Americans.
We haven't had a president with this low an approval rating going into the midterms in 70 years.
We've never had a president this old. And speaking brutally honestly although a lot of Republicans seem to be kidding themselves about Biden's degree of disability it cannot be denied that Biden has lost a step or two. He's not a drooling senile lump but he's not the man he was when he was Obama's vice president, either.
These midterm elections are likely to be scrutinized as no other.
There are a lot of unknown unknowns.
It's almost certainly not Biden's fault that COVID is trending as it is, given that much of the vaccine resistance is among Republicans and, certainly, has been exacerbated by Republican leaders and media outlets. But it is what it is—and the highly Democratic metro eras, with their higher population concentrations, are certainly no immune.
For that matter, while I think Biden has contributed at the margins to inflation and gas prices, they're overwhelmingly owing to factors outside his control. But people in democracies, not just Americans, naturally blame their political leaders for these things. (And Trump got a lot of credit for trends that began under his predecessor.) Life ain't fair.
But it's just too early to assess 2024. It's been a long time—Lyndon Johnson in 1968—since an eligible sitting President didn't run for another term. Given his age, it's possible that Biden will in fact ultimately opt out if his poll numbers don't improve. But, forced to bet, I would do so heavily on Biden being the Democratic nominee. Indeed, I'd put much higher odds on someone other than Trump running against him.