65% Of Americans Disapprove Of Obama's Handling Of The Economy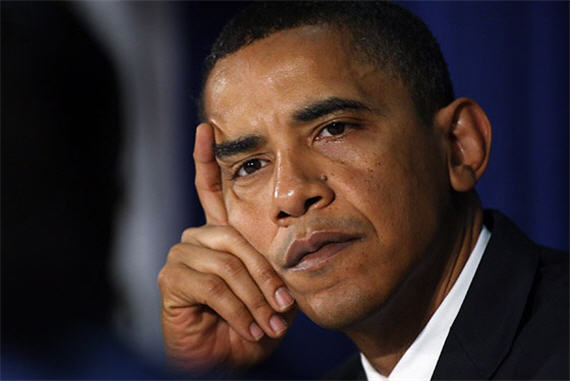 If the 2012 election really does come down to a referendum on the President and the economy, then Barack Obama could be in some trouble:
Only a third of all Americans approve of how President Barack Obama is handling the economy, according to a new national survey.

And with a CNN/ORC International Poll also indicating that more than three-quarters of the public say the country is in bad shape right now, there's little wonder why the president is getting such low marks.

According to the poll, released Wednesday morning, 28 percent of people questioned say things are going well in the country today.

"That may be a slight uptick from early August but it still represents a double-digit drop from earlier this year," says CNN Polling Director Keating Holland. "And it's clear that economic jitters are a drag on President Obama's standing with the voting public."

Obama gets good marks for his handling of international issues. Six in ten approve of his handling of terrorism and roughly half like his track record on foreign affairs in general and Libya in particular. And 53 percent say they trust Obama as the nation's commander-in-chief.

But only 34 percent approve of how the president is handling economic issues, with 65 percent saying they disapprove of how he's handling the economy. Thirty-three percent give him a thumbs up on the budget deficit and 37 percent approving of how he's dealing with unemployment.

"Two-thirds of Democrats continue to approve of Obama's economic record, but seven out of ten independents disapprove. Not surprisingly, more than nine out of ten Republicans also disapprove of how Obama is handling the economy," adds Holland.
The biggest concern for Campaign Obama should be that 70% disapproval number among independents, those were the voters that the President was able to attract in 2008 to  help him win states like Virginia, North Carolina, and Indiana. Even the approval number among Democrats isn't anything to write home about, though. 67% is a high number, but we're talking about the President's Democratic base here. If 1/3 of them are upset enough about the state of the economy and the President's handling of it come November 2012 then even the simple act of staying home could be enough to harm the President in states like Pennsylvania. More importantly for the President, though, is the fact that the trend on this particular part of his job performance evaluation has been moving against him for quite some time now: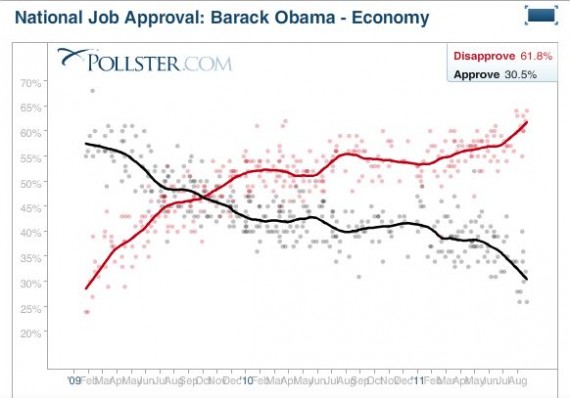 Incumbency gives Barack Obama many advantages, and it would be foolish at this point to write his re-election chances off. However, the trends are not being favorable to him and, assuming the Republicans put up a candidate that can match the President, then he's going have a lot to worry about a year from now.