Obama's Job Approval Continues To Plummet Despite Jobs Plan Push
The President's jobs push isn't doing much to help his job approval numbers so far.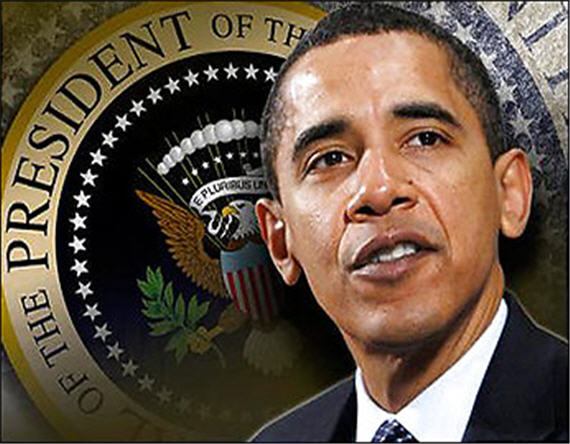 The President's Thursday speech and the ongoing push to promote the American Jobs Act don't seem to be having much of an impact on the President's job approval numbers:
A majority of Americans don't believe President Barack Obama's $447 billion jobs plan will help lower the unemployment rate, skepticism he must overcome as he presses Congress for action and positions himself for re- election.

The downbeat assessment of the American Jobs Act reflects a growing and broad sense of dissatisfaction with the president. Americans disapprove of his handling of the economy by 62 percent to 33 percent, a Bloomberg National Poll conducted Sept. 9-12 shows. The disapproval number represents a nine point increase from six months ago.

The president's job approval rating also stands at the lowest of his presidency — 45 percent. That rating is driven down in part by a majority of independents, 53 percent, who disapprove of his performance.

(…)

The poll hands Obama new lows in each of the categories that measures his performance on the economy: only 36 percent of respondents approve of his efforts to create jobs, 30 percent approve of how he's tackled the budget deficit and 39 percent approve of his handling of health care.
The Bloomberg also finds that a majority of Americans, including 56% of Republicans, don't believe that the President's jobs plan will do little to reinvigorate the economy and spur hiring or increase economic growth. That number reflects an overall trend among Independents in the polls toward turning sour on the Obama Administration:
On the economy, 29 percent of independents approve of the job Obama is doing while 66 percent disapprove. Obama is weakest among independents when it comes to his ability to reduce the deficit — under a quarter of those respondents approve of his job in that category, while 67 percent disapprove. On job creation, 30 percent of independents approve of Obama's efforts while 63 percent disapprove. He scored slightly better among independents on health care with 34 percent approving and 57 percent disapproving.

Forty-six percent of independents say they definitely won't vote to re-elect the president, compared to 21 percent who definitely will support him. In 2008, Obama was backed by 52 percent of independent voters, compared to 44 percent who backed Republican nominee John McCain, an Arizona senator, according to exit polls.
That's a huge problem for the President, and one that has only seemed to have gotten worse as time has gone on, as this chart shows: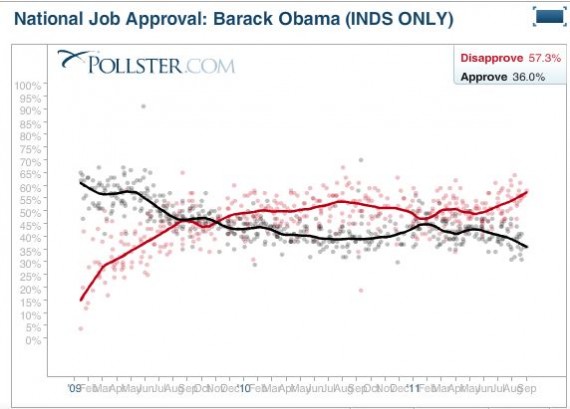 The Bloomberg numbers are backed up by a newly released National Journal poll:
In the poll, there was no major demographic group in which a majority of those surveyed said that Obama's economic policies have improved the economy. Even among African-Americans, just 40 percent said that Obama's efforts had improved conditions. He inspired even fainter praise among other groups central to his coalition, including adults under 29 (just 25 percent of whom said he had improved things), independents (18 percent), and college-educated white women (also 18 percent). Hispanics were cool, too.

Indeed, there was little difference on this crucial assessment between groups that favored Obama last time and those that resisted him, such as white men without a college education (just 16 percent better) and white seniors (15 percent better). Whites earning more than $75,000 annually were somewhat more positive than lower-income whites, but nearly half of both groups said that his policies had worsened conditions.
And a new CNN poll:
President Barack Obama's disapproval rating has reached a new high of 55% while the number of Americans who think he is a strong leader has dropped to a new low, 48%, according to a CNN/ORC poll released Tuesday.

And a familiar pattern in public opinion on Obama again asserts itself: Americans don't like his track record on major issues while they continue to like him personally. Nearly eight in 10 respondents say Obama is likeable; large majorities believe he is compassionate, hard-working, and has a vision for the country's future. Three-quarters think he fights for his beliefs.

But only 39% approve of how he is handling unemployment, and just 36% approve of the way he is handling the economy, not surprising when more than eight in 10 think the economy is in poor shape.

Opinion on Obama's economic track record is mixed, however. While fewer than one in 10 (9%) think his policies have made the economy better, about four in 10 (39%) credit them with preventing the economy from being even worse than it is today. On the other side, 37% say Obama has made economic conditions worse. Fifteen percent think his policies have had no effect.

Overall, 55% now say they disapprove of how he is handling his job as president. That's one point higher than the 54% disapproval rating he routinely hit in polls taken in July and August. Forty-three percent now say they approve of how Obama is handling his job overall. That is not an all-time low for him; he hit 42% a year ago. Six in 10 say Obama has fallen short of their expectations.
Perhaps most surprising, though, is the extent to which this job approval dive is starting to show up in places that one would think to be pro-Obama. In New York's Ninth Congressional District, for example, which a Republican won yesterday for the first time since Warren Harding was a candidate for President, President Obama's job approval number was down to 43% in a recent poll, which would explain why neither the President nor anyone connected with the Administration was brought in to campaign for the Democratic candidate.  In a recent poll in New Jersey, which hasn't gone Republican in a Presidential election since 1988, the President's approval/disapproval numbers were at 52/44. In Pennsylvania. which many pundits believe is a must-win state for the Democrats in 2012, the President's job approval in two recent polls from Franklin & Marshall College and Muhlenberg are at 34% and 35% respectively. Things aren't much better in another delegate rich state, Florida where the Presidents job approval number is at 37%.  The President is even having trouble in California, which has been something of a sold blue state for the past twenty years:
Concern about the economy has pushed President Barack Obama's approval rating below 50 percent in California, a state assumed to be an easy win for him in next year's presidential election.

Obama carried California in the 2008 election but Field Poll findings released on Wednesday show he is having trouble in the most populous U.S. state, where most disapprove of his handling of the economy and just 46 percent of registered voters now support his performance as president.

It is the first time since Obama took office that his approval rating has slipped below 50 percent in the poll, which

showed an 8 percentage point decline since June.

The percentage of California voters disinclined to re-elect Obama was 44 percent — compared with 40 percent in June and March — while 49 percent are inclined to vote for him next year, unchanged from June and March.

"Most would consider this a reliably blue (Democratic) state and if he's having problems here it's fairly ominous for his standing in the rest of the nation," said Mark DiCamillo, director of the Field Poll.

The poll showed 54 percent of California voters disapprove of how Obama is handling the economy, compared with 40 percent who approve and 6 percent with no opinion.
Now Obama is likely to still come out on top in state's like California and New Jersey (Pennsylvania is another matter, and a state that will be heavily contested), but if he's having trouble in these Democratic strongholds, then he's going to be having more trouble in states like Virginia, North Carolina, and Nevada, which is where the 2012 election may well end up being decided. In any case, though, the only thing the President's jobs plan push seems to be doing is energizing his supports. While that's important, it's not going to be enough to pull him over the finish line in 2012.