67% Of Registered Voters Say Sarah Palin Unqualified To Be President
Another poll confirms that Sarah Palin continues to be viewed negatively by the majority of American voters, but that doesn't seem to matter to supporters who seem have a degree of adulation usually reserved for celebrities than serious politicians.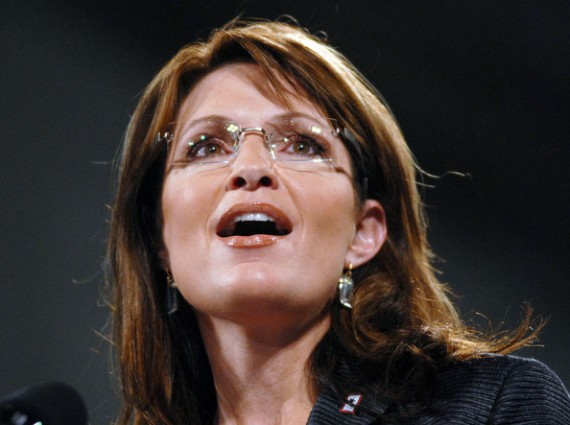 While Sarah Palin continues to send out signals that seem to indicate she's running for President in 2012, the vast majority of American voters don't think she's qualified for the job:
Sarah Palin's interest in the presidency is not being reciprocated by most Americans: Two-thirds of registered voters in a new ABC News/Washington Post poll say she's unqualified for the job, and more than half continue to rate her unfavorably overall.

Those results come after Palin, in a television interview this week, said she'd run in 2012 "if there's nobody else to do it." That echoed a comment in February, when she said she wouldn't "close the door that perhaps could be open for me in the future."

This poll, produced for ABC News by Langer Research Associates, suggests steep challenges. Palin appears to have gained little luster from the success of the Tea Party political movement with which she'd aligned: Just 39 percent of registered voters see her favorably, the most basic measure of a public figure's popularity. That's essentially the same as her lows, 37 percent, last winter and spring.

Even fewer, just 27 percent, see her as qualified for the presidency, also essentially unchanged. Sixty-seven percent say she's not qualified; this peaked at 71 percent in February.

While there are political and ideological divides on Palin, she faces hurdles across the board. Even in her own party, Republicans divide, 47 percent to 46 percent, on whether she's qualified or unqualified to serve as president. Conservatives split, 45-48 percent, as do Tea Party supporters, 48-48 percent.

In only two groups do majorities see Palin as qualified – conservative Republicans, by 55-40 percent; and "strong" supporters of the Tea Party movement, by a broad 73-22 percent. (They're a small group, one in 10 registered voters.)

While 82 percent of Democrats and 84 percent of liberals see her as unqualified, as do 70 percent of swing-voting independents and 77 percent of self-described political moderates.
These are extraordinary numbers to see regarding someone that people still regard as a serious player in American politics. I've been following politics since the 1980s, and I cannot remember someone who was so wildly unpopular with the general public who still had widespread influence within a major political party.  Dan Quayle had incredibly high negative numbers, but even as Vice-President he was never considered to be a serious voice of influence within the GOP, and when he dipped his toes into the Presidential waters, the GOP greeted his candidacy with a collective shrug.
Not so for Sarah Palin.
Despite the fact that she is viewed negatively by a majority of Americans, she is somehow one of the most popular  leaders in the Republican Party and the conservative political movement. This despite the fact that her political experience consists of a few years as small-town Mayor, a half-term as Governor, and a failed bid for the Vice-Presidency. It's not what one typically sees from Republicans, who usually rally behind the person with experience and at least some sense of seriousness. With Palin, the lack of experience seems to be a positive for her supporters, and instead of gravitas we have celebrity as evidenced by appearances on reality television and "celebrity" dancing shows. It is the kind of adulation one normally sees attached to a Frank Sinatra or Elvis Presley rather than a Ronald Reagan, and I'm not entirely sure it's appropriate for politics.
As I've said before, a typical politician would look at numbers like these, realize that they can't win, and decide not to run for the good of their party. Sarah Palin, however, does not think like a typical politician, as Steven Taylor noted just yesterday:
Palin represents the culmination of the rise of partisan (specifically in this case Republican/conservative) media that started in the mid-to-late 1980s and grew up alongside the growth of niche media and the segmentation of news/commentary consumption in the United States because of cable and the internet.   It is possible now to not only get conservative-oriented news and commentary it is possible to get exclusively conservative-oriented news and commentary.  Further, Palin has cleverly exploited long-standing resentments within the public about perceptions of liberal bias in the press.   This is especially true of older voters who remember (and resented) the pre-cable era when all the news came through the Big Three Networks and from anchors who were often believed to have liberal-leaning perspectives.

(…)

If one places oneself in a situation in which one is more likely to be praised than not (not to mention the clamor this election season for her endorsement), then one is likely to take a distorted view of one's overall popularity (empirical evidence to the contrary be damned, such as a 22% favorable, 48% not favorable rating in a recent poll).  I know people who are convinced that Palin's national popularity is on the rise despite the aforementioned empirical evidence.  Why do they think this?  It is because the only news that they consume outside of the local newspaper is Fox News Channel, especially its commentary programming.  If viewers think this (and a poll of Fox News consumers would be quite interesting on this count), then it is hardly difficult to see Palin self-deluding on her actual popularity.  Further, it is generically easy for politicians to see themselves from the perspective of their more ardent supporters rather than from the POV of the broader public.
This is why I think that not only will Palin run for President in 2012, but that she stands a better-than-most-expect chance of winning the GOP nomination. Unless the nation plunges into a deep recession just prior to the 2012 elections, this would virtually guarantee the re-election of Barack Obama and could quite possibly lead to a disaster down-ticket for the GOP just two years after their 2010 triumph. It would be a suicide mission, but it would be exactly what you'd expect from someone at the center of a cult of personality.