83% of US COVID-19 Deaths Avoidable
A new study finds earlier lockdowns could have saved 54,000 lives by early May.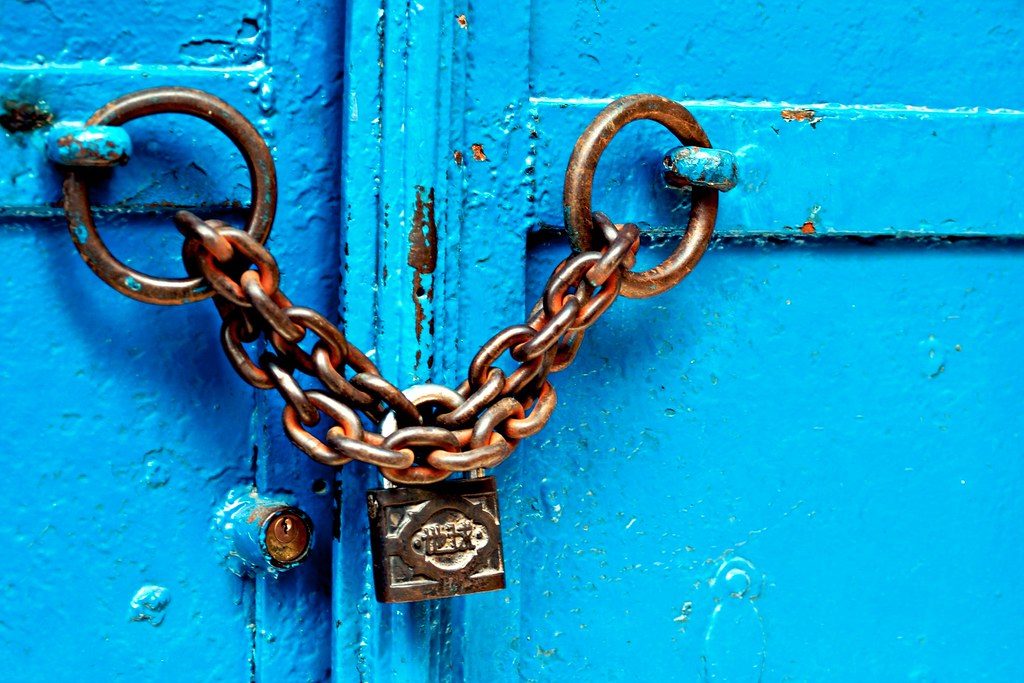 Another day, another study on the effectiveness of government lockdowns to fight the COVID-19 pandemic. This one finds horrific losses as a result of delays.
James Glanz and Campbell Robertson reporting for the New York Times ("Lockdown Delays Cost at Least 36,000 Lives, Data Show"):
If the United States had begun imposing social distancing measures one week earlier than it did in March, about 36,000 fewer people would have died in the coronavirus outbreak, according to new estimates from Columbia University disease modelers.

And if the country had begun locking down cities and limiting social contact on March 1, two weeks earlier than most people started staying home, the vast majority of the nation's deaths — about 83 percent — would have been avoided, the researchers estimated.

Under that scenario, about 54,000 fewer people would have died by early May.

The enormous cost of waiting to take action reflects the unforgiving dynamics of the outbreak that swept through American cities in early March. Even small differences in timing would have prevented the worst exponential growth, which by April had subsumed New York City, New Orleans and other major cities, the researchers found.
That's phenomenal, indeed. As of this writing, we're at 94,948 dead here in the United States. But we've had as many as 2500 daily deaths in the three weeks since the study concluded—and only one day below 1000.
Turning to the study—which is a preprint that has not been peer-reviewed—itself, we see that
[W]e use county-level observations of reported infections and deaths11, in conjunction with human mobility data12 and a metapopulation transmission model13,14, to quantify changes of disease transmission rates in US counties from March 15, 2020 to May 3, 2020. We find significant reductions of the basic reproductive numbers in major metropolitan areas in association with social distancing and other control measures. Counterfactual simulations indicate that, had these same control measures been implemented just 1-2 weeks earlier, a substantial number of cases and deaths could have been averted. Specifically, nationwide, 61.6% [95% CI: 54.6%-67.7%] of reported infections and 55.0% [95% CI: 46.1%-62.2%] of reported deaths as of May 3, 2020 could have been avoided if the same control measures had been implemented just one week earlier. We also examine the effects of delays in re-implementing social distancing following a relaxation of control measures. A longer response time results in a stronger rebound of infections and death. Our findings underscore the importance of early intervention and aggressive response in controlling the COVID-19 pandemic.
It's commonsensical that, if the virus is spread by coming into contact with other humans, measures that reduce human-to-human contact would reduce the spread of the virus. And, rather obviously, doing so before the disease is widespread is going to be more effective than doing so further along the curve.
I've skimmed the explanation of the modeling beyond the abstract and, alas, I simply don't have the training to understand it. Glantz and Robertson talk to some other experts, who seem to think it's a well-constructed.
All models are only estimates, and it is impossible to know for certain the exact number of people who would have died. But Lauren Ancel Meyers, a University of Texas at Austin epidemiologist who was not involved in the research, said that it "makes a compelling case that even slightly earlier action in New York could have been game changing."

"This implies that if interventions had occurred two weeks earlier, many Covid-19 deaths and cases would have been prevented by early May, not just in New York City but throughout the U.S.," Dr. Meyers said.
Much of the NYT report is devoted to rehashing President Trump's fecklessness in dealing with the issue, which is well-trod ground. But, ultimately governors and mayors took the lead in locking down the country.
One has to get pretty far into the story to get to the obvious point that we discussed yesterday
Official social distancing measures don't work unless people follow them. While the measures have enjoyed generally widespread support among Americans, the findings rely on the assumption that millions of people would have been willing to change their behavior sooner.

People are apt to take restrictions much more seriously when the devastation of a disease is visible, said Natalie Dean, an assistant professor of biostatistics at the University of Florida who specializes in emerging infectious diseases. But in early March, there had been few deaths, and infections were still spreading silently through the population.
Here's the day-by-day death toll in the USA, as tracked by Worldometer: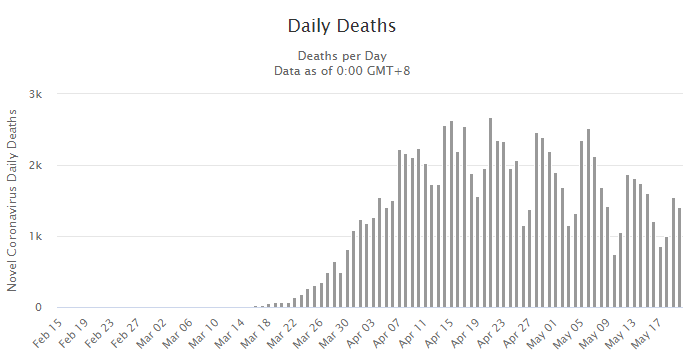 The chart at the link is interactive, not static as my capture above. But you can see that the lockdowns happened very early relative to the spike in deaths. While we've since learned that there were deaths in early February from the disease, the first reported death was on February 29. By the time lockdowns were starting, we were at 22 deaths a day.
People are rioting in the streets over the inconveniences of a lockdown at a point when the pandemic is killing thousands of Americans a day. But they're making the news precisely because so few are doing it. Can you imagine the reaction if governors started ordering businesses closed when there had been one death in the country?
In hindsight, that would absolutely have been the thing to do. Whether we would actually have saved 83,000 lives is unknowable, but we'd have saved a lot. But it's unreasonable to expect political leaders to take extreme—indeed, essentially unprecedented—measures that far ahead of the curve.
And, yes, it would have been easier if Trump had been using the bully pulpit to spread the caution from Dr. Fauci, the CDC, and other experts rather than downplaying the pandemic because he was more worried about his ratings than the death toll.
As it was, many of us were voluntarily self-isolating ahead of the mandatory shutdowns. My office didn't close until March 18 but we had stopped going out to restaurants a couple of weeks earlier. The Virginia stay-at-home order wasn't issued until March 30.