A Diminished, Surreal July 4th
The crowd for DC's fireworks celebration was small but weird.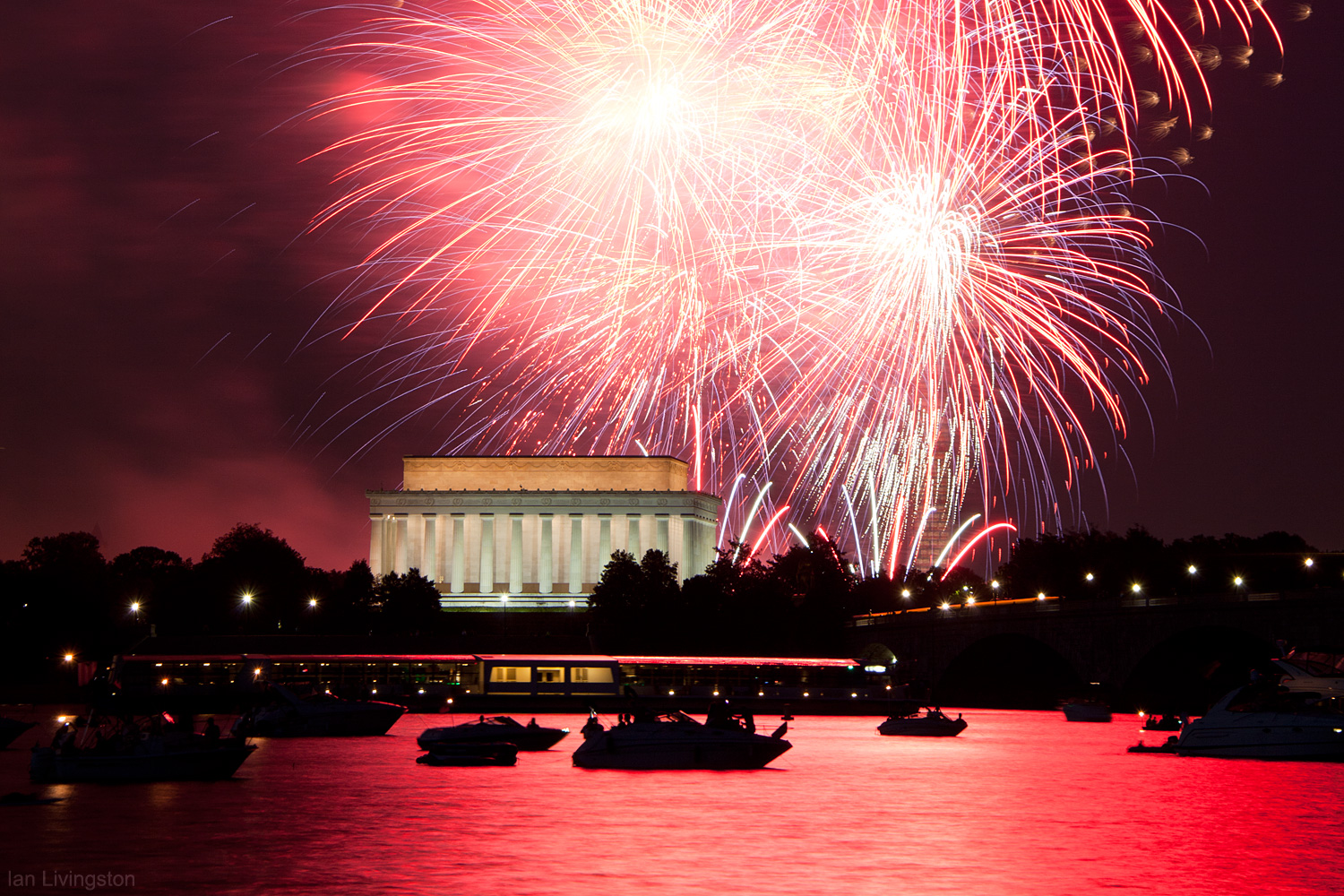 The Washington Post has a bizarre, anecdotal account of Independence Day festivities in the nation's capital, headlined "In an era of racial unrest, Americans converging in D.C. to celebrate the Fourth of July question the meaning of freedom."
More than two centuries after the Declaration of Independence was signed, Americans converged on the Mall on Saturday for the Fourth of July during a season of protests over racial injustice, bringing with them clashing notions of what freedom means.
As a 54-year-old who vividly remembers celebrating America's bicentennial as a 10-year-old, I'm a bit amused by the lede. The rest of the report is more bemusing, consisting of a pastiche of interviews presumably designed to be colorful rather than representative.
"Freedom looks like being able to take a run in a neighborhood without being shot down," said Shyrah Perkins, 28, of Baltimore, referring to the death of Ahmaud Arbery, who was shot while jogging. "But that's not America. America is about stealing; it's about taking opportunities from people. It's about taking freedom away."

The holiday has lost its lofty meaning, said Perkins, who is African American; Juneteenth would be her new freedom day. "July Fourth now is just a day that people like to celebrate with their family, have a fun party."

Bill Seibert, who had roared to the Capitol grounds from Easton, Pa., as part of a biker contingent of supporters of President Trump, might as well have been standing in a different country.

"When I hear about racism, I don't see it," said Seibert, who came with his wife, Chris Curto. To the white couple in their 50s, freedom means the right to speak freely as Trump supporters as well as freedom of religion and the right to bear arms — all under threat, they believe.

"Watch the news," said Seibert, a small-business owner and Fox News fan.

"There are U-Hauls arriving with antifa. It's scary," Curto chimed in, referring to an unfounded rumor circulating online. "Think of everything the country got through. Slavery, then we overcame it. Now it feels like we're going backwards."
That pairing was surely not accidental.
For those not in the area, it was a hot day, even by 4th of July in DC standards, reaching well into the 90s and muggy. I wouldn't have taken the family in for fireworks, anyway, but it's sheer madness to do it in the midst of a global pandemic. Indeed, most of the local fireworks displays had long since been canceled.
But many came, anyway:
The crowds that typically flow into the District on Independence Day to line the streets for a parade or to get a prime spot on the Mall to see the fireworks were markedly thinner this year. Dan Stessel, a Metro spokesman, said that as of 9 p.m., there were 34,000 trips taken on Metrorail for Saturday, compared with just more than 315,000 on July 4 last year.

[…]

As public health officials' warnings and fear of the novel coronavirus dampened enthusiasm for the nation's signature Fourth of July event, those who ventured out — most masked, some without — represented a kaleidoscope of Americans.

Some were there simply to catch a break and celebrate, in red, white and blue garb and waving flags as they chatted amiably and spread out in the shade to await the show.

There were, however, few sightings of the flag during the day or celebration in the sweating throngs of Black Lives Matter protesters, congregating at the Capitol or on Black Lives Matter Plaza. As evening wore on, the plaza became a stage for scattered flag burnings and derisive sneers as military flyovers swept the skies overhead.

A queer Latina woman who identified herself as Kiara R. stomped on a large U.S. flag spread across the asphalt, her white Adidas sneakers crisscrossing the red and white stripes.

"Now's your chance to step on the flag and all it represents: slavery, genocide and war," the activist with Refuse Fascism DC said into a microphone as her words echoed throughout the plaza.

Ben Ferreira, 43, a white trucker from San Francisco, looked on.

"Ma'am, why are you standing on the American flag?" asked Ferreira.

"Because freedom of speech," Kiara R. said. "Isn't that what the troops fight for?"

Ferreira said he understood the "emotional plea" from protesters was one he could not fully understand, but he felt enriched by the experience nonetheless.

"Part of the promise of the United States is having the freedom to speak your mind," he said, gazing back at the activists on the dirtied banner. "I completely disagree with stepping on the flag, but I support their right to do it."

Bands of Trump supporters strode about the nearby Mall in telltale Make America Great Again hats throughout, bearing signs and shirts declaring, "We support the president!" and "We support law and order."

Mostly, the groups passed each other peacefully, if they intersected at all. Occasionally, though, they collided.

[…]

Trump supporters, numbering perhaps 50 or more, faced off with the protesters, yelling, "USA" and "all lives matter!"

There was a scuffle, with people trying to snatch hats, flags or signs from each other. A transgender woman waving a pro-Trump sign marched right into the middle of the BLM supporters, until she was surrounded and chased off. Police moved in, first one marked vehicle and then perhaps 100 or more, including Park Police and other federal officers. They struggled to part the two groups but eventually formed a double line between them as the fireworks began.

Earlier in the day, Trump supporters on motorcycles thundered around the Capitol as a group of about three dozen men from a group known as the Proud Boys cheered them on after finishing a march from Harry's Restaurant in Northwest Washington. Members of the all-male far-right organization, which is listed by the Southern Poverty Law Center as a hate group, arrived as a contingent of Black Lives Matter protesters set off on a march from the Capitol.
DCist has a similar report ("On July 4, A Combustible Mix Of Trump Supporters And Black Lives Matter Protesters Converge In D.C."):
The usual parades and concerts were nowhere to be found, replaced by demonstrations against racism and police brutality. At the front of one march, protesters carried a sign that asked: "What does freedom really look like?"

Speaking on 15th Street NW near the White House, Aliyah Graves-Brown said this year, in particular, has involved a reckoning.

"On this July 4, in particular, we're realizing that the Fourth of July, in fact, has nothing to do with freedom and everything to do with celebrating white supremacy and the independence of a certain group of people," the 25-year-old D.C. resident said. "This day is a reminder of, for people who look like us at least, our lack of freedom."

And while the fireworks went on per usual, far fewer people headed to the National Mall or other popular spots than a typical year, as many appeared to heed the advice of local officials to stay home amid the ongoing coronavirus pandemic.

"I was surprised at how dead the streets were. There's hardly anyone out and about other than the Fourth of July," said Jenny Cudd, a 36-year-old who flew in from Midland-Odessa, Texas to enthusiastically celebrate the holiday.

Bedecked in a Trump shirt, Trump 2020 earrings, and a Make America Great Again hat, Cudd was among the biggest crowd of the president's supporters that this city has seen in months.

"I'm really glad the president decided to overrule the local mayor who wanted to shut down the Independence Day celebration because we the people own the federal parks," she said.

Shortly before the fireworks began, the confluence of Trump backers and demonstrators against police brutality made for a brief but cinematic confrontation at the Washington Monument.

Individuals on both sides got into heated, pointed confrontations—some of them physical—with one another as a chorus of competing chants of "U.S.A., U.S.A." and "Black lives matter" broke out.

U.S. Park Police arrived within minutes, and dozens of officers fanned out to separate the groups. As they moved Trump supporters to one side and Black Lives Matter protesters to another, fireworks exploded overhead, and quick flashes of red, white, and blue glinted off riot shields.

It was as fitting an image of July 4, 2020 as they come.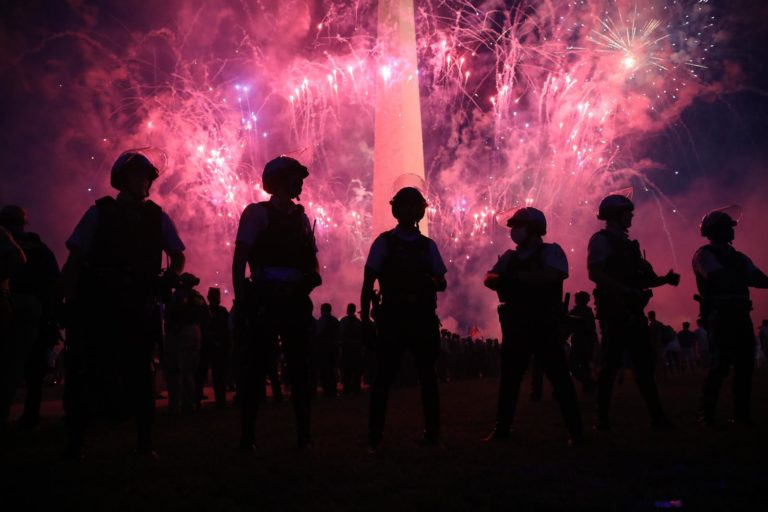 DC, like all major American cities, is an interesting pastiche of people drawn from all over the world. And it gets more interesting, still, when major events like Independence Day and Memorial Day draw huge crowds of tourists.
The combination of a demented racist in the White House, the worst pandemic in a century, and the largest protest movement in American history makes this an especially odd time to celebrate the country. We're not exactly at our best right now.
Still, I'd wager 95 percent of the people who attended the displays yesterday were relatively apolitical, just there to eat some hot dogs, drink some beer, and enjoy some fireworks on America's birthday. And I still hold out hope that there are a lot more Ben Ferreiras out there than Proud Boys.
Post updated shortly after publication to insert the DCist coverage.