A Modest Step on Voting Integrity
It's Manchin-approved.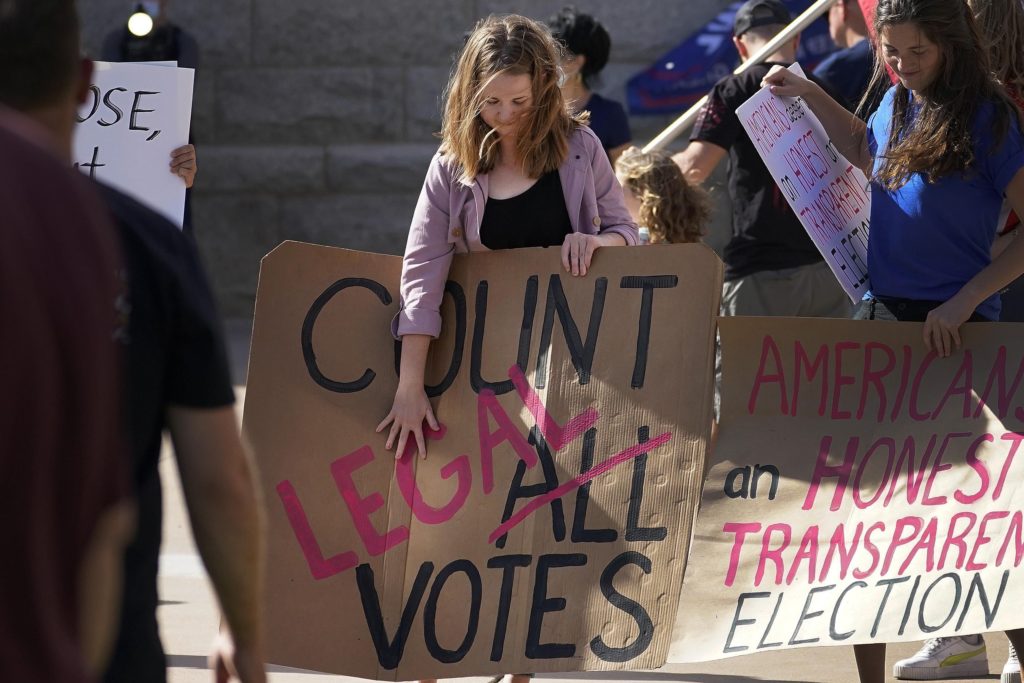 As has been a theme throughout this Congress, a Senate that's split 50-50 among the party caucuses and in which the opposition party is voting in lockstep whereas at least two members of the majority (by virtue of the Vice President as tie-breaker) party are unreliable votes is one in which not much gets done. The manifestation germane to this post is the fact that the John Lewis Voting Rights Advancement Act is doomed, as it is subject to the filibuster rule and the two recalcitrant Democrats, Joe Manchin and Kyrsten Sinema, have refused to support changing the rules to allow a simple majority vote.
What we've left with is pretty thin gruel: a compromise bill narrowly aimed at fixing the loophole in an 1887 law that was the proximate pretext for the Capitol riots of last January 6. The NYT:
Two senators working on an overhaul of the little-known law that former President Donald J. Trump and his allies tried to use to overturn the 2020 election pledged on Sunday that their legislation would pass the Senate, saying that recent revelations about the plot made their work even more important.

In a joint interview on CNN's "State of the Union," Senators Joe Manchin III, Democrat of West Virginia, and Lisa Murkowski, Republican of Alaska, said their efforts to rewrite the Electoral Count Act of 1887 were gaining broader support in the Senate, with as many as 20 senators taking part in the discussions.

"Absolutely, it will pass," Mr. Manchin said of an overhaul of the law, which dictates how Congress formalizes elections.

He said efforts by Mr. Trump and his allies to exploit "ambiguity" in the law were "what caused the insurrection" — the Jan. 6, 2021, attack on the Capitol. That misreading of the statute led to a plan by Mr. Trump and his allies to amass a crowd outside the Capitol to try to pressure Congress and Vice President Mike Pence, who presided over Congress's official count of electoral votes, to overturn the results of the election.

Ms. Murkowski said the rewrite could be expanded to include other protections for democracy, such as a crackdown on threats and harassment against election workers.

"We want to make sure that if you are going to be an election worker," Ms. Murkowski said, "you don't feel intimidated or threatened or harassed."

A bipartisan group of at least 15 senators — which includes Mr. Manchin and Ms. Murkowski and is led by Senator Susan Collins, Republican of Maine — recently began discussions with another group that features top Democrats who have studied the issue for months. That group includes Senator Angus King, independent of Maine; Senator Amy Klobuchar, Democrat of Minnesota; and Senator Richard J. Durbin, Democrat of Illinois.
I haven't studied all of the provisions in the Lewis bill (which started as HR1) but generally prefer a more comprehensive reform aimed at protecting and standardizing voting for federal offices. But, again, that's not going to happen absent a shocking Democratic surge that results in an increased margin in the Senate after the midterms. I wouldn't hold my breath.
This bill would be a modest step, indeed, but it's better than nothing. Getting at least a handful of Republican votes would be a bonus and a small step to the "Republican Party that is a sane alternative" that the WSJ editorial board wishes for, albeit in an editorial that makes it seem that the Democrats are at least, if not more, culpable in delegitimating our elections.
One wonders, though, if the Progressive Caucus will withhold their support on the basis that a tenth of a loaf is worse than none. They're clearly frustrated by how little of their agenda has been passed despite controlling the White House, the House, and, ostensibly the Senate.