A Poster Child for White Privilege
You can't make this stuff up.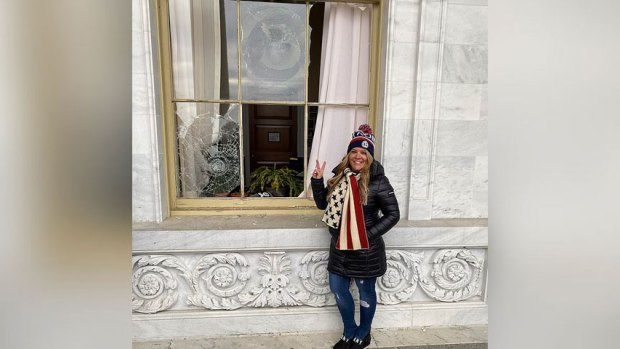 Via Dallas' CBS affiliate comes the stunning tale of the Dallas area real estate agent who took a private jet to the Stop the Steal rally, was part of the mob who stormed the capitol, and now wants a pardon: North Texan Jenna Ryan Tells CBS 11 She Deserves Pardon After Arrest For Alleged Role In Capitol Riot.
The video at the link really needs to be watched the get the full impact, but here are the basics (emphases mine):
"I just want people to know I'm a normal person. That I listen to my president who told me to go to the Capitol. That I was displaying my patriotism while I was there and I was just protesting and I wasn't trying to do anything violent and I didn't realize there was actually violence," Ryan said. "I'd just like to apologize for all of the families that are affected by any of the negative environment and I'd just like to say I really love people and I am not a villain that a lot of people would make me out to be, or people think I am, because I was a Trump supporter at the Capitol."

[…]

"I think we all deserve a pardon. I'm facing a prison sentence. I think I do not deserve that and from what I understand, every person is going to be arrested that was there, so I think everyone deserves a pardon, so I would ask the President of the United States to give me a pardon."
I am not sure what word best describes this? Narcissism? Solipsism?Chutzpah?
It is clearly privilege.
It is hardly "personal responsibility."
Allow me to snark for a minute: Antifa is playing quite the multi-level game having a white, middle-aged real estate agent fly to DC in a private jet, storm the capitol, and then go back to Texas to then make Trump look bad by saying that she did it because he told the crowd to do it. And kudos for the added bonus of underscoring the corrupt way that Trump uses the pardon power.
And nothing says "patriotism" like getting a photo taken by a window broken by a mob to facilitate illegal entry into the US Capitol.
And, no doubt, her concerns about families affected are heartwarming. I am sure the families of those who died because of the insurrectionist mob will feel better upon hearing them.
Her attitude is utterly galling. There is no remorse here. She thinks she had the right to be involved in a riot at the US Capitol and suffer not one whit of consequence. She is treating it like an unfair parking ticket.
It is peak Karen and a level of white privilege that is off the scale.