Acela Corridor Pundits Don't Like Chris Christie's Style, Will The Rest Of America Agree?
Once again, reporters and pundits are arguing that Chris Christie's "New Jersey style" won't play well on the stump. I'm not so sure they're right.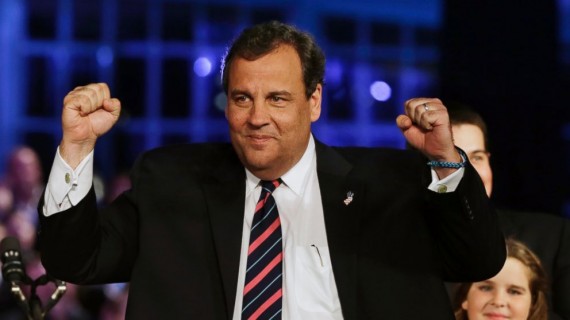 Chris Christie was in Belmar, New Jersey and, as has happened before, he had a classic Chris Christie confrontation with a heckler:
New Jersey Gov. Chris Christie has told a heckler critical of his handling of Superstorm Sandy recovery to "Sit down and shut up" on the second anniversary of the storm.

A man began heckling Christie about the pace of storm recovery and interrupted the governor's speech Wednesday in Belmar on several occasions.

After trying to brush the man off, Christie yelled back the man didn't know what he was talking about and was just showing off for the news cameras.

When heckler Jim Keady continued, Christie told him: "Sit down and shut up."

Keady founded a group called Finish The Job, which is critical of the pace of rebuilding assistance in New Jersey.
Here's the video:
This morning, a panel on Morning Joe, normally a place that's pretty friendly to Christie, reacted this way:
The Washington Post's Philip Bump, meanwhile, made these observations:
Now back to our regular feature: New Jersey Gov. Chris Christie (R) yells at someone who disgrees with him.

In case you missed our last episode, Christie was yelling at a nurse who didn't have Ebola because she didn't want to live in a tent. Before that it was, what? Probably Rand Paul. Before that, a teacher. A few people back, some dude on the Jersey Shore. In New Jersey, residents set their watches when they hear a Christie bellow.

The latest iteration came Wednesday as Christie prepared to talk about the two-year anniversary of Hurricane Sandy.

Christie has several advantages in this confrontation. First, he has a lot of fans in the audience and a couple of beefy dudes at his sides. But most importantly, he has a microphone, making it very hard to hear precisely what the gentleman with the sign is saying. (That his back is to the camera doesn't help.)

We know what the protester is mad about, since he had the foresight to face the sign backward. He is angry about the pace of restoration following the storm. We also know that at one point he tells Christie to do his job, because Christie says, "You do yours, too." And he apparently asked Chris Christie to dinner? Christie: "There's about a thousand things I'll do tonight. Going to dinner with you is about 1,001." (Christie likes this joke; he smiles a bit afterward.)

(…)

Anyway. Stay tuned for the next episode of Chris Christie yells at someone who disgrees with him, in which Christie yells at a tiny little puppy.
Bump's comments are obviously tongue in cheek, but I think they betray something that has been underlying much of the commentary that we've seen from reporters and political analysts to Chris Christie ever since he burst into national prominence after winning election in 2009. He's took aggressive for anyone outside New Jersey, we're told. His "style" will not work on the stump in a place like Iowa or New Hampshire, they say. He's a thug, a bully, etc. etc. It's an observation that has come up every time one of these videos has become public, and it's inevitable that there will be some reporter or pundit for some media outlet that will say it. Chris Christie, they tell us, may have a style that New Jersey residents love but that would not play well on the stump in states like Iowa or New Hampshire, or in the other states that will be important to winning the Republican nomination in 2016. Having grown up in New Jersey I will readily admit that New Jerseyans are definitely a different breed of people than you'll find in other parts of the country, certainly in parts of the South where people often tend to be more genteel than residents of the Tri-State area. I've noticed the contrast more this past year as I've traveled frequently between Virginia and New Jersey dealing with family matters and noticed that, although the people are different, the atmosphere isn't all that different than it was when I was growing up. As just one example, when I arrived in New Jersey after my Dad passed away in the dark in the middle of pouring rain and hesitated for a second while making a turn at a green light after getting off the Turnpike, I was greeted with a honking horn and, after the turn, a car that passed me as the driver displayed the One Finger Salute that seems to be a required traffic signal around here. That's when I knew I was back home.
I can understand why political observers who are used to more genteel and careful politicians might think that something like this might not play very well outside the Garden State, but as I said after a similar incident one year ago, I tend to disagree:
While some may dismiss him as too pugnacious and outspoken, it's also possible that voters, especially voters in Republican primary contests, could also see this quite differently. They could see it as a sign of leadership, which is quite honestly something that has been sadly lacking in recent Presidential candidates, especially on the Republican side. Say what you will about them, but neither Mitt Romney not John McCain managed to come across as particularly strong leaders during their respective campaigns. As for President Obama, he managed to project an image of leadership during his campaigns in 2008 and 2012, but his time in office has often been marked by what even sympathetic observers have described as a kind of detachment that results in things like budget negotiations on Capitol Hill spinning out of control because of Presidential non-involvement. Indeed, even his signature legislative achievement, the Affordable Care Act, was largely the result of Capitol Hill negotiation rather than the kind of Oval Office leadership that Presidents like LBJ and Reagan displayed during their Presidency. Christie, arguably, would have the advantage of both a campaign style that evokes leadership and a record that demonstrates it, thanks to things like the role he took in the wake of Sandy and the manner in which he's worked with a Democratic legislature to push through much needed reforms to state government
Notwithstanding the fact that he could have the backing of many big money Republican donors and bundlers, especially if Jeb Bush doesn't run, Christie Presidential run would not be easy by any measure. In many respects he stands in opposition to the hard core base of the Republican Party in ways that even Mitt Romney did not, and that is likely to cause problems in early states like Iowa and South Carolina. The Bridgegate scandal, while it still doesn't seem like it is going to touch Christie personally, has done a lot to undercut the image that had been developed around him in the years since he first took office and which led to his overwhelming re-election win last year. And, perhaps, more importantly, he's likely not to be the only Governor with a sold record that gets into the race. Out of everything, though, the one thing that strikes me as being far less of a problem than the pundits in the Acela Corridor make it out to be is his personality and his willingness to take on guys like this heckler. I'd suggest in fact that such a style is something that many voters are likely to find refreshing even if they aren't inclined to support him for other reasons.
What puzzles me to some extent is why some political observers don't seem to recognize that, and instead assume that his "style" will be a negative for him in a national race. Part of the reason, as I said, is that they've never really encountered a politician like him and the conventional wisdom says that someone with a style like this wouldn't play well nationally. It's for similar reasons, I think, that you also see them dismiss a guy like former Montana Governor Brian Schweitzer, who has a similar bombastic style, as a serious candidate should he choose to run. It's an attitude, I'd suggest, that is explained largely by the insularity of the reporter/pundit class. Since they likely don't know people like Christie, or people who like guys who are outspoken in that matter, they assume that regular Americans would be turned off by it. I suspect that they could be proven wrong if Christie does run, and that we'll find that the Governor's "New Jersey style" is something that does indeed play well outside the Garden State. I'm not suggesting that Christie will definitely succeed in a Presidential bid, as I said there are many other factors that suggest otherwise, but if he falls short, it won't be because he speaks his mind like this.