Afghanistan Eleven Years And 2,000 American Deaths Later
The Afghanistan War is officially eleven years old today.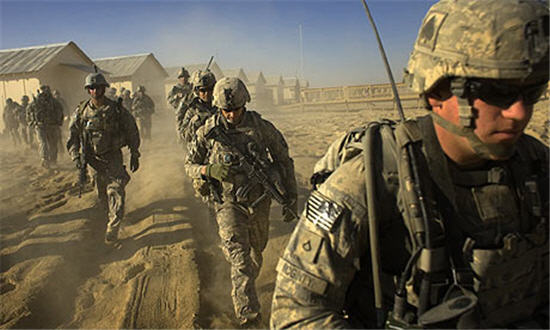 It was eleven years ago today, a mere 27 days after terrorists had struck the United States in New York City and Arlington, Virginia, that the United States began a military campaign in Afghanistan that continues to this day. Initially, the goal of the war was a two-fold effort to hunt down those who had plotted and carried out the September 11th attacks themselves and to dislodge al Qaeda and its Taliban protectors from a safe haven in Afghanistan. Eventually, that mission changed to one that involved building something resembling a democratic society in a nation that had never known such a thing in its history and where tribal loyalties often were more important than national ones, and to protect the Kabul regime from a domestic insurgency.
Eleven years later, we have in fact inflicted substantial damage on al Qaeda. They no longer have safe haven in Afghanistan, most of their top leadership has been captured, destroyed, or sent into hiding, and their spiritual and titular head died in a hail of Navy SEAL gunfire on May 1, 2011. At the same time, though, we can't really show a similar level of success in the other aspect of our mission. Hamid Karzai's hold on power outside Kabul remains precarious at best, the Taliban rebels remain a potent fighting force, and our efforts to train the Afghan military and police forces to defend their nation have been hampered by a rash of "Green on Blue" attacks wherein supposed Afghan allies have murdered American and other ISAF forces at an increasingly bloody pace. At the same time, we've lost 2,000 American men to this war and we're just now beginning to learn of the costs that many of those who have served are paying in terms of PTSD and other ailments. The suicide rate among American troops, both in and out of Afghanistan, has increased at an alarming rate in recent years.
So here we stand at the start of the 12th year of America's longest war with very little to show for it:
Nobody wants a repeat of the bloody ethnic fighting that followed the Soviet exit from Afghanistan in the 1990s — least of all 32-year-old Wahidullah who was crippled by a bullet that pierced his spine during the civil war.

Yet as the Afghan war began its 12th year on Sunday, fears loom that the country will again fracture along ethnic lines once international combat forces leave by the end of 2014.

"It was a very bad situation," said Wahidullah, who was a teenager when he was wounded in the 1992-1996 civil war. "All these streets around here were full of bullet shells, burned tanks and vehicles," he added, squinting into a setting sun that cast a golden glow on the bombed-out Darulaman Palace still standing in west Kabul not far from where he was wounded.

"People could not find bread or water, but rockets were everywhere," said Wahidullah, who now hobbles around on red-handled crutches. He goes by one name only, as do many Afghans.

The dilapidated palace is a reminder of the horror of the civil war when rival factions — who had joined forces against Soviet fighters before they left in early 1989 — turned their guns on each other. Tens of thousands of civilians were killed.

Fed up with the bloodletting, the Afghan people longed for someone — anyone — who would restore peace and order. The Taliban did so.

But once in power, they imposed harsh Islamic laws that repressed women and they publicly executed, stoned and lashed people for alleged crimes and sexual misconduct. The Taliban also gave sanctuary to al-Qaida in the run-up to the Sept. 11, 2001 attacks on the U.S. When the Taliban refused to give up the al-Qaida leaders who orchestrated 9/11, the U.S. invaded on Oct. 7, 2001.

Eleven years later, Afghanistan remains divided and ethnic tension still simmers.

The Taliban, dominated by the ethnic Pashtun majority, have strongholds in the south. Ethnic minorities such as Tajiks, Hazaras and Uzbeks live predominantly in central and northern Afghanistan. The fear is that when international forces leave, minority groups will take up arms to prevent another Taliban takeover and that members of the Afghan security forces could walk off the government force and fight with their ethnic leaders.

Anxiety and confusion about what will happen after the foreign forces leave permeates every aspect of society. Political debate about an Afghanistan post-2014 is getting more vocal. Some political leaders threaten to take up arms while others preach progress, development and peace. Young Afghans with money and connections are trying to flee the country before 2014.

There also is mounting uncertainty about the upcoming transfer of power. At the same time that foreign troops are scheduled to complete their withdrawal in 2014, Afghans will go to the polls to elect a successor to President Hamid Karzai, who is barred by the constitution from running for a third term.

The Afghan people already view their government as weak and corrupt and those doubtful of a peaceful future say that if the upcoming presidential election is rigged and yields an illegitimate leader, civil war could erupt between ethnic groups backed by neighboring countries trying to influence Afghanistan's future.

"Unfortunately in Afghanistan, we do not have any political unity," said Gen. Sayed Hussain Anwari, a former governor of Kabul and Herat provinces who led fighters during the civil war.
It's very easy to see Afghanistan plunging back into civil war after 2014. There's no deal to be had with the Taliban, at least at the moment, and President Karzai has seemingly done very little to create any kind of national political movement that would lead to a democratically elected successor. Indeed, given the allegations of widespread election fraud in each of his elections, one has to wonder if Karzai even intends to give up power willingly. After all, it's reportedly been a very lucrative position for him, his family, and his cronies. Viewing all of this from a distance, it would seem that the political future of Afghanistan is that Afghanistan has no political future. All of that leaves them vulnerable to not only civil war, but outside influence from nations like Pakistan and Iran.
So this is what we have after eleven years. Two thousand American soldiers dead. Billions of dollars spent. A nation that was already there pretty much bombed back into the Stone Age. And political instability in a nation that bred terrorism because it was politically unstable. Tell me again why this was a good idea?