After Drought, Wildfires Rage Across Texas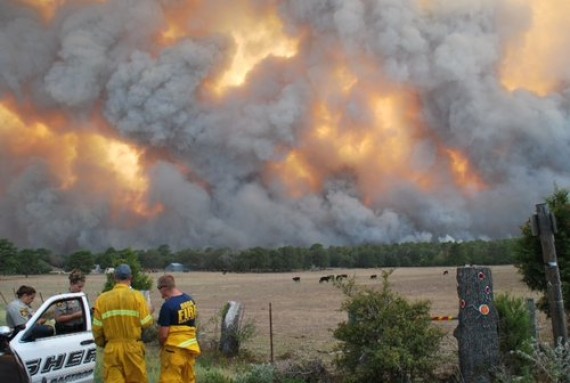 It's already caused Rick Perry to cancel a planned campaign appearance in South Carolina, and it may yet lead him to back out of tomorrow's debate in California, but the real story in Austin is the fact that large swaths of Texas are burning:
Another fire in eastern Texas killed a mother and her 18-month-old child when flames engulfed their mobile home Sunday near Gladewater, the Gregg County Sheriff's Department said.

"We got a long way to go to get this thing contained," Gov. Rick Perry said about the fire raging near Austin. "I have seen a number of big fires in my life. This one is as mean looking as I've ever seen."

Dozens of fires are burning across the parched state, the Texas Forest Service said Monday.

Earlier, the governor issued a statement in which he called the wildfire situation in Texas "severe" and said that all state resources were being made available to protect lives and property.

"We will pick up the pieces. We always do," he told reporter

Texas is battling its worst fire season in state history. A record 3.5 million acres — an area roughly the size of Connecticut, Perry said — have burned since the start of the season in November as hot and dry weather, coupled with a historic drought, made conditions ripe for rapid fire growth.
Even without considering the fires, the Texas drought is on pace to be an extremely costly natural disaster, perhaps surpassing that of Hurricane Irene:
Texas Agrilife Extension Service estimated losses to be at $5.2 billion — already greater than the $4.1 billion of losses from the 2006 drought. "This drought is just strangling our agricultural economy," professor Travis Miller, of Texas A&M University's Department of Soil and Crop Sciences. Losses, told TIME Magazine.

The extended heat wave that has exacerbated the drought is expected to break soon, but without rain, farmers will have no relief before planting winter wheat in September or October. Texas produces one-third of winter wheat in the U.S., so analysts expect price increases if there is not enough rain for the wheat crop. Already from the summer, Texas, which produces 55 percent of U.S. cotton, has lost half its cotton crop. And scant summer rain has led to a scarce hay crop, so some ranchers are selling off cattle herds because they can't afford to continue providing feed and water. The short-term price in beef may drop, but the long-term implications of losing entire herds will push up the price soon enough.
The remnants of a hurricane sweeping north from the Gulf of Mexico would go a long way toward alleviating the immediate risk of fire, if not end the drought itself, but so far this season there have been few hurricanes that have made it to the Gulf, and the one tropical system that developed there, which is a major rain producer now making its way to the Mid-Atlantic and the Northeast, avoided Texas entirely. The question for Texas is whether this drought, and the fires that resulted from a long summer of high temperatures, are an anomaly, or something that can be expected to happen repeatedly given the impact that continued rapid growth has had on the surrounding area.