Allen West Has Lost, But Still Refuses To Concede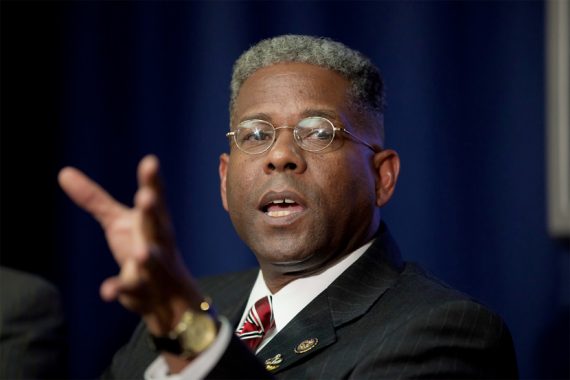 As I noted after the election, it was apparent after the vote was counted that Florida Congressman Allen West, who has nothing but an embarrassment from the moment he arrived on Capitol Hill, had lost his bid for re-election to Patrick Murphy after what had been one of the most toughly fought, expensive, Congressional elections in recent memory. Despite the numbers, West refused to concede on Election Night and spent the better part of last week attempt to use legal maneuvers to force a recount, which is only available under Florida law if the margin between the two candidates is 0.5% of the vote or lower. The margin between Murphy and West even in the initial hours after Election Day was well above that benchmark. In the meantime, Florida counties spent the rest of last week counting the remainder of their absentee and provisional ballots. Yesterday, finally, the counting was done, and  West now trails Murphy by some 2400 votes. Despite this, the Congressman still refuses to concede: 
WEST PALM BEACH, Fla. — Republican Rep. Allen West was defeated by Democratic challenger Patrick Murphy, according to the state's vote count Saturday, but the incumbent won't concede.

The state issued complete but unofficial results showing Murphy with a lead of 2,442 votes, or 50.4 percent. That's beyond the half-percent margin needed to trigger an automatic recount. A handful of overseas and military ballots remain outstanding, but under state law the decision for a recount is based on Saturday's count.

(…)

West's campaign insists there are many unanswered questions in the race, mostly centered in St. Lucie County, the only one of three counties in the district that Murphy won. They are concerned that votes were counted twice and have asked to review sign-in books from the polls to ensure the number of voters matched the ballot count.

"We're simply not going to just walk away from the race until we see that the numbers add up," West campaign manager Tim Edson said.

West's only path forward appears to be through the courts. Under state law, he still could contest the election if misconduct or fraud might have changed its result.
Officials in Tallahassee will certify the election results next week, at which point West's options will be pretty much non-existent. There is no evidence of fraud in this election, and any court proceedings he may file strike me as being only dilatory in nature. West should do the honorable thing and step aside. But, then, this is Allen West we're talking about so I doubt that will happen.