American Civil War II is Unlikely but Not Impossible
A repeat of 1860 can't happen. But something even worse could.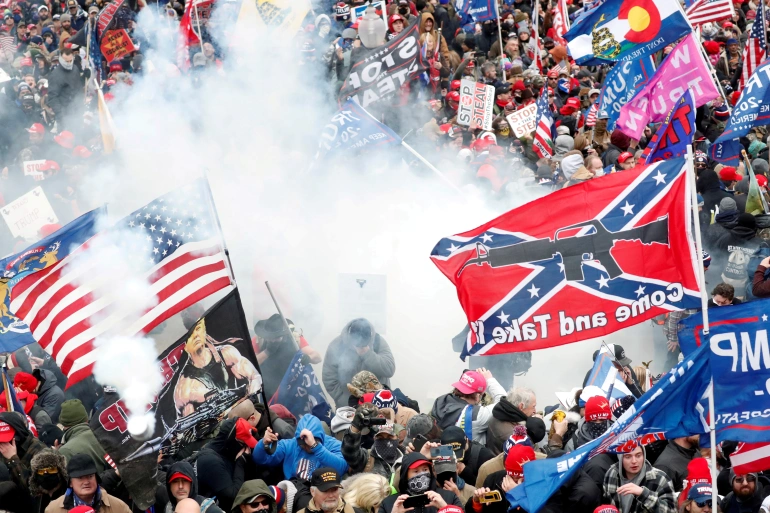 The essayist Sarah Vowell takes to the editorial pages of the NYT to ask "What's With All the Fluff About a New Civil War, Anyway?" Despite the weirdness of the headline, which I presume she didn't write, she makes a point well worth re-emphasizing, albeit buried in some lame jokes.
Recent polling on the growing support for secession echoes that 1850s-style tripartite political divide. Last year the University of Virginia Center for Politics issued an unnerving report in which 41 percent of Democrats and 52 percent of Republicans "somewhat agree" that red and blue states should secede from the Union and form separate countries. Eighteen percent of Democrats and 25 percent of Republican respondents "strongly agree." Thus secession is one of those subjects where each party's extremists are de facto allies, like forsaking the First Amendment or provoking every educator and librarian in America to resign.

My nephew used to play a video game in which he gave digital haircuts to bears. That is less absurd than founding two new separate "blue" and "red" countries. The party leanings of states can be fluid. Colorado, for instance — it's almost as if a secret cabal of tech millionaires shoveled a mountain of cash into turning a Republican state into a Democratic one. The federal government owns almost 50 percent of the land out West, so how to divvy it up without antagonizing thrifty New Englanders? What would happen to swing states like Wisconsin, Michigan and Pennsylvania? Do they form a third Republic of Wishy-Washy?

Somewhere around 40 percent of us do not live in the state where we were born. The ability to move from one state to another is not only an essential freedom that Liz Cheney should definitely look into, it is also an economic imperative. How much of Florida's economy is New Yorkers and Midwesterners waiting around to die?
The jejune humor obscures a crucial point: the states are simply not what they were in 1860. While there were certainly Union loyalists living in Confederate states, with West Virginia actually breaking away to stay in the Union and East Tennessee not quite managing to do the same, states were much more homogeneous entities in those times.
Full-blown wars tend to get bogged down in geography pretty quickly. The arc of George Washington's command of the Continental Army can be told largely from the banks of rivers. A topographic map of Afghanistan now looks like a prophecy.

Yes, the 2020 Electoral College map gives the impression that there are still dependable, contiguous regions of this continent with natural or psychological boundaries akin to the Mason-Dixon Line of yore. But the county election results maps tell a messier story of who we are and where we live. More Californians than Texans voted for Donald Trump. And even Richmond isn't Richmond anymore — now that the city removed all the Confederate monuments from Monument Avenue, it's just a bunch of Joe Biden voters driving past a statue of the tennis star Arthur Ashe.

Here in Montana, a state as deep red as a Flathead cherry, I'm a Democrat living in a blue county bigger than Delaware.
Indeed, with rare exceptions, even in the reddest states, the cities are blue and the suburbs purple. And, of course, even in cities and counties that are reliably Democratic or Republican, there are plenty of folks who vote the other way.
The Texas Republican Party, ever aspirational, put secession from the United States into its most recent platform. And yet secession is technically illegal — thanks to Texans. In 1869, in Texas v. White, the Supreme Court ruled secession unconstitutional and declared the Union "perpetual."

Hence the intoxicating appeal of these continuing fantasies of partition and civil war: We are stuck with each other. We are stuck. With each other. Perpetually.
Indeed, the Second Continental Congress preceded the Supreme Court by nearly a hundred years. Our first constitution, approved by that body on November 15, 1777, was titled "The Articles of Confederation and Perpetual Union." It should be noted that this did not prevent the secession in 1860 of thirteen states and a civil war.
Regardless, rhetoric aside, a repeat is simply not going to happen. There is no relatively neat line of demarcation between "Red America" and "Blue America" that would allow the formation of two contiguous countries and two armies.
That doesn't, however, mean that there's no danger of violence if our war of words continues to escalate. Americans have lost faith in our institutions. Democrats, for good reason, don't see the Electoral College as legitimate, having seen their candidate defeated twice in the span of 16 years despite garnering more votes. They also don't see the Supreme Court as legitimate, largely because its majority is a direct result of minority rule (but, frankly, also because they simply dislike recent rulings). Republicans, meanwhile, seem not to see the votes of those who aren't Republican as legitimate and therefore any means of suppressing or discounting them is justified.
If violence breaks out, though, it'll be more like mass rioting than contending armies. And there will be no General Lee able to surrender.