Corey Stewart Caught Praising The Confederacy In 2017 Campaign Video
The Republican Party's nominee for Senator in Virginia really is as bad as you've heard, probably worse.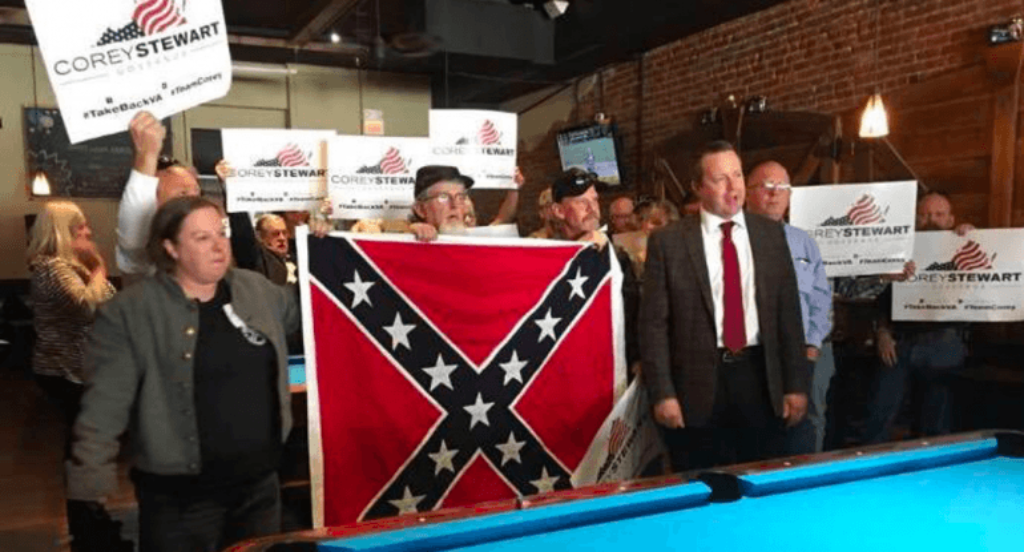 Virginia Republican Senate candidate Corey Stewart, who is already a controversial due to his courting of the alt-right, has been caught on a 2017 video of a speech he made while running for the Republican nomination for Governor praising the Confederacy and Virginia's decision to secede from the Union, which of course led to the Civil War:
Corey Stewart, the Republican nominee for a US Senate seat for Virginia, praised in a speech last year Virginia's decision in 1861 to secede from the Union, putting it on par with rebellions during the American Revolution and today.

The Virginia Republican made the comments in April 2017 at an event in South Boston, Virginia, hosted by an unapologetic secessionist. A video of his remarks, given during his failed 2017 gubernatorial run, was posted on his Facebook account.

He is challenging incumbent Democratic Sen. Tim Kaine, a strong favorite to keep his seat, and national Republicans are worried that Stewart's candidacy will turn off some GOP voters, potentially hurting Republican's ballot races.

"When you say you're from Virginia, when you travel outside of this state and somebody asks where you're from, you say with pride, 'I am from Virginia. I'm very, very proud of it,'" Stewart said. "You're very, very proud of it. And why is it? It's because of our history, folks. It's because of our history. This is the state of George Washington, Thomas Jefferson and James Madison and James Monroe. It's a state of the founders. It's the state of the Declaration of Independence and the Constitution.

"But it's also the state of Robert E. Lee, and Stonewall Jackson, and J.E.B. Stuart. Because, at the base of it, Virginians, we think for ourselves," he continued. "And if the established order is wrong, we rebel. We did that in the Revolution, we did it in the Civil War, and we're doing it today. We're doing it today because they're trying to rob us of everything that we hold dear: our history, our heritage, our culture."

Stewart, whose defense of Confederate symbols became a staple of his unsuccessful gubernatorial campaign, defined the established order earlier in the speech as the mainstream media, liberals, Democrats and establishment Republicans "trying to convince us that there's something wrong with our heritage in Virginia."

In response to a comment request from CNN, Stewart released the following statement: "Unlike Wimpy Tim Kaine, Virginians have a warrior spirit and a rebel heart."

Stewart has continually tried to downplay his past ties and praise of white nationalist figures like Jason Kessler, an organizer of the Unite the Right rally in Charlottesville, and Paul Nehlen, the anti-Semitic Republican congressional candidate who took on Paul Ryan in 2016.

According to records from Virginia's Department of Elections, the event in which he praised secession was paid for by avowed secessionist George Randall. Stewart was introduced by Randall's wife, Donna, who also promoted the event on Facebook.
Here's the Facebook video:
CNN also reports that Randall and his wife also attended the alt-right "Unite The Right" rally that took place in Charlottesville just under a year ago that included tiki-torch carrying protesters shouting Nuremberg rally type slogans and, of course, the death of a young woman at the hands of a white supremacist. At that rally, Mr. Randall was seen marching alongside former Ku Klux Klan leader David Duke.
Stewart's rhetoric here is not at all surprising, of course.
As I noted earlier this week, he built his ill-fated campaign for the Republican Gubernatorial nomination last year and his successful bid for the party's Senate nomination this year on openly appealing to the alt-right, to white supremacists, and to people who have what can only be described as an odd fetish for the Confederacy. Additionally, Stewart gave this speech in South Boston, Virginia, a town located in Halifax County in far south Central Virginia within mere miles of the border with North Carolina. This is a part of the Commonwealth that is probably the most "southern" part of the state and one in which it is not at all uncommon to see Confederate flags flying in front of buildings and private homes, among other things. With the possible exception of the extreme southwestern part of the state that borders North Carolina, Kentucky, and Tennessee, it is one of the areas where a message like Stewart's is likely to resonate the strongest. Unfortunately for Stewart, it's also one of the least populated areas of the state.
As for Stewart's rhetoric about the Civil War and secession, it is, of course, entirely historically inaccurate. Secession and the war were not about rebelling against an oppressive government in the same sense that the American Revolution was rebelling against the oppressive and unrepresentative government of Great Britain. The secession of South Carolina and the states of the Deep South was not prompted by any overt act by the United States, but by the fact that Abraham Lincoln, who wasn't even necessarily an abolitionist himself, was elected President. The fact that Lincoln could not have done much of anything to threaten slavery in the South thanks to the fact that Congress, and especially the Senate, was firmly in the control of Southern politicians, was seemingly not sufficient succor to the group of elitists and pro-slavery radicals who pushed the secession movement. What did push the movement, though, was slavery and racism. One need only read the Secession Resolutions themselves, or the words of the man who became the Vice-President of the Confederacy, Alexander Stephens: (emphasis mine)
Our new government is founded upon exactly the opposite idea; its foundations are laid, its corner- stone rests, upon the great truth that the negro is not equal to the white man; that slavery subordination to the superior race is his natural and normal condition. This, our new government, is the first, in the history of the world, based upon this great physical, philosophical, and moral truth. This truth has been slow in the process of its development, like all other truths in the various departments of science. It has been so even amongst us. Many who hear me, perhaps, can recollect well, that this truth was not generally admitted, even within their day. The errors of the past generation still clung to many as late as twenty years ago. Those at the North, who still cling to these errors, with a zeal above knowledge, we justly denominate fanatics. All fanaticism springs from an aberration of the mind from a defect in reasoning. It is a species of insanity. One of the most striking characteristics of insanity, in many instances, is forming correct conclusions from fancied or erroneous premises; so with the anti-slavery fanatics. Their conclusions are right if their premises were. They assume that the negro is equal, and hence conclude that he is entitled to equal privileges and rights with the white man. If their premises were correct, their conclusions would be logical and just but their premise being wrong, their whole argument fails. I recollect once of having heard a gentleman from one of the northern States, of great power and ability, announce in the House of Representatives, with imposing effect, that we of the South would be compelled, ultimately, to yield upon this subject of slavery, that it was as impossible to war successfully against a principle in politics, as it was in physics or mechanics. That the principle would ultimately prevail. That we, in maintaining slavery as it exists with us, were warring against a principle, a principle founded in nature, the principle of the equality of men. The reply I made to him was, that upon his own grounds, we should, ultimately, succeed, and that he and his associates, in this crusade against our institutions, would ultimately fail. The truth announced, that it was as impossible to war successfully against a principle in politics as it was in physics and mechanics, I admitted; but told him that it was he, and those acting with him, who were warring against a principle. They were attempting to make things equal which the Creator had made unequal.
The historical record is clear as to what the Confederacy was and the fact that people like Stewart continue to lie about it is troublesome, to say the least.