America's Partisan Divide Is More Unhealthy Than It Has Been In Decades
Americans have increasingly come to view their political opponents as not just wrong, but evil, stupid, and immoral. That's not something that makes for a healthy representative democratic republic.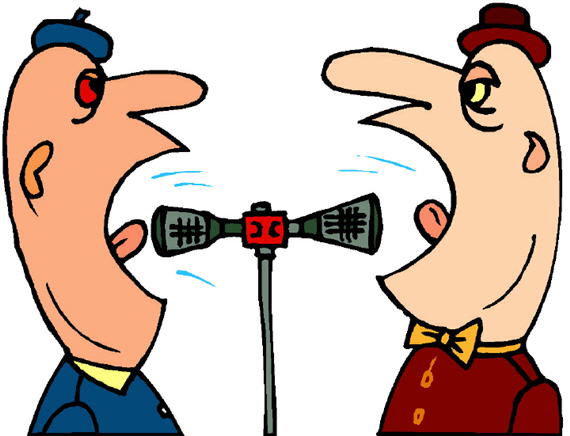 In results that shouldn't really surprise anybody, a new Pew Research study shows that political partisanship is higher than it has been in decades:
Fistfights at campaign rallies. A congressional sit-in. Angry political trolling on the internet. It's not your imagination: America's partisan divide is deeper today than at any point in nearly a quarter-century, according to a new study.

For the first time since at least 1992, the majority of Democrats and Republicans say they view the opposing party "very unfavorably," the Pew Research Center found in a report published on Wednesday. At the same time, around half of the members of either party said their opponents stirred feelings of fear and anger in them.

"It's really this intensity of negativity that's increased," said Carroll Doherty, director of political research for Pew and one of the report's authors.

While the Pew research only goes back to 1992, the results conform with decades of growing partisan negativity in data from the American National Elections Study, a collaboration of Stanford University and the University of Michigan, Mr. Doherty said.

"You see that the same trend's apparent going all the way back to the 1960s," he said. "It's really the rise of very negative views, that's what's most apparent if you look at our trend."

Today, according to Pew, 91 percent of Republicans view the Democratic Party unfavorably, with 58 percent holding "very unfavorable" attitudes toward it. Among Democrats, 86 percent view the Republican Party unfavorably, while 55 percent hold it in a very unfavorable light.

The Republican Party strikes fear in the hearts of 55 percent of Democrats surveyed, Pew found. Among Republicans, 49 percent felt the same way about the Democratic Party.

At the same time, 47 percent of Democrats said Republicans made them angry, while 46 percent of Republicans said the Democratic Party made them feel angry.

(…)

In many ways, negativity toward the other party is stronger than positivity toward a person's own, the Pew authors note.

While Democrats and Republicans generally agree with their own party most of the time, only 16 percent of Republicans and 20 percent of Democrats reported "almost always" agreeing with their own side's policies. Yet, 44 percent of each party's membership said they "almost never" agree with their opposition.

That rising partisanship has been matched by an increase in the number of political independents, who still tend to lean toward one party or the other, Mr. Doherty said. But even the direction in which those independents gravitate is defined more by opposition than support.

(…)

Partisans also tend to have dim views of individuals. A large majority of Democrats find their political opponents especially rigid, with 70 percent saying Republicans are more close-minded than other Americans. Democrats said Republicans stood out in other ways, too: 42 percent found them more dishonest than other Americans; 35 percent said members of the other party were more immoral than the rest of the nation.

While a smaller share of Republicans found Democrats especially rigid, larger proportions — between 45 percent and 47 percent for each category — said Democrats stood out for their immorality, laziness or dishonesty.

Just over half of Republicans surveyed, 52 percent, said Democrats were more close-minded than the rest of the populace.

Roughly 1 in 3 members of each party said they considered their political counterparts to be less intelligent than other Americans.
As I said, none of this should come as a surprise to anyone who has been paying attention over the past several decades. Politics has always aroused strong passions among Americans going back to the Founder's Era, and there have certainly been eras where political passion has manifested itself in far more dangerous and violent ways than we tend to see today, such as during the years preceding the Civil War, not to mention the war itself which was essentially a political argument transferred to the battlefield. Those eras have tended to be the exception rather than the rule, though, and even during some of the most contentious times in the nation's history, people of different political persuasion have found ways to work together to get the basic tasks of government done, and seemed to at least know how to conduct a political discussion without resorting to invective, insults, and attacks. As anyone who has spent even a short amount of time engaged in political dialogue in recent years can tell you, that's quite simply no longer the case. Each side has their own news sites on the Internet that they default to for information and analysis, and any effort to introduce opposing ideas is immediately shot down with rejection, insults, and ridicule. Rather than listening to each other, we're shouting at each other and basically just repeating the slogans that comfort us with the belief that our own pre-existing ideas are right, and that anyone who disagrees with us is not just wrong, but evil, stupid, and the proper target of nothing but insults.  Both sides will deny it, of course, but it's absolutely true and, yes, it is something that both sides do, as this poll confirms in stark and disturbing detail.
I've discussed this issue several times before — see here, here, and here for just three examples — and as I've noted each time, the dangers of this type of approach to politics should be rather obvious. A political philosophy where you, seemingly by default, you view the people you disagree with as not just opponents in a political debate but evil, wrong, and stupid is one that is guaranteed to create conditions that make accomplishing anything next to impossible. We live in a nation of more than 300 million people from a wide variety of backgrounds whose opinions about high profile issues in politics are going to be influenced by very different factors. The idea that any one of us have all of the correct answers and nothing to learn from those who disagree with us is the height of a dangerous form of arrogance that seems incompatible with a pluralistic representative democracy, and yet thanks to the rise of a world where people's sources of news and opinion have seemingly become increasingly segregated by ideology as a people we've become more and more assured that what we believe is not only correct, but indisputably correct. In such a world, anyone who disagrees with us must therefore be the enemy. This conclusion is further reinforced by pundits and politicians on both sides of the aisle who eagerly turn their opponents into enemies that must be ridiculed endlessly and destroyed. Donald Trump excelled in this particular skill during the race for the Republican nomination as he reduced his opponents not by actually taking his opponents on based on the merits of their ideas, but in exceedingly distasteful personal ways that made the race seem more like a fight on a Middle School playground than a race for the Presidency of the United States. Trump wasn't doing anything new, though, he was merely bringing to the debate stage and the speaking circuit the same sort of partisan vulgarity that one sees on both sides of the aisle on a daily basis. It shouldn't be surprising that he succeeded, because he was speaking the language of modern American politics.
This isn't to suggest that every political opinion is equal, of course. When one's approach to politics is tinged with racism, xenophobia, and obvious biases toward those who are different it is entirely legitimate for your political opponents to point this out and use it as a point of attack. The same is true of policy ideas that amount to little more than discriminating against people on the basis of race, ethnicity, religion, gender, sexual orientation or other factors that are, in the end, not relevant to the discussion at hand. Someone is perfectly welcome to believe these things, but shouldn't expect to be immune from criticism for their beliefs. At the same time, though, it's important to recognize that not everyone who disagrees with you on some policy idea is doing so based on an intent to discriminate. Not everyone who supports Voter ID, for example, does so because they want to suppress minorities from voting. For many supporters, Voter ID is necessary to prevent voter fraud and questioning their motives or reflexively calling them racist or stupid isn't going to change their mind, or at least come to the conclusion that perhaps the problem of in-person voter fraud isn't as bad as they've been led to believe. The same is true of a whole host of other issues. In other words, it's worthwhile to actually talk to the people who disagree with us rather than immediately assuming the worst about them, because the more we do that the less likely it is that we're going to accomplish anything other than fanning the flames of partisanship, which is exactly what those who profit from such an environment want.