Hyperpartisanship Continues To Ruin Our Political Culture And Our Country, And We're Letting It Happen
The tragedy in Florida last week revealed once again how hyperpartisanship is destroying our politics and harming the country.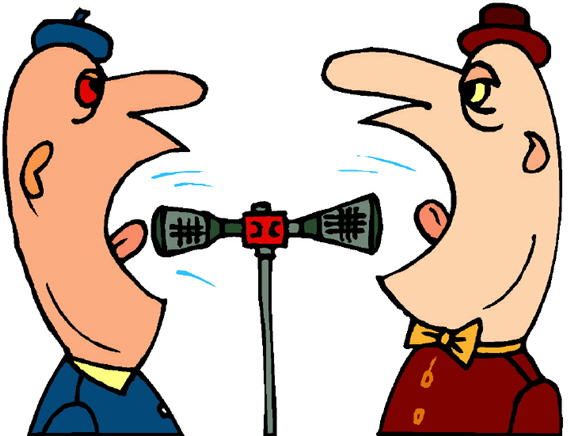 Commenting on a Wall Street Journal editorial regarding the latest mass shooting at an American public school, Dave Schuler has a suggestion that applies to how people react not only to events such as this but pretty much any political topic:
Let me propose one additional idea: dial it down. Stop cranking the outrage to 11. Politics is not war. People with whom you disagree politically are not the enemy. When you raise the temperature high enough, it's inevitable that some unbalanced individuals reach the boiling point and in a country of nearly 330 million people there are bound to be a certain number of unbalanced individuals.
As I note in a comment to Dave's post, I'm not at all optimistic about the prospects for this happening at any point in the near future.
As the news about what was happening in Florida began to unfold on Wednesday afternoon, I found myself surfing through my Twitter timeline (yes, I know this was probably a big mistake) and it was apparent even before we knew the full scope of what had happened, and while the dead and injured were still being cared for on the scene as police continued to search the large campus that makes up the school that things were going to go about as you'd expect them to on social media. Almost immediate people on both sides of the debate that inevitably gets reignited every time one of these events occurs began taking sides, casting blame, and attacking each other in a pattern that has become sadly predictable. On one side, of course, are those who argue that events like this are a symptom of gun laws that make it far too easy for people who shouldn't have access to weapons of any kind to acquire them legally as long as they can pass a criminal background check. On the other side are those who see any suggestion that we consider a seemingly reasonable idea like expanding background checks to cover situations they currently miss or banning items such as bump stocks that allow people to turn a standard semi-automatic rifle into something resembling a fully automatic weapon to be "gun grabbing" that must be resisted at all cost. As all debates on this subject inevitably do, it wasn't long before I could see everyone who engaged in a debate in was falling into an all familiar pattern. I even fell into the trap myself to some extent the next morning when I posted what I thought at the time, and still consider it to be a perfectly reasonable question that got spread far and wide thanks largely to the fact that it was retweeted by, among others, CNN anchor Jake Tapper. In the days that have followed, we've seen the same reactions, anger, and accusations tossed about by all manner of pundits and politicians on cable news and by commenters on the Internet. Meanwhile, the parents and families of the children and teachers killed in Parkland are just beginning to grieve, and we're no closer to an "answer" to the problem of mass shootings than we were before Nikolas Cruz walked into his former High School.
This isn't the first time we've seen this, of course, and it predates both social media and, in at least some instances, even the rise of cable news in the 80s and 90s. In recent years, though, and especially over the past two decades, its a phenomenon that has clearly gotten worse and only seems destined to get worse as times go on.
Perhaps its first incarnation in the social media era, though, occurred in January 2011 when Congresswoman Gabby Giffords was shot and seriously injured in an incident that killed six people and injured thirteen others. Within less than an hour, after news of the incident began to spread across social media, people on both sides of the aisle began to assign blame even though they had no evidence to base it on. Among the first things that people jumped on was a map that had been produced by Sarah Palin's Political Action Committee SarahPAC that had spent the time before the 2010 midterms raising money for Republicans challenging Democrats in vulnerable districts, including Giffords. As part of that project, they published and mailed to supporters a map of the United States that included twenty districts across the nation they were concentrating on with targets over the general location of those districts. Giffords' district was one of those districts, and the PAC apparently did give some money to the Republican who unsuccessfully challenged her in November 2010. As if on cue, various media pundits and others, mostly on the left, were posting the map and essentially trying to link the shooting to the map. As James Joyner and others pointed out at the time, though, the idea of a "target district" and the use of similar-looking map had been fairly common in political fundraising for a long time before Sarah Palin came along. Additionally, at the time the meme began circulating there was no evidence that the shooter had any political motive behind the shooting or that he had ever even seen the map prior to the shooting. As we learned in the days after the shooting, though, the perpetrator of that attack, Jared Loughner, had political views that were a bizarre mixture of far left, far right, and conspiracy theories. There's was also anecdotal evidence that he was mentally disturbed, something that was confirmed as the case against him unfolded. Finally, it became clear that Loughner had an obsession with Giffords that existed long before anyone outside of Alaska ever heard of Sarah Palin. In other words, there was simply no evidence to support the idea that there was any connection at all between Loughner, the shooting, and the map produced by SarahPAC. As I said a few days after the shooting, "Sarah Palin is not responsible for what happened in Tuscon on Saturday, she neither pulled the trigger nor said anything that comes even close to incitement to violence." Nonetheless, the pattern was set and we've seen it erupt time again time after time in response to similar shooting incidents. As such, it was inevitable that it would happen again in the wake of Wednesday's tragedy.
This phenomenon isn't unique to the gun control debate, of course, any more than it is unique to the era of social media and cable news channels that have discovered that putting up pundits from two opposite sides will bring along with it the types of argument that drive up viewership and ratings. One can point to any number of other political issues where this phenomenon has existed for longer than it has in connection with the gun debate, including abortion rights and others social issues and even debates over seemingly run-of-the-mill policy issues such as economics, foreign policy, and other topics that one would have thought would be far too boring to raise passions so highly. It's also a phenomenon that gets cranked up to eleven during election season, and in that case it's hardly a new development given the fact that we can point to elections that predate the era of the Internet, television, and even radio that were far more divisive, such as the Election of 1800 and, of course, the Election of 1860, one that proved to be so divisive that its result ended up being the match that set the nation toward a war that remains the bloodiest in our history. Finally, the most recent Presidential election has set off battles and caused divisions that are likely to take a long time to heal even if Donald Trump ends up being only a one-term President. In that sense, I suppose, this kind of hyperpartisanship is as American as apple pie. The problem is that it seems to be getting worse and threatens to get even worse as time goes on.
This also isn't an issue new to the pages of OTB itself. I've discussed several times before  — see here, here, and here for just three examples — and, as I've noted each time the dangers of this hyperpartisan approach to politics for both the nation and the culture are rather obvious. Any political philosophy where, by default, you view the people you disagree with not just as opponents in a political debate but as evil, wrong, and stupid is one guaranteed to create the conditions that make accomplishing anything pretty much impossible. In a nation of more than 300 million citizens and roughly 235 million people who are at least eligible to vote there are inevitably going to be issued on which people disagree, and in many cases there are far more than just "two sides" to a given issue. Additionally, the people who do vote are going to be influenced not only by what they see on television and read online and elsewhere, but also by any number of other factors. In that kind of environment, the idea that any one of us have all the right answers and nothing to learn from people who disagree with is is both dangerously arrogant and unrealistic, but incompatible with the pluralistic representative democracy we live in. Nonetheless, in many respects, this is what modern American politics has been reduced to, and it only seems likely to be getting worse before it gets better.
The divisions that this hyperpartisanship is rooted in are endlessly reinforced by pundits and politicians on both sides of the aisle who eagerly turn their opponents into enemies who must be ridiculed endlessly and destroyed. During the 2016 campaign, Donald Trump excelled in this particular skill, especially during the race for the Republican nomination that during which openly attacked a wide variety of groups and people and, attacked his opponents not based on the merits of their ideas, but in exceedingly distasteful, personal ways that seemed more appropriate for a fight between two children on a playground than a Presidential debate involving adults with wide experience in the political and business worlds.  Trump wasn't doing anything new, of course, he was just bringing out onto the debate stage and the speaking circuit the same political vulgarity that, by 2016, has become such a common part of America's political culture. In that respect, while Trump's victory in 2016 was something that surprised political analysts and pollsters, it shouldn't be surprising that he succeeded because he was speaking the language of modern American politics better than his opponents did and he used it to his advantage that nobody had before. Unfortunately, his success means that others are likely to engage in similar actions in the future.
The dangers of this kind of hyperpartisanship should be obvious. A world where the people you disagree with are targets for venomous and quite often highly personal attacks is one where that kind of behavior is likely to spread further into our culture and make a political compromise on even the most milquetoast of political issues. Perhaps the best example of that came at various times during the Obama Administration after the Republicans regained control of the House of Representatives when the nation was brought to the brink of a serious financial crisis because of the fact that hyperpartisanship was leading a significant number of Republicans in Congress to refuse to move even an inch on issues that clearly should be easy to resolve under normal circumstances. The best examples of this came, of course, can be found in two examples that fell just over two years apart. In the summer of 2011 the battle over raising the debt ceiling, something that had largely gone without consequence or rancor in the past, turned into such a standoff that it led the rating agencies to downgrade the rating of America's debt for the first time in history. Two years later, Ted Cruz and others on the right held the budget for the new Fiscal Year hostage to the impossible to achieve the goal of "defunding" the Affordable Care Act as part of a last-ditch political effort to stick a knife in the back of the President's signature piece of legislation. That standoff, of course, led to a sixteen-day government shutdown that only ended when it threatened to run into another debt ceiling deadline that forced Congress to act whether it wanted to or not. Both incidents and several others that occurred during the Obama Administration demonstrated quite succinctly the practical results of a hyperpartisanship fed by talk radio, cable news, and politically biased websites disguised as news organizations. One would have thought that our experiences during those eight years would have taught us something, but it clearly didn't.
None of this is to suggest, of course, that every opinion is equal, of course. When someone's approach to politics is rooted in racism, xenophobia, and bias and hatred for those different from them, it's entirely legitimate for political opponents to point this out and use it as a point of attack. The same is true of policy ideas that amount to nothing but discriminating against people on the basis of race, ethnicity, religion, gender, sexual orientation or other factors that are, in the end, not relevant to the discussion at hand. In those cases, I'd submit that it is perfectly legitimate to believe that these ideas have no place in the public square. One of the dangers of a politician like Donald Trump, for example, is the fact that he has normalized many of these opinions and made the people who hold them feel free to openly say things that they might have only said among their own kind in the past. The best example of that, of course, can be seen in the President's incredibly inexcusable response to last summer's violence in Charlottesville, Virginia, which many on the far-right saw as a signal that their racism and violent rhetoric was okay because it was being endorsed and excused by the President of the United States. People are free to hold and express these opinions, of course, but that doesn't mean they should expect or deserve to be immune criticism for their beliefs. Indeed, in most cases, it is the duty of each one of us to call these people out and to make sure that their hatred doesn't go unanswered.
When it comes to most issues and most political differences, though, it's important to recognize that not everyone who disagrees with you on policy or philosophy is evil, stupid, or operating on some ulterior motive. For one thing, most Americans aren't really "deep thinkers" when it comes to most political issues. They tend to vote based on things such as the state of the economy and their own personal financial situation. The emotional "hot button" issues that form the basis for the hyper-partisanship we find ourselves in the middle of now is mostly intended to appeal to the most ideological committed segments of the respective major political parties. Additionally, there is quite often more than one side to any political opinion, and many of us become guilty of tuning opposing voices out or ascribing the worst possible motives to people who disagree with us. This is as true of the gun control debate as it is when it comes to issues such as Voter ID, foreign policy, and even those "hot button" social issues such as abortion and LGBT rights. Unfortunately, it isn't in the interest of politicians or the ideologically committed on either side to recognize this most of the time. They profit, both financially and politically, from fanning the flames of partisanship, and, quite often, we all end up helping them even when we don't mean to.