Political Rhetoric You Disagree With Isn't Responsible For Someone Else's Criminal Acts
Blaming political opponents for criminal acts they clearly didn't commit or advocate isn't a political argument, it's demagoguery.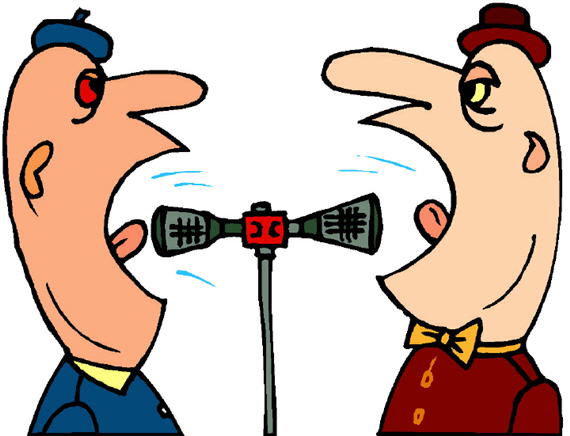 Perhaps not surprisingly, and as the comment thread to my post yesterday about the latest developments in last Friday's shootings outside a Colorado Springs Planned Parenthood office demonstrates quite clearly, the question has arisen yet again about the extent to which, if at all, heated political rhetoric should be held responsible for acts of violence. This isn't the first time we've discussed this issue, of course. In the immediate aftermath of the January 2011 shooting of former Congresswoman Gabrielle Giffords that resulted in the death of six and injuries to fifteen, including the Congresswoman, there was an immediate effort to pin blame for the attack on heated political rhetoric in general and a campaign that was associated with Sarah Palin among others that had identified Giffords' district as a "target district," a commonly used term in politics, and distributed a map that included a target over Tucson, the site of the attack itself. As I noted at the time, the fact that politics stirs up strong emotions among people is not a legitimate reason to blame activists who use strong political language for the actions of people who may have serious mental health issues. There were even those who tried to make a comparison between the Gifford shooting and the 1995 bombing of a Federal Building in Oklahoma City, a comparison which was particularly inappropriate when you actually looked at the facts involved in the two events. As it turns, out polling after the Giffords shooting indicated that the American public largely rejected the effort to tie the Giffords shooting to the national political discussion, and the fact that Jared Lee Loughner, the shooter in Tucson, turned out to be a deeply disturbed individual who for a time was not even considered sane enough to assist in his own defense, seemed to temper down the arguments that were made in the immediate aftermath of the shooting.
The efforts to associate the Giffords shooting with heated political rhetoric nearly five years ago was largely, of course, a product of the political left and its criticism of people such as Palin, this effort to blame political opponents for violent crime committed by others is definitely a bipartisan sport. Most recently, for example, many people on the political right have tried to blame the Black Lives Matter movement, which arose largely in response to the shooting of Michael Brown in Ferguson, Missouri, the death of Eric Garner in New York City at the hands of police, and an number of other incidents, to the death of police officers over the past year. New Jersey Governor Chris Christie, for example, said just over a month ago that the Black Lives Matter Movement is "calling for the murder of police," even though that is demonstrably not true. That theme is one that has been repeated multiple times on Fox News Channel as well as by prominent conservatives, including, without any sense of irony, many of the conservatives who have been pushing back against the effort to tag the pro-life/anti-abortion movement with some kind of responsibility for Robert Dear's actions in Colorado Springs on Friday. These arguments are as specious as the efforts to blame Sarah Palin and others for the actions of Jared Loughner. In the end, the people responsible for the murders of police officers, such as the two members of the New York City Police Department gunned down in their patrol car last December, are the people who commit the crimes, just as Loughner is the person responsible for the deaths in Tucson. Using the actions of those violent, often deranged, people to discredit one's political opponents strikes me as particularly illegitimate.
This time around, even though it still isn't entirely clear whether politics was a motivator or just an excuse for Dear's action's on Friday, we're seeing it happen all over again. In the wake of the shootings, Planned Parenthood released a statement tying the events in Colorado Springs to things Republicans have said about abortion in general and Planned Parenthood in particular and what it called "hateful rhetoric" from anti-abortion groups. As the editorial board of the The Denver Post notes, though, that the blame for the violence on Friday does not lie with anyone other than the perpetrator, and that heated political rhetoric is a long American tradition:
[I]t is no stretch to call the incident a version of domestic terrorism, assuming the assailant's motives were in fact what every sign seems to indicate. NARAL Pro-Choice America is right to suggest that a violent attack on a Planned Parenthood clinic sends an intimidating message to employees at every other such facility in Colorado and the nation. And that's true even if the perpetrator was acting alone and without counsel or coordination with other extremists. People capable of such vile deeds may be few in number, but the last thing they need is the example of a killer in Colorado Springs.

Some commentators are blaming the harsh rhetoric of anti-abortion activists and right-wing media in the wake of undercover videos released this year by the Center for Medical Progress for inflaming the unstable. And while some rhetoric has indeed been vitriolic, the fact remains that vehement political language is a reality in a society that always has had, and always will have, deep and passionate disagreements over issues of conscience. Strong rhetoric is a far cry from threats or attempted coercion, let alone violence with a gun.

(emphasis added)
This isn't to say that heated political rhetoric is always a good thing, of course. As I have noted many times before — see here, here, here, here here, here, here, here,  and here for just a handful of pieces on the topic — the fact that we now seem to live a political culture where the deeply committed people on both sides of nearly any given political issue seem more intent of scoring rhetorical points against their opponents than accomplishing much of anything. To a large degree, this is an attitude that is encouraged by the spread of a 365/24/7 news and information cycle and the fact that, thanks to the Internet and the rise of news networks such as MSNBC and Fox News Channel that are designed to consciously appeal to ideology more than straight news. Additionally, the decline in the influence of political parties in the election process, while advocacy groups have become more important, means that politicians have an incentive to appeal to extremes rather than to the middle, because those are the people most likely to show up to vote in primaries and General Elections. The results of all of this are well-known. Congress is is often little more than a monument to gridlock that has found it difficult to perform even its most basic functions such as passing a budget, meaning that there's little incentive for anyone to tackle larger problems such as immigration, tax reform, or entitlement reform. Public confidence in government has been at or near all-time lows for years. And, even though the economy has improved over the past seven years, the vast majority of Americans believe the nation is on the wrong track and they don't seem to believe that is going to change any time soon.
The fact that political rhetoric sometimes has a negative impact on our political culture, though, isn't a reason to blame it for violence when there clearly isn't any rational basis for doing so. If there are truly cases where people are using political causes to encourage people to commit violence, then that, of course, is a different story, and there are methods for dealing with such people. That's not what the people trying to tar the Black Lives Matter movement with the deaths of policemen, or the pro-life movement with the actions of Robert Dear seem to be saying. They are arguing that the mere existence of the rhetoric itself, and the fact that some deranged, independent actor may be inspired by it in some way is itself an argument against the political arguments themselves. Not only does this deny the independent moral agency of the people who actually commit violent acts, it contributes itself to the very virulent political culture we are living in today. Blaming your political opponents for criminal acts that they clearly aren't responsible for isn't a political argument, it's sheer demagoguery, and while it may make you feel good it accomplishes nothing useful and certainly isn't going to change hearts and minds.
It would do all Americans well to remember this, both in connection with the Black Lives Matter movement and the Colorado Springs murders, but for whatever events may happen in the future.