"Heated Political Rhetoric" And The Giffords Shooting
The tragic shooting of Congresswoman Gabrielle Giffords and 19 others in Arizona has started another debate about political rhetoric. It's a stupid debate, and it's utterly pointless.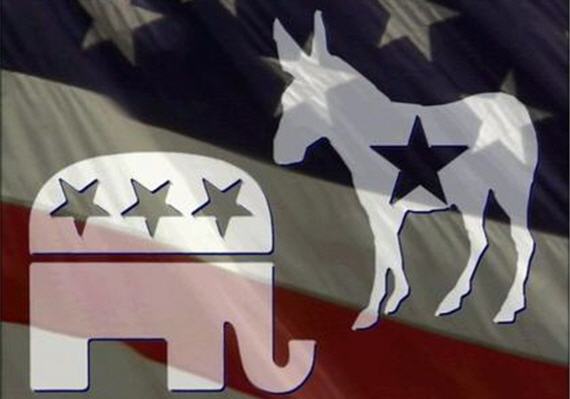 Within minutes after the news of the shooting of Congresswoman Gabrielle Giffords had broken nationwide, and even while conflicting reports were circulating that she had died, there were those who were doing all they could to draw political "lessons" from what is clearly an undeniable tragedy. Markos Moulitsas, the owner of Daily Kos, tweeted out "Mission Accomplished, Sarah Palin," with a link to a post about the "target map" that has suddenly become a political issue again. Matthew Ygelesias tweeted out a linkto the same "target map" with the message "A reminder that gun imagery and electoral politics don't mix that well". Andrew Sullivan continued the focus on Palin's map and said:
When a congresswoman is shot in the head in the very act of democracy, we should all pause. This is fundamentally not a partisan issue and should not be. Acts of violence against political figures destroy democracy itself, for both parties. We don't know who tried to kill congresswoman Gabrielle Giffords (she appears to be still alive) and we should be very cautious in drawing any conclusions yet about why. But we can know that, whoever tried to kill her and for whatever reason, political rhetoric involving words like "target" and "gun-sights" is inherently irresponsible.
Paul Krugman joined the piling on at his New York Times blog:
We don't have proof yet that this was political, but the odds are that it was. She's been the target of violence before. And for those wondering why a Blue Dog Democrat, the kind Republicans might be able to work with, might be a target, the answer is that she's a Democrat who survived what was otherwise a GOP sweep in Arizona, precisely because the Republicans nominated a Tea Party activist. (Her father says that "the whole Tea Party" was her enemy.) And yes, she was on Sarah Palin's infamous "crosshairs" list.
And, before we even knew one thing about the shooter, one diarist at Daily Kos called on Sarah Palin to accept responsibility for the crime:
What will the answer be this time?  Will Sarah Palin show that she has any iota of substance in her being, and any sense of the power of fire?  Will she own up to her responsibility?  Will the major media step up to do its job, or is it completely beyond any redemption?  Will we have to turn again to Jon Stewart to give us comfort that at least one individual of integrity works in the media?
As this excellent piece at Politico notes, the eagerness with which the partisans jumped all over this story before the barrel of the gun was even cool says as much about the current state of our political system as the rhetoric they were purporting to condemn:
A few days, or at the very least, a few hours – in an earlier era, people would have taken a breath before plunging into a remorseless debate about the political implications of an obscene act of violence.

Not in this era.

Within minutes after a gunman's shots—bullets that killed a federal judge, a nine-year-old girl and four others, and left a congresswoman clinging to life—activists of all stripes were busy, first on Twitter and blogs, then on cable television, chewing on two questions that once would have been indelicate to raise before the blood was dry:

Who in American politics deserves a slice of blame for the Tucson murders? And what public officials find themselves with sudden opportunities for political gain from a tragedy?

By day's end, the argument that the political right—fueled by anti-government, and anti-immigrant passions that run especially strong in Arizona—is culpable for the Tucson massacre, even if by indirect association, seemed to be validated by the top local law enforcement official investigating the shooting of Rep. Gabrielle Giffords (D).

"When you look at unbalanced people, how they respond to the vitriol that comes out of certain mouths about tearing down the government—the anger, the hatred, the bigotry that goes on in this country is getting to be outrageous," said Pima County Sheriff Clarence Dupnik, an elected Democrat, at a news conference Saturday evening. "And unfortunately, Arizona, I think, has become the capital. We have become the mecca for prejudice and bigotry."

(…)

One veteran Democratic operative, who blames overheated rhetoric for the shooting, said President Barack Obama should carefully but forcefully do what his predecessor did.

"They need to deftly pin this on the tea partiers," said the Democrat. "Just like the Clinton White House deftly pinned the Oklahoma City bombing on the militia and anti-government people."

Another Democratic strategist said the similarity is that Tucson and Oklahoma City both "take place in a climate of bitter and virulent rhetoric against the government and Democrats."
James Joyner has already done an excellent job of showing that the hand-wringing over Palin's "targeted districts" map is pretty silly when you consider that it's a concept that has been used in political fundraising for decades, but even this morning that isn't stopping the chattering classes from using the Giffords shooting as another opportunity for a navel-gazing discussion about the state of political rhetoric in the United States. In today's New York Times, for example, Carl Hulse and Kate Zernike have a piece saying that the shooting of Congresswoman Giffords puts "a new focus" on vitriol in American politics:
WASHINGTON — The shooting of Representative Gabrielle Giffords and others at a neighborhood meeting in Arizona on Saturday set off what is likely to be a wrenching debate over anger and violence in American politics.

While the exact motivations of the suspect in the shootings remained unclear, an Internet site tied to the man, Jared Lee Loughner, contained antigovernment ramblings. And regardless of what led to the episode, it quickly focused attention on the degree to which inflammatory language, threats and implicit instigations to violence have become a steady undercurrent in the nation's political culture.

Clarence W. Dupnik, the Pima County sheriff, seemed to capture the mood of the day at an evening news conference when he said it was time for the country to "do a little soul-searching."

"It's not unusual for all public officials to get threats constantly, myself included," Sheriff Dupnik said. "That's the sad thing about what's going on in America: pretty soon we're not going to be able to find reasonable, decent people willing to subject themselves to serve in public office."

(…)

Not since the Oklahoma City bombing in 1995 has an event generated as much attention as to whether extremism, antigovernment sentiment and even simple political passion at both ends of the ideological spectrum have created a climate promoting violence.
There is a major difference, though, between the Oklahoma City bombing and this shooting. It was fairly clear almost from the beginning that there was a domestic angle to the bombing of the Murrah Building, and the fact that it occurred on the anniversary of both the disastrous end of the Waco Siege (which had become a major rallying cry for the so-called "Patriot" movement in the 1990s) and the Battle of Lexington and Concord made it obvious what the motive behind the attack was even before Timothy McVeigh was arrested. That's not so here. Notwithstanding the efforts of the chattering class and many on the left to tie this shooting to "Tea Party rhetoric" or statements by politicians like Sarah Palin and Sharron Angle, it's fairly obvious that Jared Lee Loughner is a deeply disturbed, paranoid individual who doesn't even appear to have an connections to the Tea Party movement, or any political movement for that matter. Turning his actions into a debate about political "rhetoric" is sort of like reacting to the Jeffrey Dahmer story by having a debate about dietary standards.
Rick Moran notes over at his place the absurdity of trying to connect the words of political leaders and pundits to the actions of a lunatic:
Here's the bottom line. It is the height of idiocy to posit that the motivations of humans who commit such heinous acts are as simple as many on the left make them out to be. The mind is a terribly complex organ and to try and make the gobsmackingly stupid direct connection between something anyone says or does, and the act of violence itself is giggle-worthy. This is especially true in broken and smashed minds like Mr. Loughner.

Trying to draw a line from something Hannity or Palin, or any other conservative says and a light going off in Loughner's head demonstrates a cluelessness that proves partisan intent rather than any profound psychological truth. It also shows a laughable ignorance of how the mind works – even among those with a healthy psyche. The armchair psychologists on the left who continue to ascribe logical connections to an illogical mind can't really be serious, can they? They have to know that it is more than likely that a voice in Loughner's head told him to kill the congresswoman for reasons having nothing to do with politics.

We go through this exercise every time there's violence like this. One side or the other tries to make political hay out of tragedy with no more knowledge of what drove the perpetrator to violence than my pet cat Aramas.
Honestly, I think cats might have a better insight into human behavior than we do, but more broadly Rick is absolutely correct here.  Yes, there is a time and a place to condemn violent or stupid political rhetoric, and I've done so more than once in the five years that I've been blogging. At the same time, though, it is both the height of stupidity and a dangerous trap to fall into. Stupid for the reasons Rick notes in the piece linked above. Dangerous because once you start accepting the idea that a speaker can be held responsible for the actions of the random lunatic who might have heard what they say, then it isn't too far to go till you get to the argument that certain type of speech needs to be "regulated," which is another word for banned.
After all, if Sarah Palin's "targeted districts" map is ripe for criticism as an example of bringing violent imagery into political rhetoric, then what about this from the guy who eventually became the President of the United States:
"If they bring a knife to the fight, we bring a gun," Obama said at a Philadelphia fundraiser Friday night. "Because from what I understand folks in Philly like a good brawl. I've seen Eagles fans."
Politics stirs up strong passions, that's a fact that has been true throughout American history. Those who see the last several years as proof that we've gone down hill have quite obviously forgotten history. America's Revolutionary Era was full of violent rhetoric even before the first gun was fired. The rhetoric surrounding the Elections of 1800 and 1860, as well as the rhetoric in the years leading up to the Civil War, was incredibly violent (does nobody remember the fact that a Senator was caned, nearly do death, by a Congressman on the floor of the Senate in the 1850s?). Compared to those eras, what we see today, while it may be louder and more easily accessible thanks to 24 hour cable news and the internet, is positively peaceful.
There's only one person responsible for the actions of Jared Lee Loughner, and his name is Jared Lee Loughner. Rather than spending the next week or two gazing into our collective navels and decrying "heated political rhetoric," let's focus on the victims and on making sure something like this doesn't happen again.
Update: Jazz Shaw has another excellent take on this whole issue over at Hot Air's Green Room:
One phrase which some partisans on the port side of the political ship seem to hate at times is the conservative mantra of personal responsibility. To my way of thinking, this ties in to the entire concept of the worst elements of the nanny state, where it is not only the government's job to protect us from ourselves, but the same government becomes liable if it fails to stop us from doing something insane, even if there were no obvious red flags available to call attention to the situation before it ripened.

The fact of the matter is that personal responsibility is a required cornerstone of an open, democratic society such as ours. Everyone must be their own first guardian and must stand ready to be held accountable for their actions.
And personal responsibility means that even if you hear a political leader say something "heated," it's still your choice to go to the Safeway on a Saturday morning and kill six people.