Maybe We're Getting Exactly The Political Culture We Deserve
We have met the enemy, and it's most likely us.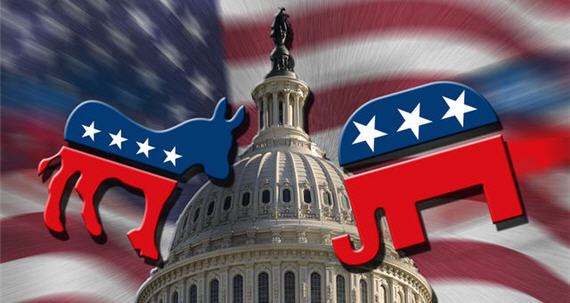 The Atlantic's Molly Ball takes a look at the question of why the Presidential campaign has become so nasty of late, something that both James Joyner and myself have touched upon in recent weeks, and comes away with the conclusion that, quite possibly, politicians are just reflecting the society around them:
[I]f the campaigns are cynical, disrespectful and angry, it seems to me they are only reflecting the vibe they're getting from the electorate. Why should politicians respect one another when nobody respects politicians? Think how off-key the campaigns would sound if they really were all high road, all the time. They'd be dramatically out of sync with a population that largely thinks — or knows — that things are bad all over. According to Gallup's tracking, 75 percent of Americans are dissatisfied with the way things are going, a number that, measured monthly, hasn't been below 60 since 2007 and hasn't been a minority view since 2003. With a multifariously terrible economy and a gridlocked Congress, they're not wrong to be pessimistic.

A poll released this week of the 40 percent of adult citizens who probably won't vote in November found that most were burned out on the political process: "59 percent said the reason they don't pay attention is that nothing ever gets done – that it's a bunch of empty promises," according to Suffolk University, which conducted the poll for USA Today. A campaign that didn't reflect that wide-ranging cynicism, or kept the debate confined to the level of high-minded policy-paper sessions and feel-good positivity, would get nowhere with the people most disinclined to believe political promises, or their voting counterparts. When you feel like you're in a handbasket on the highway to hell, the last thing you want to hear is an airy, abstract policy discussion. You want someone who feels the heat as acutely as you do, and hopefully gives you someone to blame.

If the campaigns have taken the low road this election season, they're only meeting voters where they live. The electorate is, more than usual, hungry for blood. It's easy, from the comfort of D.C., to forget how hurt and angry people are out there, or to be discomfited by the torches-and-pitchforks mood of the unwashed masses. But if politics has become a brutal cage fight, the likeliest explanation is that it's only responding to demand.
Ball has a point here. Looking back on history, one finds that times of economic and social turmoil are often accompanied by a political culture that is full of vitriol and acrimony. We saw it during the early years of the Republic when the new nation was first dividing into political factions, when the men running for the Presidency in 1800 and their surrogates were attacking each other using language that, even in today's highly charged environment, most everyone would  find completely unacceptable. In the years leading up to the Civil War, the rhetoric between North and South became more and more heated as the years went on to the point where, not only was compromise becoming impossible, but an anti-slavery Senator was beaten nearly to death on the floor of the Senate by a Congressman from North Carolina. The worst we've seen in that regard in our era is Dick Cheney dropping the F-bomb. There were similar outbursts in during the final years of the 19th Century when the nation was transitioning from an agrarian to an industrial nation, and again during the Great Depression and the 1960s. Contentious social times, it seems, bring about contentious and vitriolic politics, it seems.
We're living in similarly contentions times today. Economically, vast numbers of Americans look around them and see little hope that their children's lives will be better than theirs, or that the nation will return to the days of economic success that seem like they were just yesterday. Many of them are still dealing with the loss of a job or a home during the Great Recession, and either working part-time or not working at all in many cases. On top of all this, they see a political system, from the capitols of the 50 states to Washington, D.C., that seems incapable of performing even the simplest task. In 2008, a majority of them voted for a guy who promised to change things, only to see him disappoint them by playing the same Washington games, albeit incompetently in many cases, as everyone else. Is it any wonder that people are annoyed, upset, and angry? And, is it any wonder that our politics is going to reflect the mood of the public?
As Ball says, we can blame the politicians for the state of politics all we want, but the truth of the matter is that they wouldn't be doing this stuff if it didn't work. Political blowhards like Rush Limbaugh, Sean Hannity, Ed Schultz, Al Sharpton, and Lawrence O'Donnell wouldn't have an audience if they weren't giving people what they wanted. And, the politicians who resist this kind of politics wouldn't be losing elections unless they were missing what the the voters wanted. If politicians are unwilling to compromise and quick to demonize the opposition, it's because that's what they're constituents are telling them they want.  If you want to look for the cause of our problems, you might want to look in the mirror.