Amy Klobuchar is Temperamentally Unsuited for the Presidency
And I'd still prefer her to Donald Trump.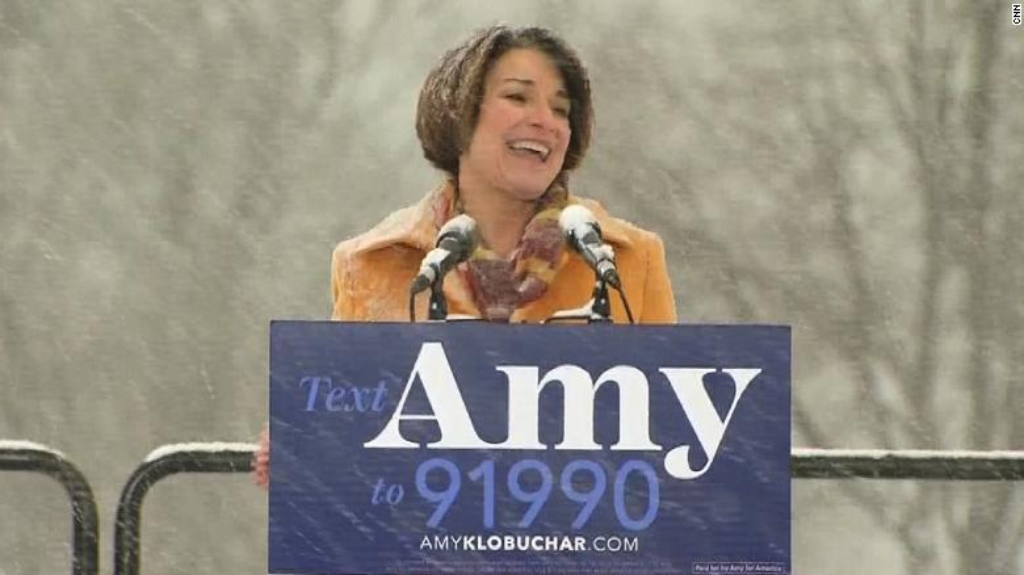 Amanda Terkel's declaration that "Exposing Amy Klobuchar's Mistreatment Of Staff Is Not Sexist" is so obvious that it shouldn't require explication. Yet, clearly, many believe it does.
Since launching her presidential campaign, Sen. Amy Klobuchar (D-Minn.) has faced questions about her mistreatment of her staff, as reported by HuffPost and other outlets. Former aides said she berated them, physically threw objects at them, made them do her personal chores, undermined their advancement to other jobs and created an anxiety-ridden workplace that led to high staff turnover and trouble hiring new talent.

The political world has largely received these stories as sexist criticism, dismaying and infuriating former aides who experienced Klobuchar's fury firsthand.

[…]

"None of what we are saying has anything to do with Amy being 'likable' or 'emotional' or whatever other nonsense people throw out at women," said a former female staffer. "It's that she is a terrible manager and abusive to her staff. I can't emphasize enough that there is a big difference between being demanding and being abusive."

On Friday, The New York Times also published a new report with additional details on Klobuchar's conduct, including her tendency to blame her aides for all of her problems, such as stymied political ambitions and the state of her marriage.

Klobuchar has responded to the reports by saying she is tough, not abusive. On Rachel Maddow's MSNBC show, and in similar comments at a CNN town hall, she said, "I'm going to take the high expectations and bring them out to the country because if we want to really get these things done, some of these things should happen."

[….]

Particularly frustrating for some of these staffers have been the charges of sexism. Many of the aides who spoke with HuffPost are women, who consider themselves feminists and have worked for other strong female politicians.

One former staffer called the Palmieri op-ed "offensive as fuck."

"It's not that there's not merit to the argument that other men have been abusive and gotten away with it," she said. "It doesn't make it OK for anybody. We don't say, we haven't held men accountable in the past for this on Capitol Hill, so why start now?"

Indeed, the Klobuchar coverage has set off a discussion on whether a male presidential candidate would be getting the same media attention. While there's no doubt that for years, working for a male politician with a temper was considered something of a badge of honor, that conception has been shifting. Rep. Tom Garrett (R-Va.), for example, was shamed in the press for misusing and mistreating his staff last year. There are plenty of other cases as well.
This is what I was getting at in my recent post "Can Coverage of Women Candidates Be Non-Sexist?" It's undeniable that there are double standards—sometimes applied unconsciously—when it comes to how we treat women candidates. We should recognize that and work to avoid it. But that doesn't mean women who seek high office shouldn't be subjected to high scrutinty.
Based on what I know at this juncture, I'd say Klobuchar's temperament is sufficiently awful to render her unqualified to serve in the United States Senate, much less be elevated to the most powerful executive office on the planet. That's not sexist. Indeed, I currently know of no reason why Kamala Harris, Elizabeth Warren,  or Kirsten Gillibrand are tempermentally unfit. (Tulsi Gabbard strikes me as a nut, but that's a whole separate topic.) Further, based on what I know now, I would vote for Klobuchar if my only alternative were Donald Trump, whose temperament is far more unsuited for the Presidency.
Amy Klobuchar is relatively unknown on the national scene and campaigning to have us trust her with an enormous amount of power. It's sexist to argue that she shouldn't be subject to the same scrutiny we routinely apply to men seeking the office.