Another Name On Trump's SCOTUS Short List
With the President set to announce his Supreme Court pick Monday evening, another name has entered the game.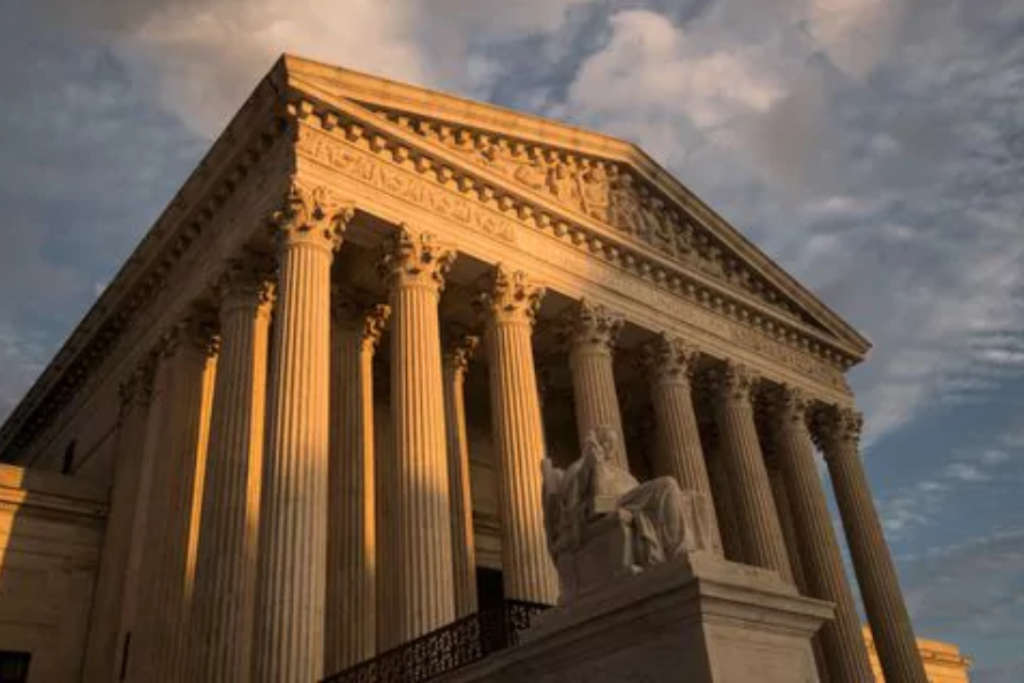 In addition to the names I mentioned in my recent post about President Trump's Supreme Court short list, it appears that another name has emerged:
President Donald Trump has spoken to four potential replacements for retiring Supreme Court Justice Anthony Kennedy, according to people familiar with the matter.

The four, all federal appeals court judges, are Amy Coney Barrett, Brett Kavanaugh, Amul Thapar and Raymond Kethledge, said the people, who were granted anonymity to discuss the interview process. They were the first candidates interviewed for the nomination, which the president said he'll announce July 9.

Kethledge has impressed those within the White House, the people close to the process said. He was considered for the last Supreme Court vacancy, but didn't meet with Trump then. On Monday, Trump expressed strongly favorable opinions about him, triggering talk that he's not a candidate to be ignored.

"I had a very interesting morning," Trump told reporters at the White House. The "person that is chosen will be outstanding."

(…)

Trump has said he's narrowed his search to about five finalists, including two women. Abortion has rapidly emerged as the critical issue in the nomination: Kennedy's replacement could be a fifth vote to overturn the landmark 1973 Roe v. Wade decision.

Senator Susan Collins, a Maine Republican who supports abortion rights, said Sunday on ABC's "This Week" that she wouldn't support someone who would overturn Roe. Republicans hold 51 seats in the Senate and need at least 50 votes to confirm Trump's pick.

Another person familiar with the process said Friday the White House was focusing on Kavanaugh, Barrett, Kethledge and Thapar, as well as Thomas Hardiman, another appeals court judge.
As with the other Judges on Trump's short list, Judge Raymond Kethledge appears on the list of roughly twenty-five candidates that the White House first put out during the course of the campaign and later updated after the election. He serves alongside two other short-list members, Judge Amal Thapar and Judge Joan Larsen on the Sixth Circuit Court of Appeals, where he has served since being appointed in 2008 by President George W. Bush. He is a graduate of the University of Michigan, where he received both his Bachelor of Arts and Juris Doctorate degrees. After law school, he served as a law clerk for Judge Ralph Guy Jr. a Judge on the Sixth Circuit Court of Appeals, and for Supreme Court Justice Anthony Kennedy. After his clerkships, he joined one of Michigan's top law firms before becoming in-house counsel for Ford Motor Company. After that, he worked in another top Michigan law firm and later founded a law firm of his own based in Troy, Michigan. In addition to serving as a Judge, he also teaches a class on appellate law at University of Michigan Law School. During his time on the bench, Kethledge has written or been part of some of the most notable cases to come before the Sixth Circuit although he did not play a role in that Circuit's decision in the same-sex marriage cases that were ultimately overruled by the Supreme Court in Obergefell v. Hodges. All in all, Kethledge appears to be the same kind of conventional conservative that the other people on the President's list.
As is always the case, predicting who Trump will announce next Monday is anyone's guess. When the White House was considering the replacement for Justice Scalia that ultimately ended with the selection of Justice Gorsuch, they managed to play their cards pretty close to their vest, and one assumes that this will be the case going forward. As it stands, Trump apparently plans to make his selection in a primetime appearance in much the same way that he did with the Gorsuch announcement, proving yet again that for this President optics and production values matter more than substance. In any case, I suppose we'll have to wait until July 9th to find out who the selection is.
Once the selection is announced, of course, the race will be on to get the nominee confirmed as soon as possible. In that regard, ScotusBlog's Andrew Hamm takes a look at the schedule of recent nominees and comes up with this chart: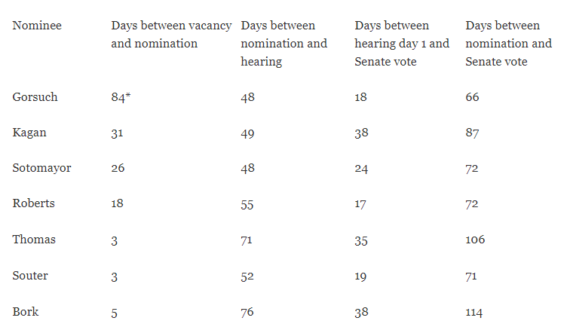 In working out the timeframe, it's worth noting that the Senate will be dealing with an end of September deadline if they're going to get a nominee on the Court before Congress is scheduled to recess for the campaign and before the new Supreme Court term begins on Monday, October 1st. Additionally, it's worth keeping mind that, even before the retirement announcement by Justice Kennedy, Senate Majority Leader Mitch McConnell had announced that the Senate will be returning from the August recess early, on August 13th, to deal with pending nominations. The Kennedy nomination likely means that his replacement's confirmation process will take priority over other pending matters, so it's likely we'll see confirmation hearings begin sometime after that. This would put a debate and confirmation vote somewhere in the middle of September. As I've said before, the Democrats can use some procedures to slow the process down, but they cannot stop it.