Another Poll Brings More Bad News For Trump
The first round of post-convention polls is now complete, and it's not looking good for The Donald.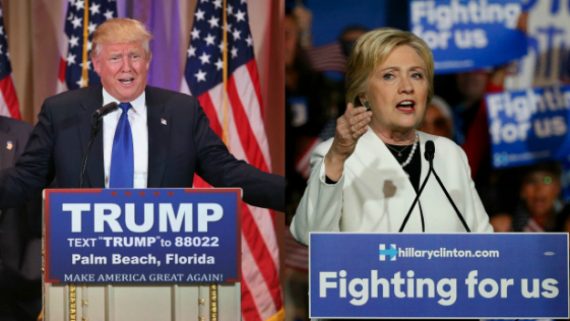 Seemingly confirming what we've seen from other polls, the latest ABC News/Washington Post poll shows Hillary Clinton with an eight point lead over Donald Trump:
Hillary Clinton has emerged from the two major party conventions and their aftermath with an eight-point lead over Donald Trump, aided by a consolidation of support among Democrats and a failure so far by Republicans to rally equally behind their nominee, according to a new Washington Post-ABC News poll.

Clinton and her running mate, Sen. Tim Kaine (Va.), now lead Trump and his running mate, Gov. Mike Pence (Ind.), by 50 percent to 42 percent among registered voters, double the four-point advantage the Democrats held on the eve of the Republican convention in mid-July. Among likely voters, the Democratic nominee leads by 51 percent to 44 percent.

In a four-way race that includes Libertarian Party nominee Gary Johnson and Green Party nominee Jill Stein, Clinton leads Trump by 45 percent to 37 percent, with Johnson at 8 percent and Stein at 4 percent. Before the Republican convention, she had a four-percentage-point lead in a four-way matchup.

The poll confirms that Clinton received a larger post-convention bounce than Trump did from his convention. But she appears to have been aided as well by days of controversy that Trump generated with his sharp criticism of a Muslim American family whose son, Army Capt. Humayun Khan, was killed in Iraq in 2004 and who rebuked Trump on the stage of the Democratic convention.

When asked about the criticisms Trump exchanged with Khizr and Ghazala Khan, 13 percent of registered voters said they approve of the way the business mogul handled the matter, while 74 percent said they disapprove. Overall, 56 percent said they strongly disapprove of the GOP nominee's handling of the controversy.

The conventions did not ease public dissatisfaction with the choice in this election. Almost 6 in 10 registered voters say they are dissatisfied with the choice between Clinton and Trump as the major-party candidates, virtually unchanged from mid-July.

The Post-ABC survey is in line with most polls conducted in the days after the Democratic convention in Philadelphia ended. Advisers to the two major-party nominees agree that it will take several more weeks before it is clear where the race stands, as convention bounces generally dissipate over time. After that, the next big opportunity for a shift in the race probably will not come until late September, when the first of the three scheduled presidential debates takes place.

Clinton's lead resembles the six-point post-convention leads for Barack Obama in 2012 and George W. Bush in 2004, both of whom won their bids for second terms. Yet Al Gore's five-point lead after the 2000 convention shrank to a narrow popular vote lead on Election Day, with Bush garnering more electoral votes.

Beyond the upcoming debates, external events or major embarrassments or mistakes by one candidate or the other could affect the balance between Clinton and Trump. In 2008, Sen. John McCain (R-Ariz.) caught up with Obama after his convention but fell well behind after the financial collapse weeks later.

Trump appears to have done little to improve his overall image, despite efforts primarily by his children to use their convention speeches to portray him as a loving father and a successful business executive. Almost 6 in 10 voters say he is not qualified to be president, unchanged from before his convention, and 3 in 10 say they would feel comfortable if he were to become president.

The underlying structure of the race as it now stands leaves Trump in a precarious position. His inability to command greater support among Republicans, if it continues into the fall, will give Clinton a significant advantage in the overall popular vote and probably in the key battleground states. Rather than taking steps to unify the party, Trump has done the opposite in recent days by declining to endorse House Speaker Paul D. Ryan (R-Wis.), Sen. Kelly Ayotte (R-N.H.) and McCain in their primary contests. On Friday, Trump reversed course and endorsed all three.

The Post-ABC poll shows Clinton winning 92 percent support among self-identified Democrats. That compares with 86 percent support just before the Republican convention and is an indication that the Democratic convention helped consolidate supporters of Sen. Bernie Sanders (Vt.) behind her candidacy. Those Sanders Democrats favor Clinton by 86 percent to 5 percent over Trump, larger than the 79 percent to 10 percent in July.

In contrast, Trump is winning 83 percent of self-identified Republicans, nearly identical to the 82 percent support he had among Republicans before his convention in Cleveland. Among those who favored candidates other than Trump in the Republican primaries, Trump leads Clinton by 74 percent to 17 percent — no improvement over the 76 percent to 12 percent before the convention.
As with the other polling that we've highlighted here at OTB since early last week, the ABC/WaPo poll showed Clinton gaining ground in demographic groups across the board, including most significantly several groups where Trump has been dominating since he started rising in polls a year ago, including white men without a college degree. Trump, meanwhile, continues to trail among women, African-Americans, and Latino voters all groups likely to play significant roles in determining the outcome in several key states going forward. Additionally, at least for now the conventions appear to have helped Clinton in erasing at least some of the favorability issues that she's been facing ever since entering the race. Compared to polling prior to the conventions, Clinton's favorable/unfavorable numbers have improved somewhat while Trump's have noticeably declined, Clinton also is seen in the polls as being the person most trusted to handle a wide range of issues ranging from the economy to foreign policy while Trump's numbers have declined in a few of these areas while he was already trailing Clinton in others. Based on an examination of the pre-convention polls and the numbers we see today then, it seems clear that whatever effort Republicans were making to reboot the race at the Republican Convention seem to have failed spectacularly, while Clinton has clearly benefited from what was, in retrospect, a relatively flawless Democratic Convention. This result was magnified by Trump's post-convention actions, including most notably his attack on the family of a fallen soldier who spoke at the Democratic Convention. As the poll numbers above clearly demonstrate, the vast majority of Americans believe Trump handled that particular encounter quite badly.
Looking at the RealClearPolitics average, the impact of the conventions and Trump's comments in their wake seems clear, and the question becomes whether he can turn the race around sufficiently before voters start making their final decisions in September as early and absentee voting begins in states ranging from Ohio to Florida. In the head to head match-up with Trump, RCP shows Clinton ( 47.5%) leading Trump (40.5%) in the poll average by seven points. In a three-way race that includes Libertarian nominee Gary Johnson, Clinton (43.3%) leads Trump (36.7%) by  6.6 points and Johnson averages 8.8 points, and in a four-way race that includes both Johnson and Green Party nominee Jill Stein, Clinton (43.2%) leads Trump (36.7%) by 6.5 points while Johnson averages 8.4% and Stein averages 4.0%. More so than any numbers, though, this chart of the head to head race shows the extent to which the race has changed since the conventions: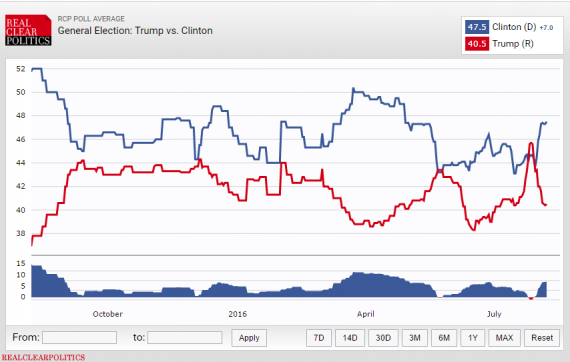 Trends can change, obviously, and it's likely that polling will tighten as pollsters switch to their Likely Voter models in the next month or so, but the trend right now is decidedly not in Donald Trump's favor. If that continues, then this race could be over before it really begins.