Another Poll Shows Cain Falling, Newt Rising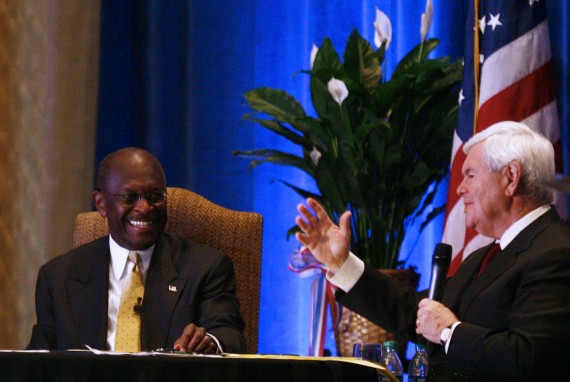 Following on the heels of the CBS Poll I noted this morning, a new McClatchy-Marist Poll shows Newt Gingrich rising, and Herman Cain falling:
The Republican presidential race is being shaken up again, with Mitt Romney retaking the lead, Newt Gingrich surging into second place, and Herman Cain dropping to third place, according to a new McClatchy-Marist nationwide poll released Friday.

The poll of Republicans and Republican-leaning independents signaled that Romney retains his steady if uncommanding position and that, in the quest by most Republicans for an alternative, they've cooled on Cain and are turning to Gingrich. It is the first national survey taken entirely since the allegations of sexual harassment against Cain erupted into a full political firestorm this week.

"Clearly this race has taken yet another dramatic turn. The top tier has gotten more crowded," said Lee M. Miringoff, director of the Marist Institute for Public Opinion at Marist College in New York, which conducted the poll.
Here are the numbers:
— Romney, the former governor of Massachusetts, 23 percent;

— Gingrich, the former Speaker of the House of Representatives, 19 percent;

— Cain, the former restaurant executive, 17 percent;

— Rep. Ron Paul of Texas, 10 percent;

— Gov. Rick Perry of Texas, 8 percent;

— Rep. Michele Bachmann of Minnesota, 5 percent;

— Former Sen. Rick Santorum of Pennsylvania, 1 percent;

— Former Gov. Jon Huntsman of Utah, 1 percent;

— Undecided, 17 percent.

The survey of 347 Republicans and Republican-leaning independents was conducted Tuesday-Thursday and had a margin of error of plus or minus 5.5 percentage points.
As improbable as it seems, we are looking at the Gingrich Boomlet that I talked about last Saturday. This will be the dominant media story for the next week, no doubt, especially if Cain continues to fall in this manner he has. I can't see how Gingrich lasts, though, given all of his well-known baggage. But then, it's been a crazy year so who knows what might happen.
Nonetheless, ladies and gentlemen, Newt Gingrich is back.