Another Round Of Battleground Polls Puts Clinton In The Lead
Donald Trump's path to 270 Electoral Votes is becoming less likely by the day.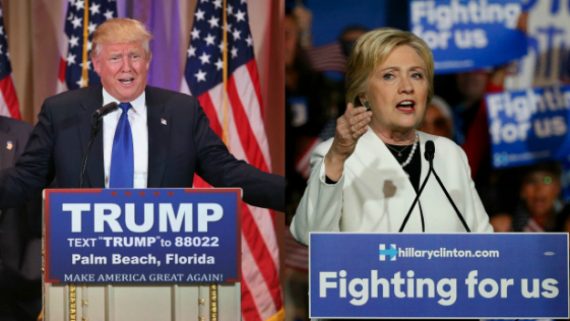 As we get ready to close out the week, yet another set of battleground state polls shows Hillary Clinton opening up wide leads over Donald Trump in four states crucial to getting to 270 Electoral Votes:
Democratic presidential nominee Hillary Clinton is opening a wider lead in three battleground states, while maintaining an advantage over Republican rival Donald Trump in Florida, a new Wall Street Journal/NBC News/Marist poll has found.

In Colorado, Mrs. Clinton leads Mr. Trump by 14 percentage points, 46% to 32%—six points more than a poll taken in July before the two parties held their national conventions.

Mrs. Clinton also gained some ground in two Southern battleground states: Virginia, where she leads 46% to 33%, and North Carolina, where she is ahead 48% to 39%.

In Florida, one of the most important states this fall with its 29 Electoral College votes, the race is tighter. Mrs. Clinton's support stands at 44%, compared with 39% for Mr. Trump, which is a slight improvement in his position from a month ago, when the poll had him trailing 2 points further behind.

Still, even winning Florida in November wouldn't help Mr. Trump if his fortunes don't improve in the other battlegrounds. North Carolina is a state that Mitt Romney won in 2012, and Colorado and Virginia have been trending Democratic in presidential elections. Democrats' position in Virginia is also likely enhanced by Mrs. Clinton's selection of the state's popular junior senator, Tim Kaine, to be her running mate.

"These are supposed to be battleground states, but right now, they don't look that way," saidLee Miringoff, director of the Marist College Institute for Public Opinion. "Trump still needs to unify Republicans and better position himself among traditional GOP groups in order to make the contest competitive in these must-win states."

The results reinforce the findings of other national and battleground-state polls taken in the past two weeks: In the wake of the two parties' conventions and amid a series of setbacks for the Trump campaign, Mrs. Clinton has consolidated her base and widened her lead on a number of fronts.

(…)

Mrs. Clinton also continues to hold a strong position in all four states when the field of choices is broadened to include Libertarian nominee Gary Johnson and Green Party candidate Jill Stein. In a four-way race, Mrs. Clinton draws more than 40% of the vote in all four states. In two, Colorado and Virginia, Mr. Johnson breaks into the double digits.

The poll also found that voters in all four states continue to have unfavorable impressions of both major-party nominees. For Mrs. Clinton, her negative ratings range from 52%, in Florida, to 59%, in Colorado. Mr. Trump's negative ratings range from 62%, in North Carolina, to 69%, in Colorado.

The battleground poll released Friday, and earlier Marist polls taken in Iowa, Ohio and Pennsylvania, illustrates Mr. Trump's difficult standing not just in national polls but also in the states that will be crucial to building an Electoral College majority.

The latest Journal/NBC/Marist polls showed that Mrs. Clinton in all four states had made more progress toward consolidating her party base than Mr. Trump has. In Florida, she is backed by 92% of Democrats; Mr. Trump is supported by 79% of Republicans.

In North Carolina, Mrs. Clinton is supported by 89% of Democrats; Mr. Trump, 84% of Republicans. In Colorado, 91% of Democrats are Clinton backers; 79% of Republicans are Trump backers. And in Virginia, 94% of Democrats back Mrs. Clinton; 80% of Republicans back Mr. Trump.

Another trend that could help Mrs. Clinton in these key states is growing approval of President Barack Obama's job performance, which stands at 50% or higher in each state. That is up 3 points in Colorado and Virginia over the past month, up 2 points in Florida and about the same as the past month in North Carolina.
To summarize the results, here's a handy chart from the Wall Street Journal: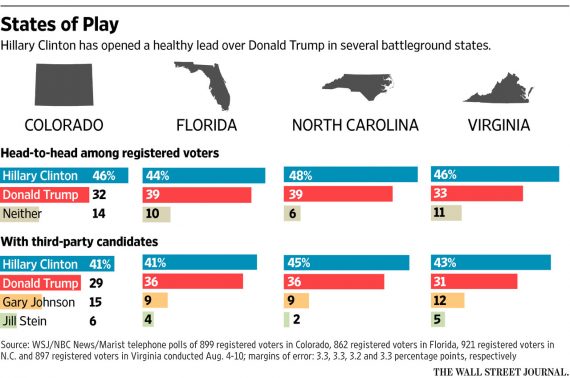 These numbers continue a trend we've seen since the conclusion of the two week convention period in July that has shown Hillary Clinton surging in the polls while Donald Trump continues his pattern of saying something controversial and then spending several days eating up increasingly diminishing campaign time trying to explain what he had said previously. Meanwhile, Republicans continue to search for ways to undercut Trump's campaign as it becomes more apparent that he is likely to have a negative impact on down ballot races, most especially the effort on the part of the RNC and other parts of the party to defend the GOP's Senate majority from a challenge that is looking more serious by the day.
Looking to the the poll averages it's clear that this is going to be a very tough election for the GOP.
In Colorado, for example, Clinton (45.8%) holds an eleven point lead over Trump (34 .8%) in a head to head match. In a four-way match, Clinton (42.0%) leads Trump (30.7%) by 11.3 points while Libertarian Party nominee garners an average 11.0% and Green Party nominee is averaging  5.0%. The Pollster average of the Centennial State is roughly the same, although it only gives Clinton an average lead of 7 .5 points. This is not good news for Republicans hoping to make Colorado competitive notwithstanding the fact that President Obama won rather handily in the state in both 2008 and 2012. Moving to another state that Republicans had hoped to flip back to red after two consecutive elections in which it went to a Democrat for the first time since 1964, the RealClearPolitics average for Virginia shows Clinton (44. 5%) leading Trump (36.5%) by eight points in a head to head match, while a four way match gives her a 9.7 point leads that also shows Gary Johnson averaging 12% and Jill Stein averaging 3.7%. Pollster, meanwhile gives Clinton a somewhat smaller, but still substantial, lead in its poll average. Not surprisingly, Florida is much closer with Clinton (45.8%) leading Trump (42.5%) by 3.3 points in a head-to-head matchup and 2.5 points in a four-way race that shows Gary Johnson with an average of  6. 5% and Jill Stein with at 2.3% race. The Pollster average for the Sunshine State, meanwhile, gives Clinton a 2.1 point lead over Trump. Finally, in North Carolina, which President Obama won narrowly in 2008 only to see Mitt Romney get the state back in the Republican fold in 2012, Clinton (45.3%) leads Trump (43.3%) by 2,9 points in a head-to-head match and by 4.3 points in a four-way match that shows Gary Johnson getting an average of 6.0% of the vote and Jill Stein getting an average of 1.7%. Over at Pollster, Clinton has a 3.9 point lead in the poll average.
Given that all four of these are states that Trump arguably must win if he is going to have any chance of getting to 270 Electoral Votes, it's hard to overstate just how bad this news is for the campaign. Even taking into account the fact that it's still early in the campaign, we've clearly settled into a trend that shows Hillary Clinton consistently gaining or remaining stable while Trump's numbers continue to decline. It's not hard to figure out why Trump is declining, of course.. One need only look at what the candidate himself is saying on a daily basis to figure that out, and the fact that he seems constitutionally unable to change either his tone or his rhetoric the idea that he's going to be able to turn this around unless he and his campaign act quickly is becoming less and less likely by the day. Instead of changing, though, Trump continues to wander off on his own, throwing out comments suggesting that he doesn't see why he needs to spend the money on an Election Day get out the vote effort and, most bizzarrely, scheduling a campaign stop in ultra-blue Connecticut, which hasn't gone for a Republican candidate since 1988. If that's the kind of race Trump is going to run over the next three months, then he's setting himself and his party up for a big loss. The question is whether he even cares about that at this point.