As 2018 Ends, There Appears To Be No End In Sight For The Government Shutdown
As 2018 draws to a close, there's no sign that the government shutdown will end any time soon.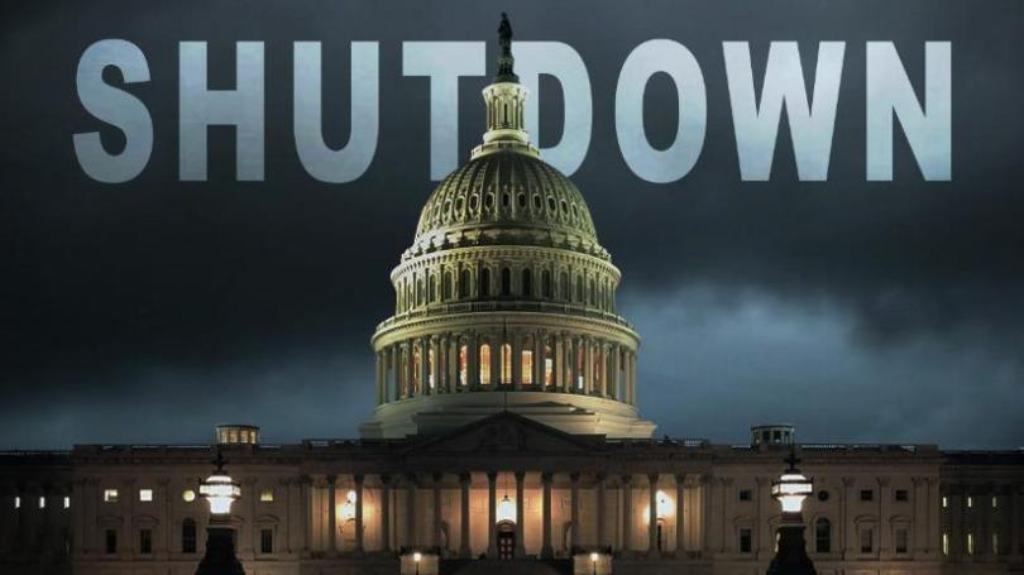 eral Government is in the second week of a partial government shutdown, and there doesn't appear to be an end in sight:
WASHINGTON — The television is on. The phone is never far away. And President Trump is repeatedly calling allies such as members of Congress and conservative radio hosts, telling them privately that he will not give in on his demand for funding for a border wall.

What the president who campaigned on his ability to cut deals has not done, nine days into a partial government shutdown over his signature campaign issue, is reach out to Democratic congressional leaders to strike one.

Virtually alone in the West Wing since the shutdown began, Mr. Trump has instead taken to Twitter to excoriate Democrats, and highlight that he canceled his own vacation to his private club in Florida while lawmakers left the city. He has lamented the negativity of the news media coverage, which has included repeated airings of Mr. Trump's declaration in the Oval Office a few weeks ago that he would not blame Democrats for a shutdown, according to people familiar with his thinking.

Even as some lawmakers floated compromises on Sunday, Democrats prepared to pass a bill to fund the government as soon as they take control of the House on Thursday. Like the Democrats, Mr. Trump appears to have dug in. And the uncertainty over what he might sign threatens to indefinitely drag out a shutdown that has affected 800,000 federal workers and shuttered parts of nine cabinet-level departments.

After Senator Lindsey Graham, Republican of South Carolina, met with Mr. Trump over lunch on Sunday, he said the president would not accept any deal without funding for the wall. But he remained optimistic that a compromise could be reached and encouraged both sides to come together.

"At the end of the day, there's a deal to be had," he said on Sunday. "We need to start talking again."

Still, Mr. Graham said after the meeting that the president had not signed on to his potential compromise, which would provide wall funding in return for work permits for the young undocumented immigrants known as Dreamers. Democrats also have no interest in such a plan right now.

And there were other signs of a lengthy shutdown fight from the White House: The president has a new acting chief of staff, Mick Mulvaney, who is not averse to government shutdowns, and some advisers see the timing of the fight as preferable to a year from now, when Democrats will be preparing for the first votes in the 2020 presidential primaries.

The president is also concerned that if he makes a deal, his core political support will falter, and his voters will see him as inauthentic after he talked about a wall in rally after rally for three years. As Mr. Trump was poised to sign a compromise bill ushered through the Republican-controlled Congress that would have funded the government through February, conservative commentators berated him as "gutless," and some hard-line House Republicans urged him to reconsider. He backed away from the bill soon after.

Adding to the mixed messages over what eventual deal the president would accept, John F. Kelly, the outgoing White House chief of staff, said in an interview published Sunday that the administration had backed away from the idea of a solid concrete wall long ago, even though Mr. Trump had dangled "steel slats" as a potential enticement to lawmakers only in recent weeks.

How it all ends is a mystery.
Meanwhile, at the other end of Pennsylvania Avenue, there's basically a stalemate pending the swearing-in of the new Congress on Thursday and it's absolutely unclear what happens after that:
The Senate's top appropriator on Sunday declared that efforts to end the partial government shutdown remain "at a standoff" and urged the White House and congressional lawmakers to stop deflecting blame.

"Our negotiations are at an impasse at the moment," Sen. Richard Shelby (R-Ala.) said during an interview on CBS' "Face The Nation" in discussing the funding battle.

"I wish it were not so," Shelby continued, "but we've got to move away from the blame game — blaming the president, blaming the Democrats, [Rep. Nancy] Pelosi and [Sen. Chuck] Schumer and others — and get back to doing what we're sent there to do: to fund the government."

The shutdown began midnight Friday Dec. 21 after President Donald Trump and Democrats in Congress failed to strike a deal over his request for a wall along the U.S.-Mexico border. The administration has publicly requested roughly $5 billion in taxpayer dollars for the project, while Democrats are offering $1.3 billion for a variety of border security measures.

"Right now, we're at a standoff, and I think that's not good for the Senate, the House, or America," Shelby said Sunday, warning: "If we blame each other this could last a long, long time."
At this point, there's basically no hope that anything will happen in the short amount of time left for the 115th Congress to resolve this shutdown, and there doesn't really appear to be much of an effort to even come close to a deal before Congress adjourns sine die before Noon on January 3rd. This means, of course, that the ball will be in hands of Nancy Pelosi and the Democrats when Congress gets back in town in force later this week. In that regard, Pelosi has made clear that the first order of business for the House of Representatives, after the organizational votes, to formally elect a Speaker and swear in newly elected and re-elected members, will be to take up proposals to end the showdown. The most likely package that the House will take up will be the one that passed the Senate unanimously before Christmas. That bill would have kept the government open through February 8th, but would not have met the President's demand for funding for his border wall. Alternatively, the bill would have authorized roughly $1.6 billion for "border security," including the repair of existing fencing and other measures that the Border Patrol has identified as being of a higher priority than funding a wall. The House refused to pass that bill, and instead added an amendment providing the President with the full $5 billion in wall funding that the President demanded. That bill failed to get the votes needed to pass the Senate and, hence, we entered a shutdown the Friday night before Christmas. Since then there has been essentially no progress on either side of the ball, with Congress having left town for the holidays and the President holed up in the White House tweeting away while everyone else tries to figure out what's going on.
As things stand, the current shutdown already ranks as the 9th longest shutdown in American history, and will most assuredly find itself in the top five before its fully resolved. In fact, as things stand there's little chance that the shutdown will be fully resolved before the end of this week. The most likely course of events is that the House will pass its measure on Thursday or Friday without funding for the wall and the Republican-controlled Senate will most likely reject it due to the lack of wall funding. This will happen notwithstanding the fact that the same bill passed the Senate via unanimous consent just over a week ago. This will leave us, at least temporarily, back at square one, but it will be at this point that the negotiation between the White House and the Democrats will begin. Where it goes from there, and how long it lasts, is anyone's guess, but the likelihood is that it will be well into the week of January 7th before we get a resolution of the matter. Meanwhile, some 800,000 Federal workers will wake up on the day after New Year's Day either furloughed without pay or ordered to work without the prospect that they'll be paid when the next Federal Government paychecks are set to be cut. This also means an additional number of Federal contractors, including many small to medium-sized businesses, will find themselves cut off from expected payments that most of them were depending on and which now won't be available at least until government funding is restored.