Back to Those Darn Freeloaders
More on that freeloader problem (today with less snark).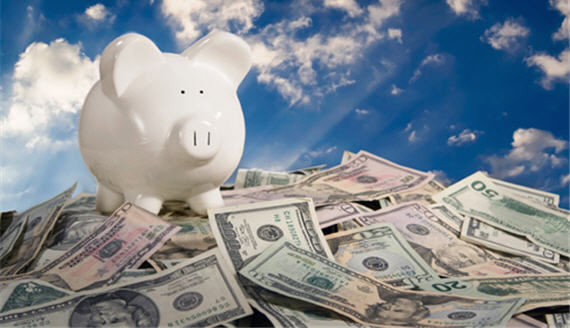 What was the point of my snark yesterday?  There were multiple motivators:
1.  The fact that it is amusing and telling to see a Governor like Rick Perry turning to the federal government for help.  Amusing because Perry has engaged in some fairly strong rhetoric about federal funds in recent years (for example:  here, here and especially here).  Telling because it underscores that, in fact, we do need one another and that there are situations in which a state has to admit that it is simply part of a whole rather than a sovereign, self-contained entity.
2.  Following on that last point, I was also struck by the fact that things like natural disasters, in this case the fires in Texas and the tornadoes in North Carolina, demonstrate that states are not as powerful and capable as some of the more extreme interpretations of federalism like to pretend.  Further, as my parting jibe in the above-linked post at the Tenthers would indicate, I think that those who insist on a stark interpretation of  Article I, Section 8 are being quite simplistic in what they think the federal government can/should do (especially in light of two and a quarter centuries of evolution).  In other words: if citizens in one part of the country are being burned, flooded or whatever we end up being Americans more than Texans, Floridians, etc.  The focus, to be clear, is one the people and not the lines on the map.*
3.  There are some analogies to be made here to health insurance.   A commenter in a previous thread argued that the Ryan Plan for Medicare would work well because people are well equipped to choose appropriate insurance policies for themselves in terms of their ability to predict the future about what types of services they will need.  Yet sometimes even the seemingly best and most reasonable planning is inadequate.  And sometimes in those situations there needs to be some sort of backstop.**  I am not prepared to evaluate whether in the Texas and North Carolina cases in terms of whether the backstop of federal funds are truly warranted or not (as yes, I do think that some disaster declarations are too easily made), but it is clearly the case that such circumstances do exist (e.g., Katrina and the BP oil spill).
It is always easy to say that people ought to take care of themselves when our house is not on fire, underwater, or blown away.  It is easy to say that people who get unemployment payments are lazy when we have jobs.
Now, yes:  sometimes your house is underwater because you built it somewhere that it shouldn't have been built.  And yes, sometimes the guy getting unemployment benefits is a bum.
I am not arguing that the government ought to step in every time we catch a bad break and I agree that there are abuses to the system, sometimes maddening ones.  Inefficiencies and even fraud are going to be part of any system (even those in the private sector)—so the question becomes whether you scrap an entire system because some people are going to get more than their due or whether you maintain the system because the overall good outweighs the bad.
I am fundamentally arguing against the notion, which many seem to subscribe to, that the choice is dichotomous:  government or no government.  Or, even, against the notion that government is a "necessary evil."  No, government is simply necessary.  The trick is getting the mix right.
The thing is, we expect the government to act as the actor of last resort.  Indeed, it is one of the reasons to have government in the first place.
One can philosophically believe that it ought not be this way.  One can argue that every individual ought to be utterly responsible for themselves.  Of course, if that is your position, I certainly hope that one did not attend public schools (either K-12 or at the university level).  I certainly hope that one never drives on public roads or eats food that has been subjected to health inspections.
In other words:  the issue is not a choice between government and no government (or as a commenter put it this morning, between free markets and central planning***).  The choice is how much government.
In conclusion:  I think we, as a country, would have a better time dealing with some our daunting fiscal challenges if we could be honest about what government actually does do so that we could, in turn, have a debate about what it ought to be doing.  This in turns leads to a more legitimate discussion of how much it should do and how it should be paid for.
To return to the original inspiration:  it is ludicrous to say things like "We've got a great union. There's absolutely no reason to dissolve it. But if Washington continues to thumb their nose at the American people, you know, who knows what might come out of that. But Texas is a very unique place, and we're a pretty independent lot to boot" (Rick Perry-almost exactly two years ago) and then ask for federal disaster funds.   Fundamentally all this does is expose the quote for what it is:  red meat rhetoric meant to tickle the ears of the faithful–not something to be taken seriously.  The problem is that the faithful then go home thinking about how they don't need the federal government because, after all, they're Texans.****
At least until the wildfires come (or the tornadoes, the hurricanes, the earthquakes, the floods, the oil spills, the collapse of the savings and loans, the collapse of the financial sector…).
——
*I make this point because many of the discussions (especially from people who extol the Senate as the pinnacle of the Founders' innovations, or who want to repeal the 17th Amendment) like to speak in terms of states as though they are something other than places where American citizens live.
**Unless we want to take the position that no matter what happens that one is struck with one's decisions.  Didn't buy the insurance for that wholly unpredictable hurricane or earthquake the likes of which no one even contemplated?  Too bad:  die homeless because you didn't adequately foresee the future.
***I would note, btw, that central planning encompasses the notion of setting the price of goods and services as well as the level of production and the like.  In other words instead of market forces of supply and demand determining the amount of what is produced and what its price will be is determined by bureaucrats.  There is very little of such things happening in the US economy.  Yes, there are any number of policies that interfere with perfect market conditions.  For example, food safety rules affect price (driving it upward to some degree).  In a perfect market we wouldn't have such standards and the market would determine (based on who got sick eating where, for example).  In short:  the government does not tell McDonald's how many burgers to produce or what their price should be, but various regulations (food safety, worker safety, minimum wages, child labor laws, etc.) do affect price.
This is regulation, not central planning.
****And I write this as a Texans living abroad (in Alabama) who fully understands, and even revels at time, in Texas bravado.