Because Bill Clinton Is Popular, And George W. Bush Is Not
One of these men is going to his party's convention, the other is not. The reason why is rather obvious.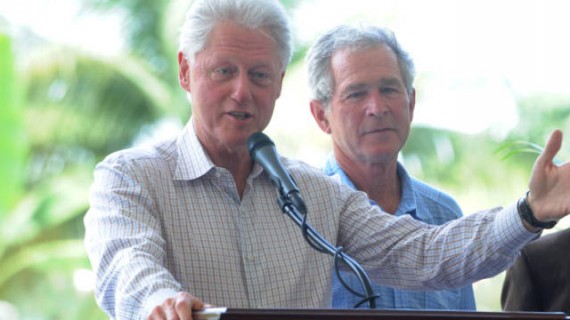 Ann Althouse asks a question:
Why is Bill Clinton appearing at the Democratic Convention and George Bush not appearing at the GOP Convention?
The answer is really very simple.
Bill Clinton is generally associated with a period of economic growth and success, a time when the Federal Government actually managed to run a budget surplus for the first time in decades (although said surpluses were made possible mostly because of creative bookkeeping that kept many items "off budget.) He left office while the economy was still in relatively good shape with a relatively high approval rating. Even the Monica Lewinsky scandal wasn't enough to bring him own in the eyes of the public. While his approval and favorability numbers did decline for a time when that news came out, they eventually rebounded and it ended up being the Republican Congress that damaged itself by pursuing an impeachment that most Americans did not believe was warranted by the facts. Since he left office, Clinton has taken on the role of an elder statesmen, and has experienced a renaissance when his wife decided to make his own run for the President. Additionally, Clinton is widely seen as a skilled politician and is often begrudgingly admired by many of the Republicans who opposed him in the 1990s. Inviting Clinton to the Democratic Convention, then, is a pretty smart move on the part of the Democratic Party and the Obama Campaign.
George W. Bush, on the other hand, left office with a pathetically low job approval rating thanks to an unpopular war and an economic downturn that many still blame on his policies. Even his own Republican party has largely left him behind and done as much as they can to not associate themselves with his time in office. By his own choice, he has not taken on a political role in his post-Presidency, but it's rather obvious that even if he had not made that decision, many of his fellow Republicans would rather that he just stay away and not remind the public of a Presidency that, at least looking back at this point, seems largely to have been a failure in many important respects. Giving George W. Bush a speaking role at the Republican Convention would have been utterly foolish.
Finally, I'd just direct Professor Althouse to this poll from earlier in the year:
Q41 Do you have a favorable or unfavorable opinion
of Bill Clinton?
Favorable……………………………………………….. 54%
Unfavorable ……………………………………………. 38%
Not sure …………………………………………………. 8%

Q42 Do you have a favorable or unfavorable opinion
of George W. Bush?
Favorable……………………………………………….. 45%
Unfavorable ……………………………………………. 46%
Not sure …………………………………………………. 9%
I'm actually surprised that Bush's favorable numbers are that high because, in reality, the Bush years remain political poison for the GOP.
That's why Bill Clinton is being invited to his party's convention and George W. Bush is not.