Ben Carson Picked For HUD Secretary
An odd choice for HUD Secretary.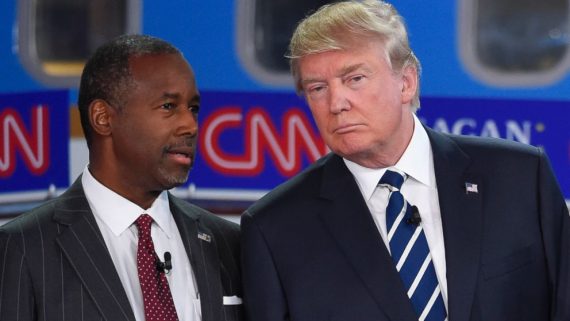 It's being reported this morning that Donald Trump has chosen Ben Carson to be Secretary of the Department of Housing and Urban Development:
Ben Carson, who took Donald J. Trump on a tour of blighted neighborhoods in Detroit during the presidential campaign, including his boyhood home, has been chosen by Mr. Trump to oversee one of the government's main efforts to lift American cities as secretary of the Department of Housing and Urban Development.

Mr. Carson, a retired neurosurgeon, was an early endorser of Mr. Trump after ending his own presidential bid.

"Ben Carson has a brilliant mind and is passionate about strengthening communities and families within those communities," Mr. Trump said in a statement Monday morning. "We have talked at length about my urban renewal agenda and our message of economic revival, very much including our inner cities."

"Ben shares my optimism about the future of our country and is part of ensuring that this is a presidency representing all Americans," he added. "He is a tough competitor and never gives up."

With no experience in government or running a large bureaucracy, Mr. Carson, 65, publicly waffled over whether to join the administration. He will oversee an agency with a $47 billion budget, bringing to the job a philosophical opposition to government programs that encourage what he calls "dependency" and engage in "social engineering."

He has no expertise in housing policy, but he did spend part of his childhood in public housing, said a close friend, Armstrong Williams, and he was raised by a dauntless mother with a grammar-school education. In his autobiography he stressed that individual effort, not government programs, were the key to overcoming poverty.

The Department of Housing and Urban Development oversees programs that provide vouchers and other rental assistance for five million low-income families, fights urban blight and helps struggling homeowners stave off foreclosures.

Housing policy was rarely mentioned on the campaign trail by candidates in either party. When Mr. Trump spoke of "inner cities," he painted with a broad brush to describe the lives of poor blacks and Hispanics as "a disaster," pleading for their votes by asking, "What do you have to lose?"

In an opinion article in 2015 for The Washington Times, Mr. Carson compared an Obama administration housing regulation to "the failure of school busing" because it would place affordable housing "primarily in wealthier neighborhoods with few current minority residents."

The rule, known as Affirmatively Furthering Fair Housing, was years in the making and designed to end decades-old segregation by offering affluent areas incentives to build affordable housing. Critics, including Mr. Carson, called it government overreach.

Barbara Sard, a former official at the housing department during President Obama's first term, said Mr. Carson's view was a misunderstanding of the regulation and its origin in the 1968 Fair Housing Act. The rule also included development funds for poor neighborhoods.
This announcement comes less than a month after Carson, who had been mentioned as a nominee for Secretary of the Department of Health and Human Services immediately after the election, seemingly took himself out of contention for any Cabinet position with an announcement through his spokesman that he had asked Trump to take his name out of contention for any Cabinet position because he didn't believe he had the experience necessary to run a complicated government bureaucracy such as a Cabinet Department. Naturally, this statement raised the question of why he had run for the far more complicated job of being President of the United States. In any case, Carson continued to be involved in the Trump transition process and Trump apparently didn't take his demurrer from early November literally.
That Carson was selected for a Cabinet position is not, in and of itself, surprising. He was, after all, among the first of the people running against Trump in the Republican primary to endorse him and, notwithstanding Trump's attacks on him when Carson was surging in the polls in early November 2015, Carson had a relatively good relationship with Trump throughout the race. It is somewhat surprising, though, that Carson would be selected for a position like HUD Secretary rather than for a position that would seem to be better suited to his previous experience in medicine or medical administration, such as Secretary of the Department of Health And Human Services, Surgeon General, or head of the Veterans Administration, which continues to suffer from the problems that have plagued it for the past several years. In any case, though, Carson should be easily approved by the Senate notwithstanding the fact that putting him at HUD seems to be the political equivalent of trying to fit a square peg in a round hole.
Update: This joke was, of course, inevitable:
With Ben Carson as HUD Secretary, America's public housing will consist entirely of pyramids which will be used to store grain. pic.twitter.com/dlCySBd9mF

— Doug Mataconis (@dmataconis) December 5, 2016