Ben Carson: President Obama Was "Raised White," Can't Identify With African-Americans
Ben Carson may be a non-entity in the Presidential race at this point, but that hasn't stopped him from making controversial statements.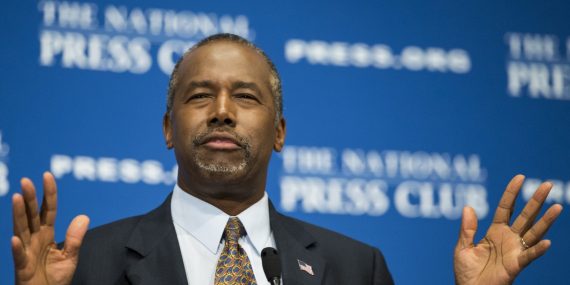 Ben Carson may be essentially a non-factor in the Presidential race at this point, but that hasn't stopped him from continuing to make controversial statements:
Ben Carson is the only person in the 2016 presidential field who is vying to become the country's second African-American president.

If truth be told, however, he's not entirely sure he wouldn't actually be the first

Carson, speaking during a half-hour sit-down with POLITICO's "Off Message" podcast as he waited for the results of Saturday's South Carolina primary (he finished sixth out of six), laid out his views on racism – and his belief that his experience as poor black kid in 1960s Detroit represents the real experience of his people in way that Barack Obama could never understand.

"He's an 'African' American. He was, you know, raised white," said the world-renowned neurosurgeon, whose single mother worked three jobs – and occasionally relied on government aid – to elevate Carson and his older brother from the grinding poverty of ghetto life.

"I mean, like most Americans, I was proud that we broke the color barrier when he was elected, but … he didn't grow up like I grew up … Many of his formative years were spent in Indonesia. So, for him to, you know, claim that, you know, he identifies with the experience of black Americans, I think, is a bit of a stretch."
On some level, of course, Carson is correct in pointing out that President Obama does not share the same lineage as the vast majority of African-Americans in the United States, most of whom can trace their lineage back to someone who was brought to the United States as a slave or indentured servant. Instead, he is the son of an African man who was an immigrant to the United States in the early 1960s who married a white American woman and who was raised, largely, by his mother as a single woman or by his Grandparents, who were white. It's also true that Obama spent a short part of his childhood living in Indonesia with his mother and her second husband. None of that means, however, that Carson can know whether or not the President, as a child or as a younger man, has not experienced some of the same racial discrimination and prejudice that African-Americans generally have experienced at various points in their life. Indeed, President Obama has spoken numerous times about points in his life when he experienced many of the same types of discrimination, prejudice, or pre-judgment based on his skin color that seem to be common among African-American young men as well as times when he was mistaken for a valet or a waiter because he was one of the only dark-skinned people at gathering in even seemingly open-minded places such as New York City.
In other words, the fact that President Obama was raised in a different environment than Carson, who grew up in the ghettos of Detroit and Boston during some very bad times for African-Americans, doesn't mean that Obama has not experienced racial discrimination and to boil it down to the idea that Obama was "raised white" and therefore doesn't know what it means to be African-American. The fact that Carson would make the distinction about how Obama was raised is odd in and of itself, but to go from there to make the claim that Obama can't relate to the experience of African-Americans in general is little more than an example of Carson making assumptions for which he has no evidence. Indeed, for people who tend to treat someone unequally, or treat them differently based on the color of their skin, how they were raised is irrelevant and would not be something they would even know about to begin with. Carson deserves much credit for overcoming the adversity of his youth to achieve what he did in his career as a physician, but he's crossing the line into some truly bizarre territory when he makes comments like this.
Carson's comments about Obama are made even more bizarre by his assertions regarding his own recent experiences related to race:
When I pressed Carson on whether he'd experienced any racism in today's Republican Party, though, he flatly denied it – and said the real issue was progressives who couldn't accept the existence of a truly conservative black man. "They assume because you're black, you have to think a certain way," he said. "And if you don't think that way, you're 'Uncle Tom,' you're worthy of every horrible epithet they can come up with; whereas, if I weren't black, then I would just be a Republican."

Yet, for a nanosecond, he admitted that he's not exactly on the lookout for racists lurking in a party that is, by most estimates, about 90 percent white – with blacks like Carson making up just two percent of the total. "I don't find any particular problem being an African American in the Republican Party," he said.

(…)

At that point, I admitted to being a little befuddled. I've personally witnessed racist comments at events staged for candidates in both parties – the most recent being at a Trump rally in Lowell, Massachusetts earlier this year when I witnessed two young men calling a pro-immigrant protester a "nigger." Back in 2008, I heard a Clinton supporter in Toledo, Ohio use the same epithet to describe then-Sen. Obama.

Carson was steadfast in defending his party (this is a candidate who has said a Muslim shouldn't run for president unless he or she renounces sharia law) and when I asked him if Trump was a racist, he replied, "I have not witnessed anything that would make me say that about him."
Perhaps it's a matter of Carson not seeing what he doesn't want to see.