Biden Open to SCOTUS Expansion
After weeks of evasion, the frontrunner hints at a compromise policy.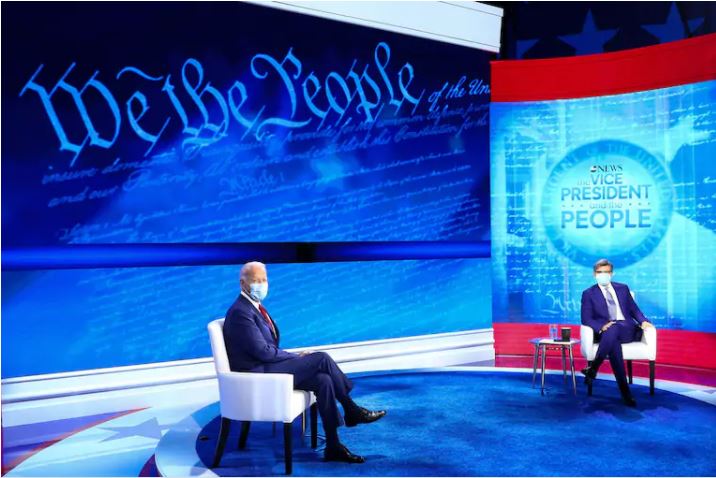 My friend and co-blogger Steven Taylor has repeatedly made the case for Democrats expanding the size of the Supreme Court to overcome the unrepresentativeness of our institutions while I have made the case that court-packing would be illegitimate and undermine the institution. Last night, former Vice President Joe Biden suggested a middle course.
WaPo ("Biden signals he'll take a position on Supreme Court expansion before the election"):
Joe Biden for weeks has resisted answering a straightforward question: Does he support expanding the Supreme Court beyond its current nine seats?

On Thursday night, the Democratic presidential nominee signaled for the first time that he would take a position on that before the Nov. 3 election, and he showed in the clearest terms yet that he was open to the controversial proposal of adding more seats, as many liberal activists are urging.

Biden's comments were not always clear, but he suggested his views on reforming the Supreme Court would depend on whether Senate Republicans follow through on their plans to rapidly confirm Amy Coney Barrett to the court.

ABC's George Stephanopoulos, hosting a town hall meeting Thursday night, asked Biden: "If the Senate votes on Coney Barrett's nomination before the election, you are open to expanding the court?"

"I'm open to considering what happens from that point on," Biden replied.

"Don't voters have a right to know where you stand?" Stephanopoulos soon followed up.

"They do have a right to know where I stand, and they'll have a right to know where I stand before they vote," Biden said.

Asked if he would come out with a "clear position" before Election Day, he added: "Yes. Depending on how they handle this."

By "how they handle this," Biden clarified that he was talking about the Barrett nomination before the Senate. Biden and his fellow Democrats have sharply criticized Republicans for moving ahead with the nomination so close to an election, arguing that they should wait and let the next president decide whom to nominate.

"It depends on how much they rush this," said Biden.

Biden also mentioned "other alternatives" for transforming the court, a few moments after referring to ideas proposed by former South Bend, Ind., mayor Pete Buttigieg and others "to determine whether or not you can change the way in which the court lifetime appointment takes place — consistent, arguably, with the Constitution."

Buttigieg, who ran against Biden in the Democratic primary, proposed a 15-member Supreme Court in which five members would be appointed by Democrats, five by Republicans and the other five by unanimous agreement of the first 10.

Another idea at least worthy of consideration, Buttigieg said during a debate last year, would be term limits for justices rather than lifetime appointments.

Before being pressed to go further, Biden had reiterated his wariness of the idea of adding justices to the court, suggesting that could lead to repeated expansions each time power switched between the parties.

"I have not been a fan of court-packing because I think it just generates what will happen every — whoever wins, it just keeps moving in a way that is inconsistent with what is going to be manageable," Biden said, reiterating the position he voiced in the Democratic primary.
To me, the speed with which the Senate confirms Barrett to the Court is irrelevant. There's simply no doubt that she would be confirmed under normal order. She's highly qualified and was easily confirmed to the Court of Appeals quite recently.
To the extent that Biden is implying that Barrett's nomination is illegitimate because of what happened with Merrick Garland's nomination, I think he's on more solid ground. While Republicans actually signaled that the "no confirmation in an election year" concept only applied when the President and the Senate were held by different parties in 2016, that's not the message they sent. Further, while there's some practicality to the idea, it's incredibly cynical.
Steven and I disagree mostly at the margins on the problems caused by the increasing unrepresentativeness of the American system. In particular, he counts the two nominees that George W. Bush got through in his second term as part of the problem and I don't, since he was re-elected by a popular vote majority. (Although I fully concede his point: He almost certainly wouldn't have been elected in 2004 were it not for his having been elected under inversion in 2000.)
Because of that, I think it would simply be illegitimate for Democrats to ram three, four, or five Ruth Bader Ginsburg clones in and overturn the outcome of three decades' worth of elections* in one fell swoop. Not only would it invite tit-for-tat if Republicans ever win again but it would undermine the role of the courts, turning them into a much more blatantly partisan instrument. (There is an argument, advanced most notably by Jamelle Bouie, that this would be a good thing but I disagree.)
That said, I think something like the Buttigieg proposal is salable and, indeed, probably a good idea. Expanding the Supreme Court to fifteen members to "pack" it with six liberals would be outrageous. Expanding it to fifteen to change the character of the institution—to make it what it arguably is supposed to be—into one that does not have a predictable ideological or partisan bias is another thing altogether.
I'm not sure that the Buttigieg plan is Constitutional, however. Rather obviously, term limits would require an amendment. Adding more seats would not. But the Constitution is rather clear that the President appoints new Justices with the advice and consent of the Senate. Having the Supreme Court itself essentially appointing Justices could theoretically be done under this process but, if a future President didn't want to go along with the plan, I don't see how he could be forced to.
But, again, a super-sized Supreme Court that's appointed on the basis of character and competency and not the best guess of whoever happens to be President as to how they'll vote on controversial cases would be a welcome change.
__________________________
*Justice Clarence Thomas, the member of the Court with the longest tenure, was appointed by George H.W. Bush, elected in 1988.