Biden Pleads with Governors to Reinstate Mask Mandates
A shocking number of states no longer require them and the Leader of the Free World lacks the authority to change that.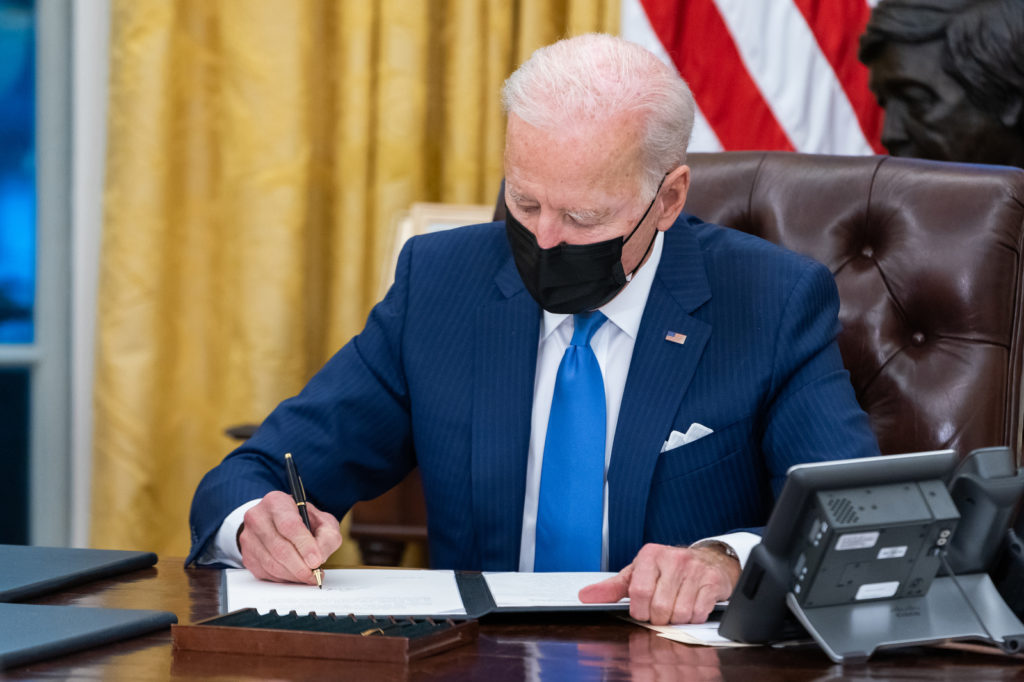 With a fourth wave of COVID hitting and vaccinations expected to hit critical mass soon, the President and CDC are strongly urging Americans to wear masks. Alas, only state governors have the power to make it mandatory and half of them are not doing so.
NYT ("Biden Pushes Mask Mandate as C.D.C. Director Warns of 'Impending Doom'"):
President Biden, facing a rise in coronavirus cases around the country, called on Monday for governors and mayors to reinstate mask mandates as the director of the Centers for Disease Control and Prevention warned of "impending doom" from a potential fourth surge of the pandemic.

The president's comments came only hours after the C.D.C. director, Dr. Rochelle Walensky, appeared to fight back tears as she pleaded with Americans to "hold on a little while longer" and continue following public health advice, like wearing masks and social distancing, to curb the virus's spread.

The back-to-back appeals reflected a growing sense of urgency among top White House officials and government scientists that the chance to conquer the pandemic, now in its second year, may slip through their grasp. Coronavirus infections and hospitalizations are on the upswing, including a troubling rise in the Northeast, even as the pace of vaccinations is accelerating.

"Please, this is not politics — reinstate the mandate," Mr. Biden said, adding, "The failure to take this virus seriously is precisely what got us into this mess in the first place."
Alas, like it or not, mask-wearing is very much politics and has been since the beginning. People in large swaths of the country believe they're too burdensome and/or do very little to stop viral transmission. That, of course, was helped along by former President Trump and likeminded Republican governors.
While masks have been mandatory here in Virginia for roughly a year now, it's not in the vast middle of the country:
I'm honestly surprised that my longtime home state of Alabama is among those still requiring masks—especially since the more progressive Georgia (which just voted for Joe Biden and two Democratic Senators) next door isn't.
Of course, mask restrictions do little good if they're not enforced and/or people don't voluntarily comply. In the Northern Virginia suburbs of DC, where I live, compliance is shockingly good. While a great number of store clerks continue to wear their masks like chin straps, the overwhelming number of patrons are doing what they're supposed to. Indeed, most seem to be going overboard, wearing their masks in store parking lots despite no requirement or obvious rationale for doing so.
Regardless, relief is ostensibly coming:
Public health experts say that the nation is in a race between the vaccination campaign and new, worrisome coronavirus variants. Although more than one in three American adults have received at least one shot and nearly one-fifth are fully vaccinated, the nation is a long way away from reaching so-called herd immunity — the tipping point that comes when spread of a virus begins to slow because so many people, estimated at 70 to 90 percent of the population, are immune to it.

[…]

Mr. Biden said on Monday that the administration was taking steps to expand vaccine eligibility and access, including opening a dozen new mass vaccination centers. He directed his coronavirus response team to ensure that 90 percent of Americans would be no farther than five miles from a vaccination site by April 19.

The president said doses were plentiful enough now that nine of 10 adults in the nation — or more — would be eligible for a shot by that date.
That means we still have a ways to go but the end is in sight. Still, if everyone who wants one can get their first shot by May 1, that means they'll be fully vaccinated by mid-June—faster if they get the one-shot Johnson & Johnson variant. Wearing a mask for necessary public activities for another few weeks seems like a reasonable sacrifice.
Of course, if we continue to see high rates of vaccine rejection, we're not going to reach "herd immunity" until they get enough people sick to achieve it the hard way.