Biden Talks to People Sometimes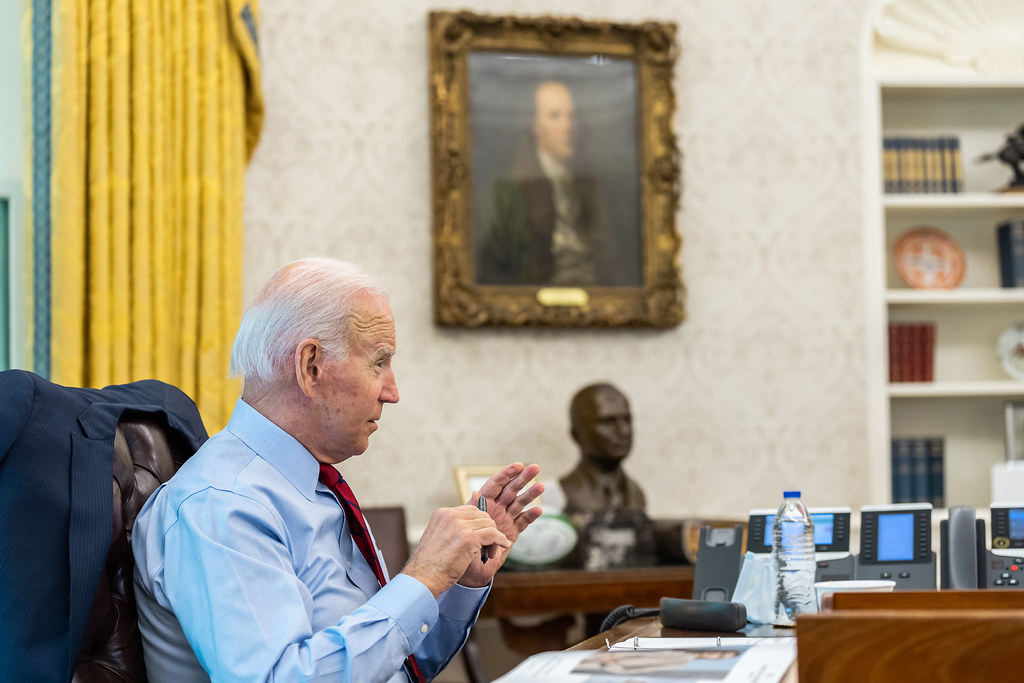 Despite its foreboding nature, I chucked a bit at the WaPo headline "Historians privately warn Biden that America's democracy is teetering." After all, countless historians, political scientists, and others have been warning about this publicly for several years now. Hell, both Freedom House and POLITY dropped us from the ranks of world democracies after the events of January 6, 2021.
President Biden paused last week, during one of the busiest stretches of his presidency, for a nearly two-hour private history lesson from a group of academics who raised alarms about the dire condition of democracy at home and abroad.

The conversation during a ferocious lightning storm on Aug. 4 unfolded as a sort of Socratic dialogue between the commander in chief and a select group of scholars, who painted the current moment as among the most perilous in modern history for democratic governance, according to multiple people familiar with the discussions who spoke on the condition of anonymity to describe a private meeting.

Comparisons were made to the years before the 1860 election when Abraham Lincoln warned that a "house divided against itself cannot stand" and the lead-up to the 1940 election, when President Franklin D. Roosevelt battled rising domestic sympathy for European fascism and resistance to the United States joining World War II.

The diversion was, for Biden, part of a regular effort to use outside experts, in private White House meetings, to help him work through his approach to multiple crises facing his presidency. Former president Bill Clinton spoke with Biden in May about how to navigate inflation and the midterm elections. A group of foreign policy experts, including former Republican advisers, came to the White House in January to brief Biden before the Russian invasion of Ukraine.

These meetings have come as Biden faces the isolation that is endemic to presidency, a problem that some Democrats say has been worsened by the coronavirus pandemic, which restricted visitors through much of the first year of his presidency, and by the insular quality of Biden's inner circle, made up of staffers who have worked with him for decades.

Biden, at these tabletop sessions, often spends hours asking questions and testing assumptions, participants say.
So, I'm happy to hear that Biden is engaging outside experts and is intellectually curious. But he's a bright guy who's been around a very long time and is surrounded on a daily basis by some of the nation's best and brightest. Surely, none of this is news to him.
Michael McFaul, a former U.S. ambassador to Russia under President Barack Obama, briefed Biden with other experts before the Russian invasion of Ukraine and before the president's 2021 meeting with Russian President Vladimir Putin in Geneva.

"They get out of their bubble," McFaul said. "I worked at the White House for three years before going to Moscow, and comparatively I think they do that in a much more strategic way than we used to do in the Obama administration. It feels that they are more engaged."

McFaul was among a socially distanced group that met to discuss Ukraine in the East Room earlier this year, along with former diplomat Richard Haass, journalist Fareed Zakaria, analyst Ian Bremmer, former National Security Council adviser Fiona Hill and retired Adm. James G. Stavridis, a former Supreme Allied Commander of NATO.

Biden sat at the center of a dining table with the experts gathered at either end to keep the president a covid-safe six feet from the group. As some participants, including McFaul and Stavridis, appeared remotely on a screen, Biden began with brief comments and then spent about two hours asking questions.

"They really wanted outside-the-box thinking of, is there any way that this war, which will be horrible for everyone involved, can be stopped? Can we stop it? How can we stop it?" Bremmer said. "All of my interactions [with the White House] in the last few years have been uniformly open, constructive and really wanting to get my best sense of where they're getting it right and where they're not."
I laughed out loud at the performative COVID distancing. If you're sitting around a table with people unmasked for two hours, being six feet apart does bupkis and we've known that for quite some time now.
And, look, while McFaul, Zakaria, Bremmer, Haass, Hill, and Stavridis are interesting and talented folks, I don't know that they have any especial expertise on the future of American democracy. And they're about as inside-the-box as they come. Nor are most (any?) of them "historians."
White House spokesman Andrew Bates said the president "values hearing from a wide range of experts." NSC spokeswoman Adrienne Watson said, "We are in regular touch with a diverse, bipartisan collection of experts and stakeholders on a variety of topics, including Russia's unprovoked war in Ukraine."

At a news conference in January, Biden said a priority of his second year in office was to get more input from academia, editorial writers, think tanks and other outside experts. "Seeking more input, more information, more constructive criticism about what I should and shouldn't be doing," he told reporters.
Honestly, if Biden enjoys getting these folks together for a bull session, more power to him. It's certainly not something his predecessor would have done. But it's hard to think of a group less likely to bring him fresh perspectives than editorial writers, most of whom recycle the same three columns for years, if not decades.
Presumably, this story was simply pushed by the administration to demonstrate that the President is engaged. Which, honestly, I never doubted. I suspect the average reader will take it that way rather than trying to parse it.