Biden: U.S. Will Never Recognize Russian Annexation Of Crimea
Provocative words from Vice-President Biden. But, are they realistic?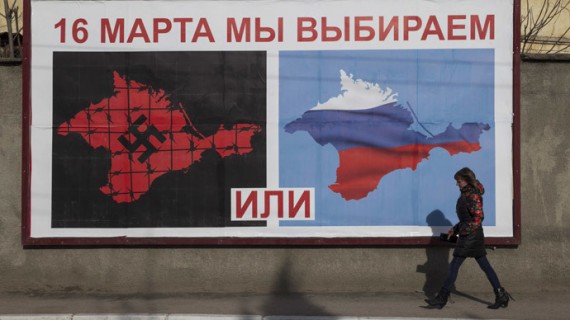 Speaking at a press conference in Kiev today, Vice-President Joe Biden had strong language for Russia, and strong support for the Ukrainian government:
Kiev, Ukraine (CNN) – As the crisis in Ukraine shows no signs of easing, U.S. Vice President Joe Biden promised support for Ukraine and stressed that the United States won't recognize Russia's annexation of Crimea.

"Ukraine is and must remain one country," he said in Kiev on Tuesday at a news conference with Prime Minister Arseniy Yatsenyuk. Biden also met with acting President Oleksandr Turchynov and lawmakers during his trip to Ukraine.

"No nation has the right to simply grab land from another nation," Biden said. "We will never recognize Russia's illegal occupation of Crimea."

Biden called on Russia to "stop supporting men hiding behind masks and unmarked uniforms sowing unrest in eastern Ukraine." He warned of additional sanctions if such "provocative behavior" does not end.

Ukrainian and U.S. officials say they think Russian special forces are in the region and are behind efforts to seize government buildings and generally promote unrest.

The U.S. vice president promised financial support, assistance in reducing Ukraine's dependence on Russian energy sources and nonlethal aid for security forces.

"You will not walk this road alone. We will walk it with you," Biden told Yatsenyuk.
Biden's remarks are obviously intended to address two different situations.
The first is the on going crisis in eastern Ukraine in which pro-Russian militias, many of whom seem to be supplemented by personnel who look very much like Russian Special Forces, are laying siege to government buildings in cities such as Donetsk and demanding that the region be given a referendum to decide it's political future. Some of these groups seem to be advocating independence from Ukraine, others are demanding more political autonomy within Ukraine, but the demands that are causing the most concern, obviously, are those demanding union with Russia, as happened in Crimea. These demands, combined with the political unrest and some 40,000 Russian troops near the border with Ukraine for what the Russians claim to be "military exercises" have raised tensions in the region and, as I noted last week, promoted NATO to respond both rhetorically and with announcements of small troop movements into Poland and Estonia. In this context, Biden's tough rhetoric is both understandable and consistent with the policy that the West is putting forward with regard to the current events in eastern Ukraine.
Of more interest to me at least, though, is the second part of Biden's statement that the United States would never recognize the Russian annexation of Crimea. As a rhetorical position, I suppose, it makes sense that the United States would say something like this (and when it comes from a Vice-President speaking in a foreign country, this should be taken as a formal statement of policy.) However, it doesn't strike me as being a very realistic position. While there are some indications that the early transition to Russian rule has been chaotic to say the least, it seems highly unlikely that the Russians are going to give up what they have gained in Crimea no matter how the situation in eastern Ukraine unfolds. At some point, whether we like it or not, the United States will have to recognize the Russian annexation of Crimea as a fact.
The interesting question is how all of this will play with the Ukrainians. There are, obviously, going to be limits to how far the United States will be willing to go to support Ukraine even in connection with the current issues in eastern Ukraine and the Ukrainian government and people are likely not going to be entirely happy with how we respond to Russia's actions here. Will they actually now also believe that we are going stand behind any effort on their part to regain control of Crimea from Russia? That isn't going to happen, of course, and it strikes me that we really shouldn't be getting the Ukrainians hopes up here by making a promise that we cannot possibly keep. Whether or not we like it, and whether or not the Ukrainians like it, Crimea is likely to be part of Russia for the foreseeable future. Creating the unrealistic expectation in the minds of Ukrainians that this might not be the case isn't going to be at all helpful in resolving the many outstanding issues between Russia and Ukraine.