Nobody "Lost" Crimea. It Was Never Ours To Lose.
President Trump recently blamed former President Obama for "losing" Crimea. It was never ours to lose.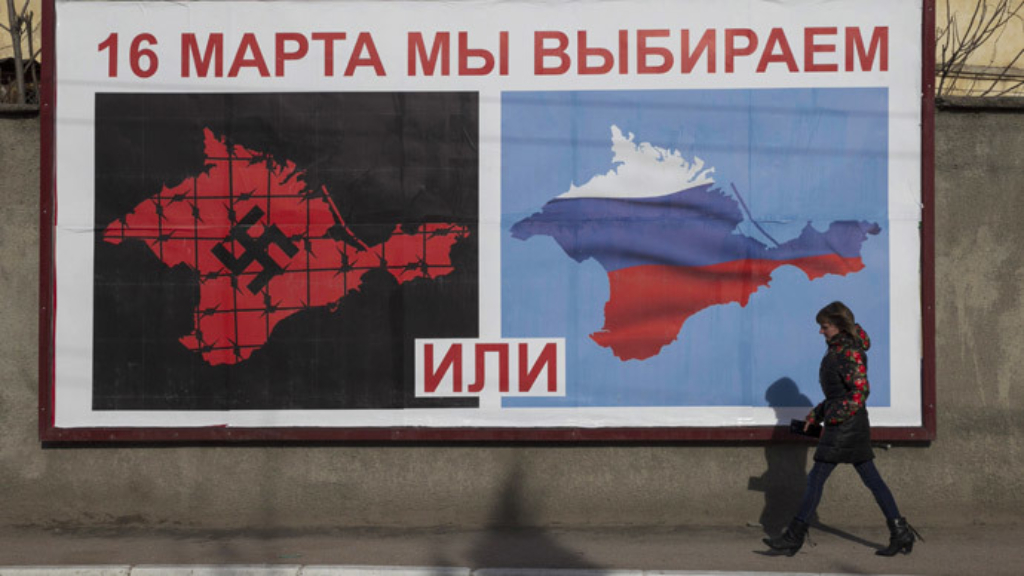 Last week, during his nearly two-hour rant of a press conference, President Trump put forward the accusation that President Obama "lost" Crimea by allowing the Russians to invade, and annex, the peninsula in 2014 shortly after the Sochi Olympics:
 U.S. President Donald Trump blamed the "regime" of former President Barack Obama for Ukraine's loss of its Crimean Peninsula, which was seized and annexed by Russia in 2014.

Trump made the comments during a wide-ranging and sometimes hostile news conference at the White House on November 7 to comment on the U.S. midterm election results.

When asked about his relations with Russia, Trump reminded reporters of the face-to-face meeting he had with President Vladimir Putin in Helsinki in July.

"The fact is I had a very, very good meeting with President Putin," he said. "A lot was discussed — about Syria, about security, about Ukraine."

"About the fact that President Obama allowed a very large part of Ukraine to be taken [by Russia]," he added.

When a reporter stated that "it was President Putin who annexed Crimea," Trump responded by saying, "That was President Obama's regime. That was during President Obama. Right?

"It was President Obama that allowed it to happen," he said.
This isn't the first time that Trump has accused his predecessor of "losing" Crimea and not sufficiently standing up to the Russian President when he swept in and annexed the territory. Last year, for example, Trump blamed Obama for letting Russia 'get away' with annexing the peninsula. A week later, he made a similar accusation, saying that Obama let Putin get away with the land grab because Putin 'didn't respect' Obama, and asserting that he would be much better at dealing with a world leader like Putin because Putin would respect him in a way he didn't his predecessor. The reality of that 'respect' was, of course, on full display roughly a year later when Trump met with his Russian counterpart in Helsinki, Finland and engaged in one of the most embarrassing displays of obsequiousness that an American President has ever demonstrated on the world stage.
Leaving that issue aside, though, there is, as Daniel Larison notes, something fundamentally flawed with the very question of who "lost" Crimea:
Most reports on Trump's remarks have focused on his choice to blame Obama for the annexation, but that is not nearly as important as the implication of Trump's statement that he seems to think it is up to the American president to "allow" or "disallow" the actions of other major nuclear-armed powers. Saying that Obama "allowed" the annexation of Crimea presupposes that there was something that Obama could or should have done to prevent or reverse it. Short of starting a shooting war with Russia and presumably causing WWIII, there was nothing Obama could have done, and it is a measure of Trump's ignorance and his belligerent instincts that he thinks otherwise. Whether Russia controls Crimea or not is hardly a vital interest of the U.S., and it certainly isn't worth risking a war. If Trump believes otherwise, he is even more reckless and irresponsible than we thought.

(…)

Obama didn't "lose" Crimea, and it was never the responsibility of the U.S. government to stop what Russia did. Russia's action was aggressive and illegal, but the U.S. was under no obligation to risk a war with a nuclear-armed state to undo it. The fact that Trump keeps harping about the "loss" of a part of a country that isn't even allied to the U.S. shows just how far removed he is from a genuine America First foreign policy.'
In the immediate aftermath of the Russian seizure of Crimea, some of President Obama's critics alleged that the United States and other nations had breached its security obligations to Ukraine, pointing to an agreement reached shortly after the collapse of the Soviet Union in support of their argument. As James Joyner pointed out at the time, though, that agreement did not obligate the United States to come to Ukraine's defense in all situations and certainly didn't require the United States to go to war against Russia over the seizure of the Crimean Peninsula. In reality, that agreement referred to as The Budapest Memorandums on Security Assurances of 1994, the signatories, which included the United States, Russia, and the United Kingdom related solely to the use of nuclear weapons against Ukraine and the only obligation that the agreement imposed on any of the signatories was to seek the assistance of the United Nations Security Council should Ukraine become the victim of an act of aggression in which nuclear weapons are used. The United States was under no obligation to do anything with respect to the events in Ukraine in the winter of 2014 under the terms of these security assurances. Nonetheless, as we know, the Obama Administration and its European allies responded to the Russian seizure of the Crimean Peninsula and the subsequent evidence of Russian involvement in the pro-Russian rebellion in eastern Ukraine by imposing sanctions against Russia generally and specific Russians close to Vladimir Putin, something that goes beyond its obligations under the 1994 security assurances.
Leaving aside the fact that we had no obligation under any international agreement to defend or assist Ukraine in any manner, Larison is absolutely correct when it points out that it was "never the responsibility of the U.S. government to stop what Russia did." Looking at this strictly from the point of view of realpolitik, there's a good argument to be made that Ukraine generally, and the fate of Crimea specifically, should not be seen as being within our sphere of concern or influence. As I've stated before Ukraine has historic and other ties to Russia and Russian history that should not be ignored. It has been an independent nation for a short period of time and, given its location, has been seen as within the Russian sphere of influence for centuries. It's also worth noting that the Crimean peninsula itself had been considered Russian territory since at least the Russo-Turkish War and the region remained a part of Russia until it was transferred to the Ukrainian Soviet Socialist Republic in 1954. Before that change in status and long afterward, the peninsula was home to a large base for the Soviet Navy, and that base remained in operation and under control of the Russian Navy after the collapse of the Soviet Union. In other words, Russia arguably had as much of a claim on Crimea as Ukraine did, and we, whether that "we" is the United States, NATO, or the Western world in general, had no legitimate interest in the territory.
Finally, there is the reality that there is very little that the United States or NATO could have, or should have, done to prevent the seizure of Crimea. Regardless of what anyone might say, the United States was never going to go to war over Ukraine. Vladimir Putin knew that, and that's one of the reasons he felt free to take the action that he did. Additionally, even if we had wanted to stop Russia from seizing Ukraine, it's apparent that any such effort would have been both unsuccessful and needlessly confrontation. In other words, we didn't lose Crimea because it was never ours to being with. For that reason alone, Trump's argument was utterly ridiculous.