Bill Clinton Warns Democrats On Medicare: Doing Nothing Isn't An Option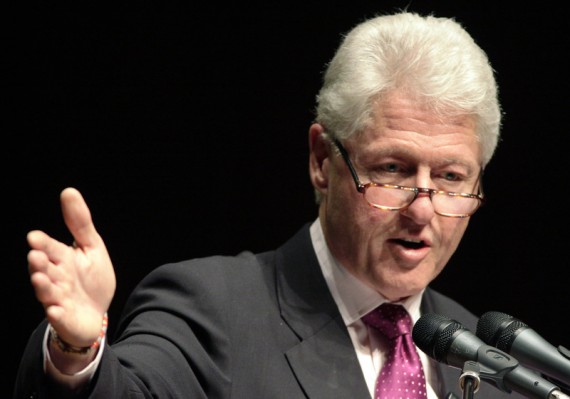 Former President Clinton doesn't necessarily think his fellow Democrats are pursuing the right policy in their response to the Ryan Plan:
WASHINGTON (CNNMoney) — Bill Clinton had a word of warning on Wednesday for fellow Democrats: Don't get too cocky about voters' rejection of Paul Ryan's Medicare plan.

In a special election for a vacant House seat on Tuesday, a Democrat candidate upset a Republican in a GOP-stronghold in upstate New York.

The race was widely seen as a proxy on Ryan's controversial Republican proposal plan to convert Medicare into a voucher program.

Clinton, speaking at a fiscal summit sponsored by the Peter G. Peterson Foundation, said the race showed that voters don't like the Republican plan.

But he also told Democrats not to shy away from tackling entitlement programs.

"You shouldn't look at the New York race and think that nobody can do anything to slow Medicare costs," Clinton said.
Of perhaps more interest is a behind the scenes exchange between Clinton and Paul Ryan after the former President spoke:
ABC News was behind the scenes with the Wisconsin Congressman and GOP Budget Committee Chairman when he got some words of encouragement none other than former President Bill Clinton.

"So anyway, I told them before you got here, I said I'm glad we won this race in New York," Clinton told Ryan, when the two met backstage at a forum on the national debt held by the Pete Peterson Foundation. But he added, "I hope Democrats don't use this as an excuse to do nothing."

Ryan told Clinton he fears that now nothing will get done in Washington.

"My guess is it's going to sink into paralysis is what's going to happen. And you know the math. It's just, I mean, we knew we were putting ourselves out there. You gotta start this. You gotta get out there. You gotta get this thing moving," Ryan said.

Clinton told Ryan that if he ever wanted to talk about it, he should "give me a call." Ryan said he would.
Interesting to say the least.
Video: