Bill Cosby's Sexual Assault Trial Set For June 2017
A long way off, but there are some important pre-trial matters to resolve between now and then.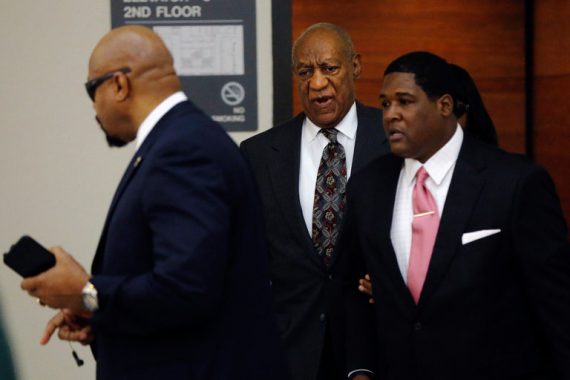 The sexual assault case against Bill Cosby has been set for trial next June:
NORRISTOWN, Pa. — Bill Cosby, the comedian and television star who faces charges that he drugged and molested a woman he once mentored at his suburban Philadelphia home more than a decade ago, will be tried starting June 5, 2017, a Pennsylvania judge ruled on Tuesday.

The long-awaited trial will take place about 18 months after criminal charges of sexual assault were first filed against Mr. Cosby, who is accused of assaulting Andrea Constand, a formerTemple University employee.

Judge Steven T. O'Neill of Montgomery County also said that he would consider a motion filed by the prosecution to allow as evidence accounts from 13 other women who say they were drugged and sexually assaulted by Mr. Cosby, in episodes stretching from the 1960s through the 1990s.

In Pennsylvania law, as in most states, there is a general rule against admitting evidence from other cases in which no crime has been charged because it could prejudice a trial. But under Pennsylvania's "prior bad acts" exemption, the judge can allow such evidence — for instance, if the other behavior demonstrates a "common scheme or plan," a kind of unique fingerprint of the defendant's behavior.

Prosecutors said that since they reopened the investigation last year, investigators had interviewed nearly 50 women who made similar accusations of drugging and sexual assault against Mr. Cosby. "What became clear was that the defendant has engaged, over the course of his lifetime, in a pattern of serial sexual abuse," prosecutors said in a court filing.

In a statement on Tuesday, a spokesman for Mr. Cosby, Andrew Wyatt, attacked lawyers for accusing the entertainer "of crimes for unwitnessed events that allegedly occurred almost a half-century earlier," and the news media for repeating the accusations.

Mr. Cosby, who has denied all charges, "is not giving up the fight for his rights," Mr. Wyatt said.

Judge O'Neill, who said he would set dates to hear arguments on the "prior bad acts" motion before the trial, called the list of the 13 women "the elephant in the room." Even though the women have not been publicly identified, they will probably be the subject of strenuous investigations by news organizations, given what the judge said was the "acute national interest" in the case.
Much of the time between now and the trial will likely be taken up by pre-trial litigation, including possible appeals, regarding the admission of evidence. As I've noted before, the most important question in that regard will be whether any of the countless dozens of other women who have accused Cosby of drugging and raping them will be allowed to testify in this trial. In all of those cases, many of which stretch back to the 1960s when Cosby was first becoming a star thanks to comedy albums and his appearance alongside Robert Culp in I Spy, the statute of limitations for any criminal or civil claims has long ago expired. As a general rule, testimony regarding what the law calls "prior bad acts" are barred unless the prosecution can establish that the evidence falls within some exception that makes it particularly relevant to the case at hand. In this case, of course, that evidence primarily consists of the fact that the testimony of these other women would establish that Cosby has a pattern that stretches back decades that includes drugging women by placing some substance in their drinks and then taking advantage of them. The prosecution will no doubt argue that this pattern is so pronounced that the jury should be allowed to hear evidence of it, especially to counter any argument that the defense may make that the accuser in this case was a willing participant in Cosby's "seduction." The defense, on the other hand, will argue that introducing the testimony of any of these women will poison the minds of the jury against their client and risks causing them to find him guilty based not on the evidence regarding this case in particular but on the testimony of the other women. It will be up to the Judge to decide if the 'probative value' of the evidence outweighs any predjudicial effect of introducing the evidence. In other words, is it more likely that the allowing the testimony would aid the jury in understanding the evidence before them, or that it would inflame them so much that they would end up being biased against Cosby regardless of what the evidence of this case, taken on its own, might actually prove
When it does come up in a criminal trial, this is one of the more interesting aspects of any particular case, and it's likely to take time to resolve the issue completely. It's also likely that whichever side ends up on the losing side of the trial judge's ruling is going to want to appeal the matter to a higher court prior to trial. Given that, setting the trial off nine months in the future may actually be an optimistic estimate of how long it will take to resolve pre-trial matters in this case. Of course, all of this may be moot if Cosby ends up pleading guilty at some point. While I'm sure that option has been discussed, I doubt we'd see any real developments in that area until the Court has ruled on these pre-trial matters. If things don't go Cosby's way, I wouldn't be surprised to learn that his attorneys were exploring the idea. Given his health and advanced age, it's unlikely he'd end up serving much jail time in a matter like this, if he served any at all.