Billionaire Tom Steyer Apparently Running For President For Some Reason
Billionaire Tom Steyer is apparently planning to enter the 2020 Democratic Presidential race.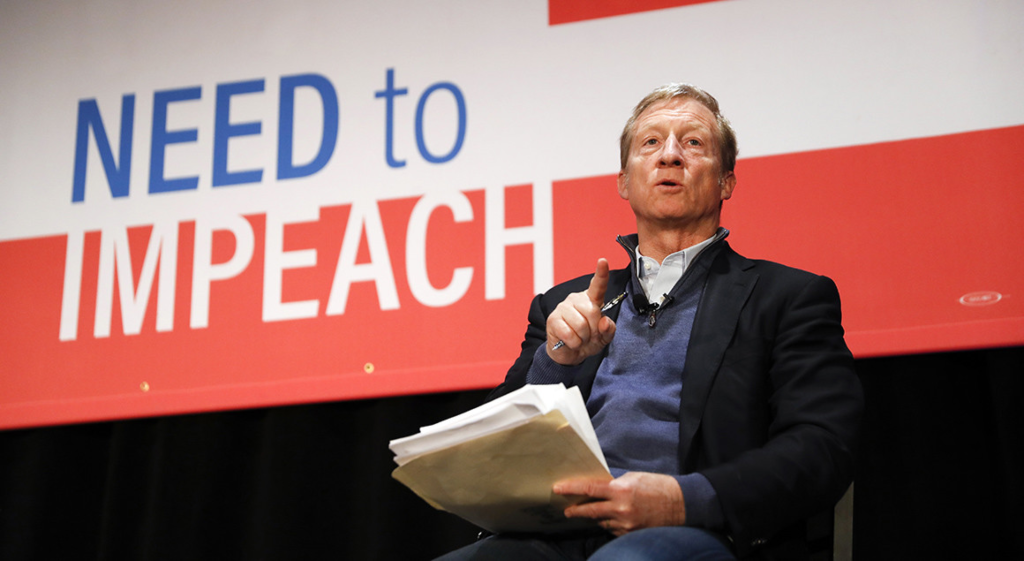 Billionaire Tom Steyer, who has been a long time fundraiser for Democratic candidates and liberal/progressives causes and has spent the better part of the past two years engaged in a crusade to compel Democrats to begin impeachment proceedings against President Trump, is apparently running for President after ruling out the idea earlier this year:
Tom Steyer, the billionaire environmental activist who toyed with a 2020 presidential run before deciding against it, has told people he plans to announce that he's entering the race for the Democratic nomination, according to three people familiar with his plans. Steyer had said in January that he was passing on a 2020 run.

Steyer held a private conference call last week to announce to people who work for Need to Impeach, NextGen America and Steyer's Sacramento office that he was planning to run, according to one of the people.

There has been increasing chatter in recent months among those in Steyer's circle about a potential run, according to two of the people, and one of the people said they expect him to talk a lot in his campaign about the economy given his background as a former hedge fund manager.

"He's definitely focused on the [fact that the] economy is not as good as people are making it out to be," said the person, who didn't know the reason Steyer is making an about-face on his earlier decision.

"I think his heart's in the right place. If he's doing this, he's got a reason behind it," the person said. "He's a very intelligent man."

The person said that Steyer has gotten significantly better as a campaigner over the last year because he's done town hall meetings, particularly attended by older Americans, and a lot of face-to-face campaigning through the impeachment campaign.

Though no senior staffing has been announced, two of the people with knowledge of Steyer's plans expect Heather Hargreaves, who has been executive director of Steyer-founded NextGen America and has worked for Steyer for almost four years, to run the campaign. Steyer didn't immediately respond to a request for comment and Hargreaves declined to comment.
Tom Stever is a native Californian who received his Bachelor of Arts degree from Yale and his Masters of Business Administration from Stanford University. After college, Steyer spent time at Morgan Stanley and Goldman Sachs before founding his own investment firm back home in California in 1986. By the time he left the company in 2012, that firm was managing some $20 billion in assets for clients. After stepping down from his position, Steyer became an activist for environmental causes and a fundraiser for Democratic causes and liberal issues. He has also used his personal wealth to fund a variety of philanthropic and political causes, the latter of which he has increased significantly since President Trump took office.
Given the fact that we've already had the first debate in the 2020 race and that the second one is scheduled for three weeks from now, Steyer's entry into the race, even if it takes place this week,would be comparatively late and would make it less likely that he could push through the noise to become a factor in the race. Another factor that could hinder the run is that, thanks to both the late entry and the number of candidates already in the race, there are at best a limited number of Democratic activists with experience running national campaigns that Steyer can choose from to run his campaign. At the same time, though, the combination of Steyer's own vast wealth and the fact that he has apparently developed a substantial list of potential supporters and donors through his "Need To Impeach" campaign and other initiatives means that he could have a deep well of support from which to draw as we go into the race.
With the campaign well under way, it's hard to see exactly why Steyer thinks he needs to enter the race or what avenue he would have that could turn him into a viable candidate. After all, we all know that a billionaire with no prior political experience has no shot at winning his party's nomination, not to mention the General Election, right?

Bueller? Bueller?