Steyer as South Carolina Spoiler
The vanity candidate may impact the race.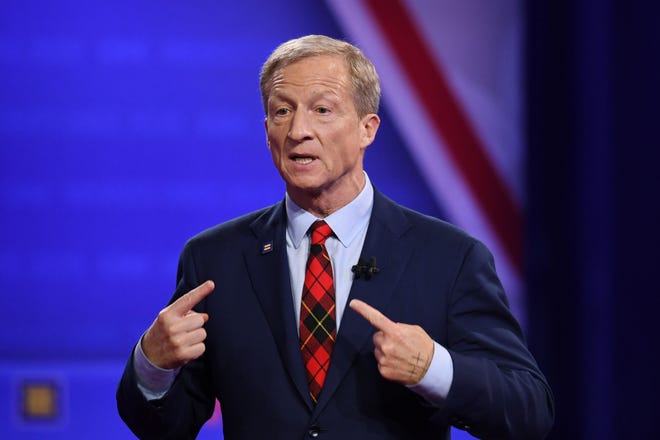 I've long viewed Tom Steyer's quest for the Democratic presidential nomination as a bad joke. He has never held elective office and was pretty much a non-entity on the national scene before his announcement. He has spent millions of dollars manipulating the DNC's insipid rules and managed to get on the debate stage, where he's mostly been ignored. So far, that's gotten him to 2.2% in the national polls, leading only the lunatic Tulsi Gabbard.
But, of course, we don't have a national primary but rather a weird system of state-by-state races interspersed with massive votefests on March 3 ("Super Tuesday"), March 10, and March 17.
And Steyer is looking pretty good for Saturday's South Carolina primary, the last contest before Super Tuesday, which is only three days later.
The contest in South Carolina looks very different heading into its final week than it did last fall. Joe Biden (28%) has only a single-digit lead with Bernie Sanders (23%) now right behind him. The race has narrowed considerably since the fall, when Biden led the field by a whopping 28 points. Support for the former vice president has fallen by double-digits as Sanders and businessman Tom Steyer have made gains. Steyer is at 18%.

This poll was finished before Sanders coasted to a win in the Nevada caucuses Saturday night — though most South Carolina voters told us the Nevada results would not impact them.

[…]

Steyer has shot up into the top tier in this race with 18% of the vote, up from 2% in November. Support for him has risen sharply among black voters.

Among South Carolina Democrats who were recontacted as part of the survey, three in 10 voters who supported Biden in November have switched to another candidate — half of them (15%) now support Steyer.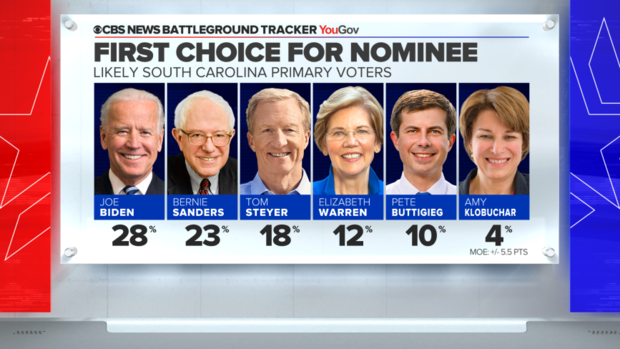 The CBS poll is the most recent included in the RealClearPolitics average for South Carolina and there are only three other recent surveys. But Steyer is in third place in all of them. If this bears out Saturday, Steyer's presence on the ballot could either hand the contest to Sanders outright—effectively ending the race—or sap enough delegates from Biden to deny him any real momentum from a win.
The longer the "moderate" vote is divided among multiple candidates—and Bloomberg will join the fray in earnest on Super Tuesday—the more impossible it becomes to prevent Sanders from winning a plurality of delegates. But, as I noted yesterday, all of the candidates have an argument for remaining in the race.
All, that is, except for Steyer.
Is the ego boost for coming in third in South Carolina really worth it?