Is Sanders Inevitable?
There's no way to catch him in a six-candidate field.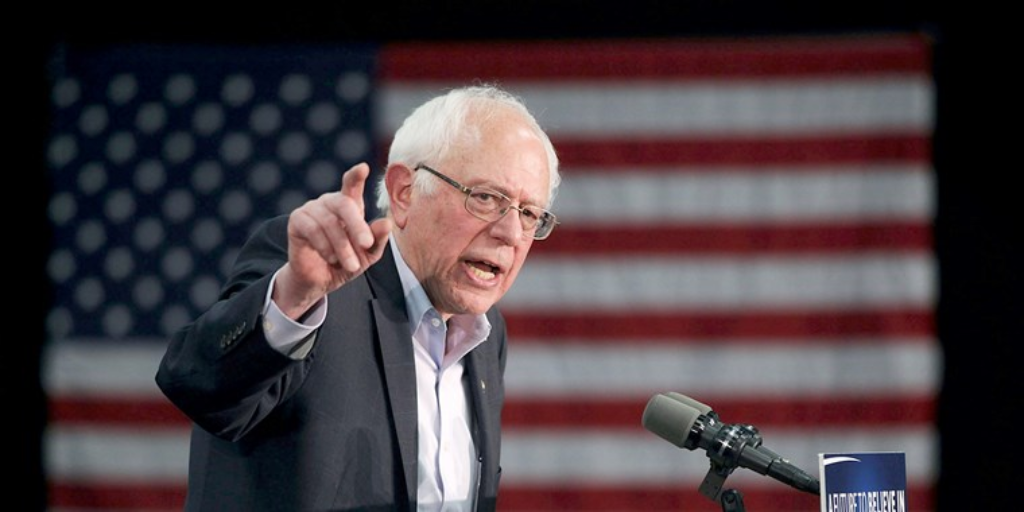 Earlier this morning, I argued that Bernie Sanders' big win in Nevada was unsurprising and we, therefore, shouldn't over-react to it. But that doesn't mean that the candidates and the party shouldn't react.
Sanders is now the clear frontrunner, having won or nearly won all three contests thus far. Meanwhile, no obvious single challenger has emerged, which means the five* remaining serious non-Sanders candidates still have enough hope to stay in the race.
The resulting math is highly problematic for those who fear a Sanders nomination will not only make Donald Trump's re-election more likely but make it much harder for Democrats to win down-ballot. (I'm not sure either of those fears is justified, but that's a subject for another time.)
So long as the not-Sanders vote is divided, Sanders wins.
Buzzfeed's Ruby Cramer ("Bernie Sanders Won Nevada. In 10 Days, He Could Make It Very Hard For Anyone To Catch Up."):
Sanders's apparently decisive Nevada victory has set up an immediate and existential moment in the nominating process: In just 10 days, Sanders could emerge from Super Tuesday with a delegate lead that other candidates can chase but never reach.

It is one of the surest, most unyielding rules in presidential politics: Once one candidate has a sizable delegate lead, it becomes difficult — at first increasingly improbable, then mathematically impossible — for another to catch up.

[…]

"If he has a three-figure lead, there is no catching up," said Robby Mook, Hillary Clinton's campaign manager in 2016. "It's too late after Super Tuesday. Even if the field drops down to two people, that person still has to be beating him by 10-20 points in the remaining contests."

"This is the fog everybody is in right now. If you aren't Sanders," Mook said, "you have to deal with this problem before Super Tuesday."

David Plouffe, who was Barack Obama's campaign manager in 2008, said on MSNBC Saturday night that if the primary stays crowded after Super Tuesday, Sanders could have a hold on the nomination.

"If it is more than a two-candidate race, certainly, if it's a four or five-candidate race, Bernie sanders can walk to the nomination getting 35, 36, 37 percent of the vote," he told NBC's Brian Williams.

He later made that more explicit. "But basically, if we're — Brian, if it's March 3rd and we're talking about Klobuchar, Buttigieg, Warren, Biden, Bloomberg, and Sanders, and everybody's in, Bernie's going to win almost all the delegates he needs to build an impenetrable delegate lead. That's just math. It's not my opinion, it's just simple math."
We knew going in that the exceedingly front-loaded primary schedule could mean the race was all but over on by the end of March, if not after Super Tuesday. California and Texas are among the states voting that day and, by themselves, those two states have 643 delegates. A mere 1,991 is enough to win the nomination.
The flip side of that coin is that, so long as the results are fractured, it's exceedingly likely that no candidate will get to 1,991 and we have the brokered convention that political junkies always pine for but has always been a pipe dream under different rules.
Mike Bloomberg, quite reasonably, is arguing that all the moderates but one should drop out to give that faction a fighting chance of defeating Sanders. But, naturally, he thinks it should be him that remains standing—even though he has yet to be on the ballot and got embarrassed in his first debate appearance.
While I would prefer any of the other five candidates to Sanders, I can't imagine any of them dropping out at the moment.
Joe Biden has had a major slide in the national polls after his poor showing in Iowa and New Hampshire. But he's still seen in both the polls and the analytical projections as the top challenger to Sanders. And he'll likely get a boost from his second-place finish last night. Still, if he doesn't win in South Carolina, I'd like to see him drop out before Super Tuesday. (The fact we may not know the South Carolina results until Monday, the day before Super Tuesday, may mean even that is too late–especially since early voting in those contests is already underway.)
Elizabeth Warren, who everyone but me seems to think won the Nevada debate, declared last night that her distant fourth-place finish in the caucuses was enough to keep her in the race. But she has zero chance of winning the nomination via the ballot box. Her only hope—and it's not unreasonable—is to emerge as the compromise solution at the convention.
Similarly, Amy Klobuchar is never going to win enough delegates to get to a plurality. For whatever reason, she has stayed mired in the low single digits in the polls even as the field has winnowed. She finished fifth out of the five legitimate candidates in Nevada. But, going into Nevada, she had more delegates than Joe Biden. So, while I think she should drop out immediately to clear the field for a moderate non-Sanders, she almost certainly won't.
Pete Buttigieg certainly isn't going anywhere. He "won" Iowa and finished second in New Hampshire. He didn't get much of a rebound in the polls from those contests but looks to finish third in Nevada.
And, rather obviously, Bloomberg isn't going to drop out before Super Tuesday since that's his first shot at the voters and he's already poured hundreds of millions into advertising and staffing in those states.
Since we're not going to winnow the field before Super Tuesday and it's likely too late after Super Tuesday, the alternative strategy may be simply to let the race play itself out. Several candidates will drop out in the next two weeks simply because they won't have enough money to continue.
By then, nobody will be able to catch Sanders for the delegate lead. But, barring Sanders running the table, he's unlikely to win the nomination outright ahead of the convention. By July, we'll have a whole lot better understanding of the non-Sanders candidates' appeal to the voters and the delegates will decide either to put him on the ballot or rally behind an alternative candidate.
_____________________
*I consider Tulsi Gabbard and Tom Steyer vanity candidates with no conceivable shot at the nomination.